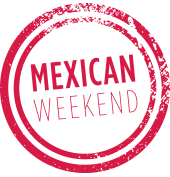 Every time I write about slow-cooked dishes, I drift off into reverie thinking about the flavors mingling and deepening at that perfect temperature just below a simmer.
And slow-cooked garlic is one of my all-time favorites. Add in some chicken thighs, deliciously textured mushrooms and potatoes, and, well, it's a satisfying dish that's made to be savored with every bite, especially as we welcome the subtle chill of autumn air.
This recipe relies on Roasted Garlic Mojo for flavor. You can make it in a matter of minutes from ingredients you likely already have in your pantry, and it keeps for a long while in the refrigerator.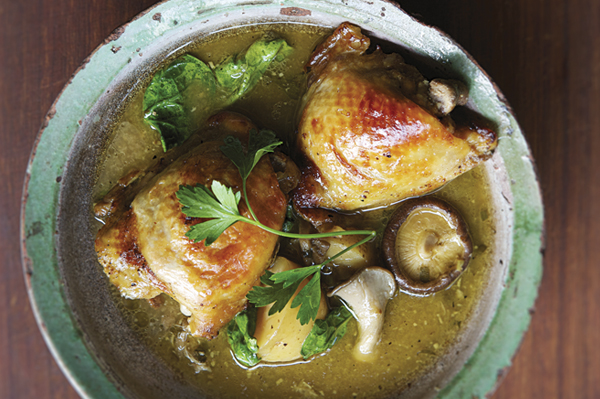 Ingredients
1

medium

white onion, sliced 1/4-inch thick

1

pound

mushrooms (anything from oyster and shiitake to wild varieties like morel, chanterelle, hedgehog or hen of the woods), well washed, tough stems removed and sliced (about 5 cups)

3/4

pound

small red- or white-skinned boiling potatoes (I like ones that are about 1-inch across; if they're larger, cut them in halves or quarters)

2-3

fresh green chiles,

stemmed, seeded if you wish and finely chopped

2/3

cup

Roasted Garlic Mojo

(stir before measuring)

1/2

cup

loosely packed, roughly chopped flat-leaf parsley, plus a little more for serving OR 1/4 cup loosely packed, roughly chopped fresh epazote leaves

1

tablespoon

Worcestershire sauce

1 1/2

cups

chicken broth

8

small

(about 2 1/2 pounds) bone-in, skin-on chicken thighs

2

cups

(about 2 ounces) loosely packed sliced spinach, stems removed
Instructions
In a 6-quart slow cooker, combine the onion, mushrooms, potatoes, chiles, Roasted Garlic Mojo, herbs and 1 tablespoon salt. Mix well, spread into a flat layer and pour in the Worcestershire sauce and chicken broth. Lay the chicken thighs on top, skin side up, and sprinkle them with salt. Cover and turn the slow cooker on high. Your Roasted Garlic Chicken will be done in 6 hours, though you can hold it for longer. (My slow cooker can be programmed to switch from high after 6 hours to a "keep warm" temperature for up to another 6 hours. Some slow cookers click to "keep warm" automatically; others need to be switched manually.)
When you're ready to serve, heat your broiler and adjust your rack to the upper third of the oven. Carefully transfer the chicken (still skin side up) to a rimmed baking sheet, pat the skin dry with paper towels, then slide under the hot broiler. In 1 or 2 minutes, the skin should be crispy and browning.
While the chicken is crisping, turn the slow cooker to high and stir in the spinach. When the spinach is wilted (it shouldn't take longer than a minute), taste and season with salt (usually 1/4 teaspoon, depending on the saltiness of your broth.) Divide the mixture among 4 warm deep plates, top with two of the crispy chicken thighs and sprinkle with chopped herbs. Dinner's ready.