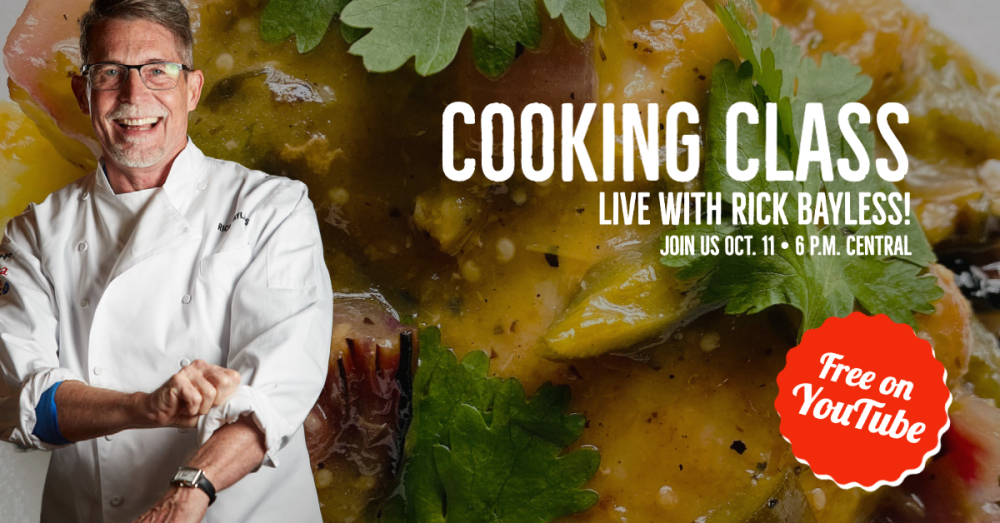 Fall is in the air in Chicago and that has all of us thinking about pleasant temperatures, falling leaves and home-cooked comfort food.
Let's celebrate the season with Rick Bayless' next *LIVE* YouTube Cooking Class on Tuesday, Oct. 11 at 6 p.m. central time.
It's completely free. Just subscribe to Rick's YouTube channel and to tune into the stream on Tuesday. We've already put together a shopping and equipment list so you can participate (see below). Beginners welcome!
>> SUBSCRIBE HERE <<
We love hosting these cooking classes and spending some time with you in your home kitchens. See you Tuesday!
Recipes
• Seared Pork Tenderloin or Chicken Thighs with Roasted Tomatillos and Apples
• White Camote Mash
Shopping and Equipment Lists
Vegetables:
1 pound tomatillos
4 garlic cloves
2 fresh poblano chiles
1 large red onion
1 pound apples
Herbs (cilantro, epazote, sage or basil)
2 pounds white sweet potato
Meat:
1 ½ pound pork tenderloin OR
1 ½ pounds boneless, skinless chicken thighs
Pantry:
Olive or vegetable oil
Chicken broth
Salt
Sugar
Dairy:
Butter
Mexican crema or sour cream
EQUIPMENT LIST
Blender or food processor
Rimmed baking sheet
Very large (12-inch) skillet
Cooling rack
4-quart saucepan
Potato masher