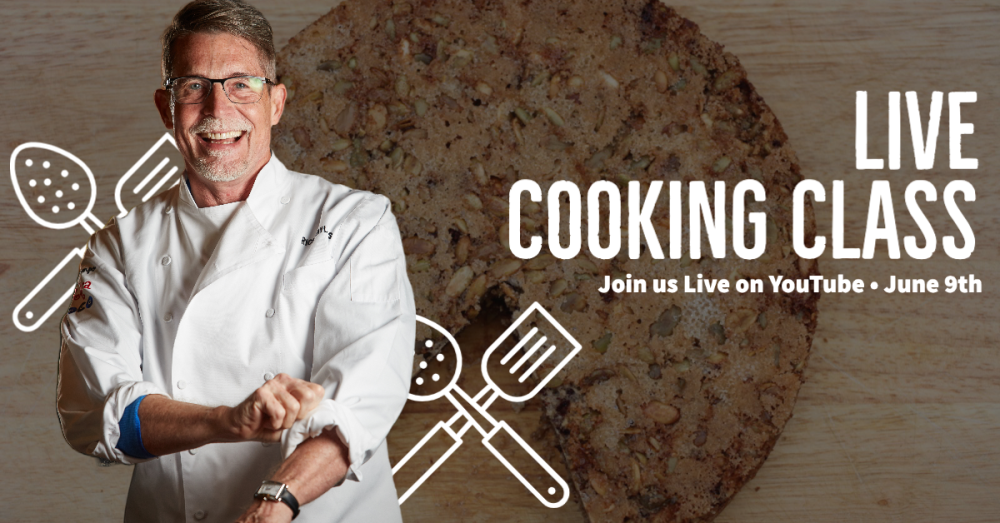 We are back with a brand new live-streamed cooking class for you (and hundreds of other food-obsessed friends.)
The stream begins 7 p.m. (central) on Thursday, June 9 on Rick's YouTube channel, which you can subscribe to by clicking here.
The menu: A perfectly (and easy) summertime meal of Arroz a la Tumbada — that's "Seafood Rice on the Fly" (think speedy) — and a stunningly delicious but simple Pepita-Mexican Chocolate Cake.
Veterans of our live cookalongs know the drill: below we've assembled your grocery and equipment lists, as well as the recipes. All you need to do is show up Thursday in your kitchen with ingredients and equipment ready, tune into the stream and follow Rick's lead. 
We absolutely love hosting these classes and we do all we can to set you up for success. In this case, that'll mean cutting your parchment paper into rounds to fit your cake pan and heating up your broiler before we begin. But don't sweat it: Rick's a great teacher and there will be plenty of time to get you up to speed.
Recipes

Ingredient List
Produce
1 small (4-ounce) white onion
1 head garlic, broken apart but not peeled
Fresh hot chiles (2 jalapeños, 4 serranos, 1 habanero or practically any fresh hot chile)
2 sprigs Epazote (if you can find—most Mexican grocers carry it)
1 bunch cilantro or flat-leaf parsley
1 lime
Pantry
One 15-ounce can diced tomatoes, preferable fire-roasted
Vegetable or olive oil
White rice, enough for one cup—medium grain gives the best texture
1 quart chicken broth
Seafood
1/2 pound meaty skinless fish fillet (mahimahi, halibut or sea bass or the like)
12 big mussels OR about 12 ounces small clams
12 medium-large shrimp, peeled and deveined
For the dessert
1 (4-ounce) stick of butter
About 8 ounces pepitas (look for hulled, toasted and salted pumpkinseeds, often sold with the snacks)
Sugar
All-purpose flour
Baking powder
Eggs (you'll need 3 here)
Tequila (optional)
Mexican chocolate (Abuelita brand is popular, but Taza has a richer chocolate flavor)
Equipment List
Baking sheet
Large (4-quart) sauce pan
Parchment paper
9-inch round cake pan
Food processor
Blender (optional, but will save you from having to wash your food processor midway though the cookalong)