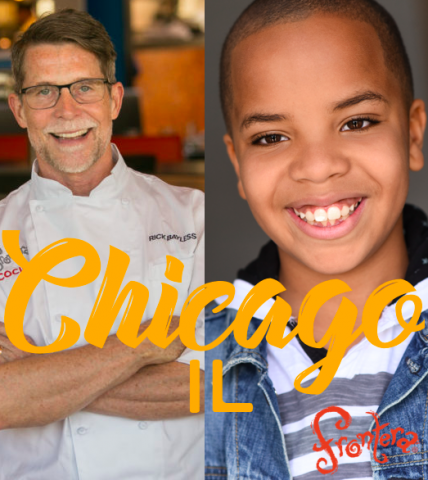 Big news, everyone! Rick is teaming up with Evan Robinson, contestant on MasterChef Junior — and a native of Hyde Park in Chicago! — for a very special four-course fundraising dinner June 12 in the Frontera test kitchen.
Together, they're raising money for the Whole Kids Foundation's "Give Bees a Chance" campaign, which aims to award 50 schools with Honeybee Hive Grants so kids can learn the vital role the humble bee plays in our food system.
"The humble bee is far more vital to our food system than many of us realize. That's why the decline in the bee population is so alarming to me, both as a chef and someone who just plain loves to eat," said Chef Rick Bayless. "Our Frontera team wants to help. Partnering with the Whole Kids Foundation — and cooking alongside Chef Evan — will help install more learning beehives in places where kids have access to them." 
The event takes place June 12 in the test kitchen and cookbook library above Frontera Grill, 445 N. Clark St. Chefs Evan and Rick will each prepare two dishes at this fun collaboration dinner, which features wine pairings and a margarita reception. Tickets are available here.
(Can't make it? We still encourage you to donate to this great cause!)
The event  is part of a larger nationwide dinner series to raise $100,000 for honey beehive grants nationwide, providing educational opportunities around biology, agriculture, ecology, nutrition and business for students across the nation.
"We are honored to work with such impressive chefs to bring philanthropic food opportunities to these culinary hubs," said Nona Evans, president and executive director, Whole Kids Foundation. "Each of them is not only a celebrated local talent, but an advocate for providing our kids with opportunities to learn about how food is grown in harmony with nature."
Since 2011, Whole Kids Foundation has granted 240 educational honey beehives with support from The Bee Cause Project, which provides resources to schools, including free curriculum on honey beehives. For more information on the Whole Kids Foundation Honey Bee Grant program and how to apply this fall, visit wholekidsfoundation.org/schools/honey-bee-grant.