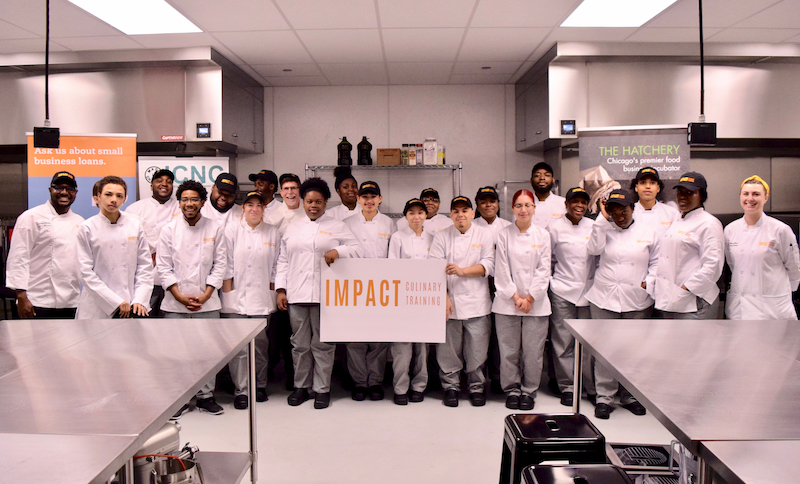 GARFIELD PARK —  Founded by Chef Rick Bayless with enthusiastic support of Chicago's chef community, Impact Culinary Training debuts Monday, June 24 at The Hatchery, a food-and-beverage manufacturing incubator in Garfield Park.
The program includes eight weeks of professional instruction followed by four-week paid internships at some of Chicago's best restaurants.
"Impact Culinary Training is all about bridging the gap between our thriving restaurants scene and the young adults from some of Chicago's underserved neighborhoods. We want to equip our graduates with opportunities and the skills they need to get good jobs in our world-class restaurants," Bayless said.
Open to Chicago young adults ages 16-24, the program's goal is twofold: to help solve the crippling unemployment in the city's impoverished neighborhoods, and to provide Chicago restaurants with job-ready cooks. The program founders strongly believe a dialogue between Chicago's best restaurant chefs and young people from underserved neighborhoods can lead to better understanding on both sides. The first cohort of students is largely drawn from the Humboldt Park, North Lawndale, Garfield Park and Austin neighborhoods.
The classes will be held in a teaching kitchen inside The Hatchery, a joint venture between two mission-driven Chicago nonprofits: Accion, a full-service small business microlender and the Industrial Council of Nearwest Chicago (ICNC), a business incubator specializing in workforce development.
"This training program for aspiring young chefs will help to create Chicago's next generation of food entrepreneurs, based in the heart of Garfield Park at The Hatchery," said Accion Serving Illinois & Indiana CEO Brad McConnell.
"We see this program as a chance to use combine the infrastructure of The Hatchery with our workforce development experience, and to bring more economic opportunity to the West Side," said Steve DeBretto, director of ICNC.
Already, Impact Culinary Training has garnered support from Chicago's top restaurants that will take interns — Lula Cafe, Duck Duck Goat, Luella's Gospel Bird, Big Jones and Honey Butter Fried Chicken among them — and many more notable chefs who will serve as guest lecturers.
Enrollment for Impact Culinary Training for the Fall 2019 session is already underway. Although priority is given to young adults on the West Side, applicants from anywhere in Chicago are encouraged to apply.
The program is generously underwritten by a host of Chicago organizations, including the Pritzker Traubert Foundation, ConAgra Foundation, Testa Produce, Edward Don Company and Sunstarr Apparel, as well as support from the National Restaurant Association Education Foundation and Illinois Restaurant Association Education Foundation.