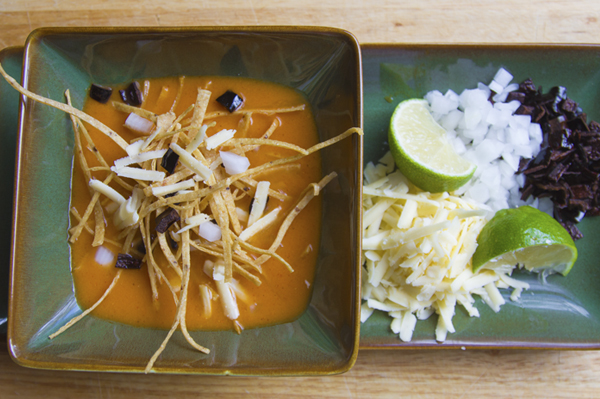 Ingredients
2

tablespoons

lard or vegetable oil

1

medium

onion, sliced

2

cloves

garlic, peeled

1

ripe

medium-small tomato, roasted or boiled, cored and peeled

1 1/2

quarts

good broth, preferably poultry

Salt

4 to 6

corn tortillas, preferably stale, store-bought ones

1/3

cup

vegetable oil

1 to 2

dried pasilla negro chiles,

stemmed, seeded and deveined

8

ounces

(about 2 cups) cubed Mexican queso fresco or other fresh cheese like farmer's cheese, or even Muenster or Monterey Jack

1

large

lime, cut into 4 to 6 wedges
Instructions
For the broth flavoring. In a medium-size skillet, heat 1 tablespoon of the lard or oil over medium-low. Add the onion and whole garlic cloves, and fry until both are a deep golden-brown, 12 to 15 minutes. Scoop into a blender jar or food processor, add the tomato and process until smooth.
Heat the remaining tablespoon of lard or oil in the same skillet over medium-high. When hot, add the tomato mixture and stir constantly until thick and considerably darker, about 5 minutes. Scrape into a large saucepan.
For the broth. Stir the broth into the tomato mixture, partially cover and simmer for 30 minutes over medium-low heat. Season with salt.
For the garnishing ingredients. If the tortillas are fresh or moist, let them dry out for a few minutes in a single layer. Slice them in half, then slice the halves crosswise into strips 1/4-inch thick. Heat the 1/3 cup vegetable oil in a medium-small skillet over medium-high. When hot, add the tortilla strips and fry, turning frequently, until they are crisp. Drain on paper towels. Cut the chiles into 1-inch squares and fry in the hot oil very briefly, about 3 or 4 seconds; immediately remove and drain, then place in a small serving bowl.
Assembling the soup. Just before serving, divide the cheese among 4 to 6 bowls, and top with the fried tortilla strips. Ladle on the hot soup and serve right away. Pass the toasted chile separately, along with the lime (the juice of which brings out the flavors of the soup).