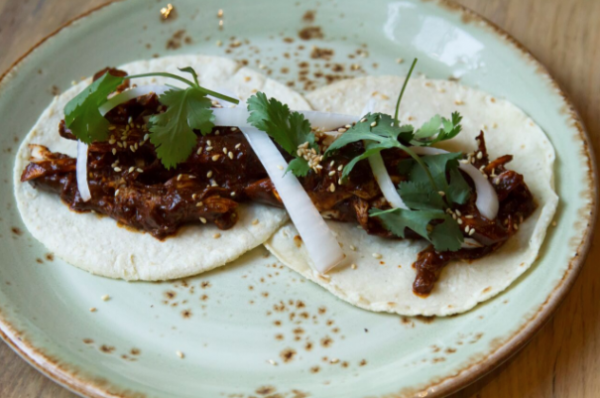 Servings:
12
or more, about 2 quarts of sauce
Ingredients
1/2

cup

rich-tasting pork lard or vegetable oil, plus a little more if necessary

6

medium (about 3 ounces total)

dried mulato chiles,

stemmed, seeded and cut into roughly 1-inch pieces

3

medium (about 1 ½ ounces total)

dried ancho chiles,

stemmed, seeded and cut into roughly 1-inch pieces

5

medium (about 1 ½ ounces total)

dried pasilla chiles,

stemmed, seeded and cut into roughly 1-inch pieces

4

garlic cloves,

peeled

3/4

cup (about 3 ounces)

whole almonds—with or without skins

1/2

cup (about 2 ounces)

raisins

1

15-ounce can

diced tomatoes in juice (preferably fire-roasted)

1/2

teaspoon

ground cinnamon, preferably Mexican canela

1/4

teaspoon

black pepper, preferably freshly ground

1/4

teaspoon

anise, preferably freshly ground (optional)

A scant 1/8

teaspoon

cloves, preferably freshly ground

1

ounce (about 1/3 of a 3.3-ounce tablet)

Mexican chocolate

, roughly chopped

1

slice

firm white bread, darkly toasted and broken into several pieces

2 to 3

tablespoons

sugar (plus a little more if needed)

Salt

About 2

quarts

chicken broth

1/3

cup

sesame seeds, toasted

1

rotisserie chicken, shredded

12

warm corn tortillas
Instructions
Preparing the mole base. If your slow-cooker has a removable cooking crock that can be placed directly on the heat, measure in the lard or oil and set over medium heat.  Otherwise, heat the lard or oil in a large (12 inch) non-stick skillet. When hot, add the chiles, garlic, almonds and raisins. Stir slowly and continually until the chiles are thoroughly toasted (the interior of each piece will become lighter in color) and the almonds have taken on a creamy color and toasty aroma—about 5 minutes.
Add the tomatoes (with their juice), spices, chocolate and bread.  Cook until the tomato juices are reduced and quite thick, about 2 minutes. Add 2 cups water, the sugar and 1 ½ teaspoons salt. Stir to combine. When the liquid comes to a simmer, transfer the crock to the slow-cooker (or scrape the mixture into your slow-cooker). Cook on low for 6 hours. After 6 hours most of the liquid will be reduced to a glaze. The mixture can hold for several hours on the slow-cooker's "warm" setting.
Finish the mole. Scrape every bit of the mole base into a bowl, then scoop half of it into a blender jar. Add 2 cups of the chicken broth, cover and blend until as smooth as possible-for most household blenders this will take 4 to 5 minutes.  Set a medium-mesh strainer over the slow-cooker's cooking crock and press the mole base through it. Repeat with the remainder of the mole base. Stir in 3 more cups chicken broth. Simmer in the slow-cooker for 2 hours or so on high. If the sauce has thickened past the consistency of a cream soup, stir in a little more of the broth. Taste and season with additional salt (usually about 1 teaspoon) and sugar (usually 2 to 3 tablespoons).
Serve. In a medium bowl combine the shredded chicken and about 1 cup of the mole and combine well. Scoop into a warm corn tortillas, garnish with sesame seeds and enjoy without hesitation.