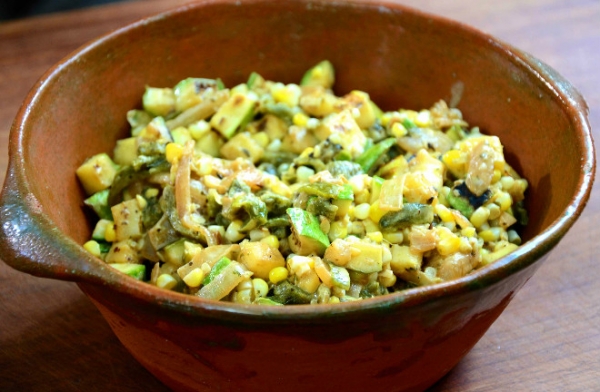 Ingredients
4

(about 1 pound total) medium

fresh poblano chiles

3

tablespoons

vegetable or olive oil

1

large

white onion, sliced ¼ inch thick

2

garlic cloves, peeled and finely chopped

1/2

teaspoon

dried oregano, preferably Mexican oregano

3/4

cup

Mexican crema,

crème fraiche or heavy cream, plus a little more if necessary

Salt

4

(about 1 pound total)

zucchini, cut into cubes a little smaller than 1/2 inch

1

cup

fresh or frozen corn kernels

1

sprig

epazote, leaves removed and thinly sliced (if you have it) OR ¼ cup chopped cilantro

12

corn tortillas,

heated

right before serving

1/4

cup

crumbled Mexican queso fresco,

or other fresh cheese such as feta or goat cheese
Instructions
Roast the poblanos directly over a gas flame or charcoal fire, or close under a preheated broiler, turning regularly until blistered and blackened all over, about 5 minutes over an open flame, 10 minutes under a broiler.  Collect the chiles in a bowl, cover with a kitchen towel and cool until  handleable.  Rub off the charred skin, pull out the stems and seed pods and briefly rinse under cool water to remove bits of skin and seeds. Slice the roasted chiles into ¼-inch strips.
Heat 2 tablespoons of the oil in a very large (12-inch) skillet over medium-high.  When hot, add the sliced onion and cook, stirring regularly, until the onion is richly browned, but still a little crunchy, about 7 minutes.  Then stir in the garlic and oregano.   After a minute or so, when the garlic is fragrant, add the chile strips and crema, stirring nearly constantly until the cream has thickened enough to coat the chiles nicely, a couple more minutes. Taste and season the mixture with salt, usually about ½ teaspoon. Transfer the rajas a la crema to a bowl and wipe the skillet clean.
Add the remaining 1 tablespoon of oil to the skillet and return it to medium-high heat.  Add the zucchini and cook, stirring frequently, until richly browned all over, 8 to 10 minutes. Add the corn and let that brown, a couple more minutes. Scrape in the rajas a la crema, along with the epazote (or cilantro).  Reduce the heat to medium and simmer, adding a couple more tablespoons of crema if the mixture needs it. Taste, add more salt if you want and scrape it into a serving bowl.  Serve on warm tortillas topped with queso fresco sprinkled over the top.