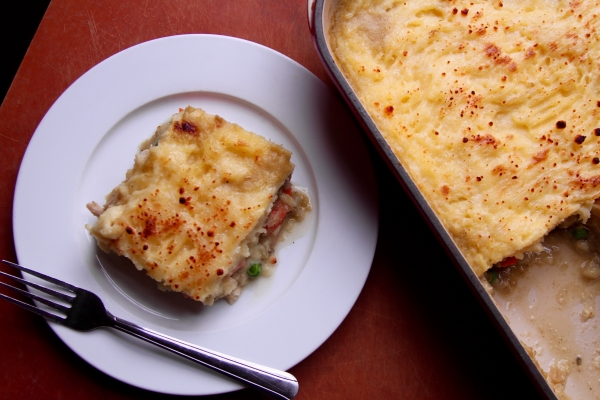 Ingredients
1

pound (about 8 medium)

tomatillos,

husked and rinsed

4

garlic cloves, unpeeled

1-2

fresh serrano chiles

Salt

2

tablespoons

vegetable or olive oil

A

big handful

of fresh cilantro

1

white onion cut into small pieces

1 1/2

cups (about 7 ounces)

sliced carrots (¼ inch thick is good)

2-3

cups

coarsely shredded boneless, skinless cooked turkey or chicken

1

cup

frozen peas

1

cup

sliced mushrooms (I love shiitakes)

2

tablespoons

butter for coating baking dish plus a little more for the top

3-4

cups

leftover mashed potatoes (brought to room temperature will make it easiest to spread)

2

tablespoons

Mexican queso aňejo or other garnishing cheese like Romano or Parmesan
Instructions
Preheat your oven's broiler.  Cover a baking sheet with foil and place tomatillos, garlic, and serranos on top.  Slide the baking sheet as close to the broiler as possible.  After 4 or 5 minutes, when everything is blotchy-black and softening,  turn the vegetables and roast the other side. Everything should be cooked through (they should be soft), while taking on an attractive bit of rustic char.  Once the vegetables are roasted, place on the stove top to cool down a little. Set your oven to 350 degrees.
Place the carrots into a microwave safe bowl. Sprinkle with about a tablespoon of water and cover with plastic wrap. Poke a hole in the top with a fork and microwave on high for 2 minutes. When cool enough to handle (be careful with the steam!) tip out the water.
When the vegetables on the sheet tray have cooled down enough to handle, slip the skins off the garlic and pull the stem off the chiles. In a blender, combine the tomatillos (and any juice on the baking sheet) garlic, chiles, a scant teaspoon salt, and the cilantro and blend everything to a coarse puree. While the vegetables are cooling heat the oil in a 4-quart sauce pan to medium-high. Add the onion and cook until golden and softened, about 7- 8 minutes.
Add the tomatillo puree to the pan along with the carrots, turkey, peas, and mushrooms. Taste for seasoning and add salt if necessary (usually ½ teaspoon). Use 2 tablespoons of the butter to coat a 9 x 13 inch baking dish – making sure to coat the sides and bottom. Pour the turkey-tomatillo mixture into the bottom of the dish. Spread your mashed potatoes over the top by working from the outside in. Using a rubber spatula scoop up a portion of the potatoes, plop it down along the edge of the tray and wipe your spatula downwards on the edge to clean it. Keep moving around the edge of the baking dish. Use the rest of the potatoes to fill in the center.
Cut the remaining butter in bits and dot across the top of the potatoes. Sprinkle the top with cheese. Slide tray into the oven and bake minutes until bubbly, usually 15 to 20 minutes. Allow to cool on your stove top for a few minutes before serving.