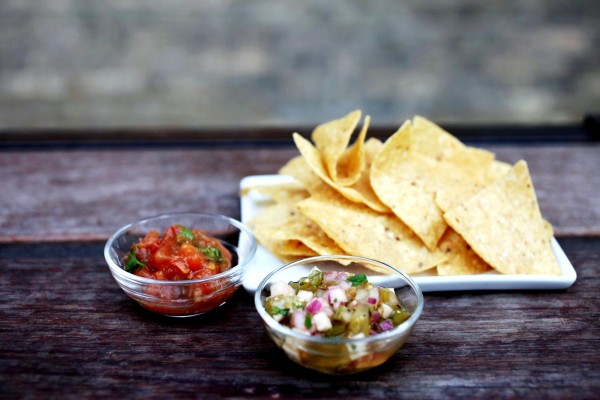 Ingredients
3

large

garlic cloves, peeled

1 or 2

serranos chiles,

or 1 small jalapeño, stemmed

12

ounces (6 medium)

tomatillos,

husked, rinsed and cut in half around the equator

1/2

cup (about 2 ounces)

diced small white Japanese turnip, daikon radish or small golden beets (I like 1/4-inch pieces)

1/2

cup (about 1/2 small)

diced red onion

3

tablespoons

fresh lime juice

1/2

teaspoon

Salt

2 to 3

tablespoons

chopped fresh cilantro, parsley or another herb that appeals
Instructions
Set a large (10-inch) nonstick skillet (or a heavy skillet lined with foil) over medium heat. Lay in the garlic, chiles and tomatillos (cut side down). When the vegetables are browned and softened on one side (about 4 minutes), turn everything over and brown the other side. Remove it all to a bowl and let cool.
Combine the turnip, onion, lime juice and salt in a large plastic storage bag. Push out as much air as possible, seal the bag and let the vegetables marinate for 15 to 20 minutes.
Finely chop the garlic and chiles, either by hand or with a few pulses in a food processor. Hand-chop the tomatillos into roughly ¼-inch pieces and scoop into a large bowl. Add the garlic, the chiles, the turnip mixture and the herbs to the bowl, and stir to combine. Taste for salt, adding a little more if necessary, and the salsa is ready to serve on tacos or grilled fish or even with chips.