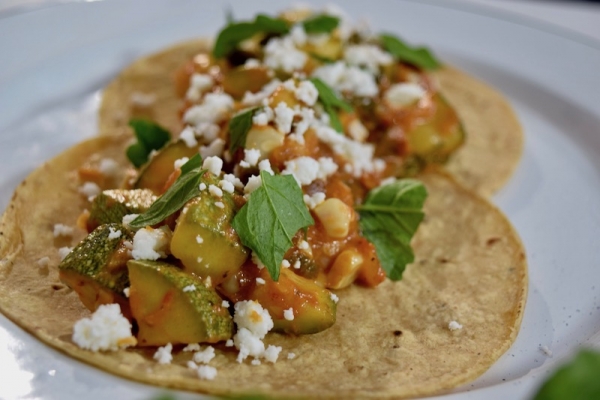 Servings:
6
cups, enough for 24 tacos, serving 6 as a casual meal
Ingredients
1 1/2

tablespoons

vegetable oil

1

medium

white onion, chopped

1

pound (6 to 8 plum or 2 medium-large round)

ripe tomatoes, roughly chopped OR 2/3 of a 28-ounce can good-quality whole tomatoes in juice, drained

2

garlic cloves, peeled and finely chopped

2

large

fresh poblano chiles

The kernels

cut from 1 large ear of corn (about 1 cup)

4

medium (about 1 1/2 pounds)

zucchini—or use the Mexican round or teardrop-shape, light-green calabacitas, cut into ½-inch cubes (about 5 cups of cubes)

The leaves

from 1 sprig fresh epazote, roughly chopped OR 3 tablespoons chopped fresh cilantro

2/3

cup

Mexican crema

crème fraîche or heavy (whipping) cream

Salt

1/2

cup (about 2 ounces)

Mexican queso fresco or other crumbly fresh cheese like salted pressed farmer's cheese or feta

24

warm

fresh corn tortillas
Instructions
1. Preparing the flavoring base. Measure the oil into a large (12-inch) skillet set over medium-high heat.  Add the onion and cook, stirring frequently, until richly browned, about 8 minutes.  While the onion is cooking, coarsely puree the tomatoes in a food processor or blender.  Add the garlic to the browned onion, cook 1 minute, stirring, then add the tomatoes.  Reduce the heat to medium-low, cover the skillet and cook, stirring occasionally, for 5 minutes. Remove from the heat.
Roasting the chiles. Roast the poblanos directly over a gas flame or on a baking sheet 4 inches below a very hot broiler, turning regularly until the skin has blistered and blackened on all sides, about 5 minutes for open flame, about 10 minutes for broiler. Cover with a kitchen towel and let stand 5 minutes. Rub off the blackened skin, then pull out the stem and seed pod. Rinse briefly to remove stray seeds and bits of skin. Slice into ¼-inch strips.
Finishing the dish. Uncover the skillet and raise the heat to medium-high. Stir in the poblanos, corn, zucchini, epazote (or cilantro) and the crema (or one of its stand-ins).  Cook, stirring frequently, until the zucchini is crisp-tender and the liquid has thickened enough to coat the vegetables nicely, about 8 minutes. Taste and season with salt, usually about 1 teaspoon.  Serve in a decorative bowl, sprinkled with the crumbled cheese and pass the hot tortillas separately for do-it-yourself tacos.
Working Ahead:  If you should find it helpful, the dish can be prepared a day ahead through Step 2; cover and refrigerate the mixture.  Return the mixture to the skillet and finish Steps 3 and 4 just before serving.