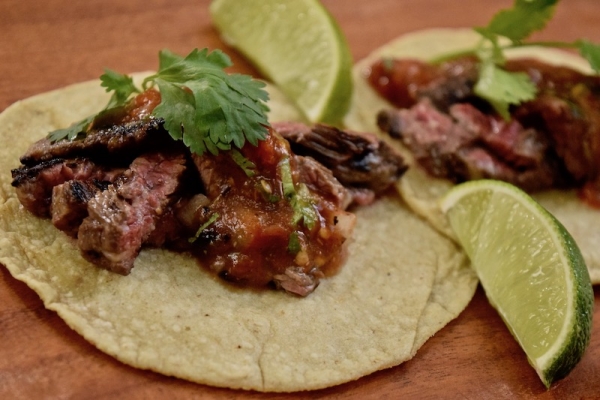 Servings:
12
tacos, serving 4 as a light meal
Ingredients
1

small

white onion, peeled and roughly chopped

3

garlic

cloves, peeled and roughly chopped

3

tablespoons

lime juice

Salt

1/4

teaspoon

black pepper, preferably fresh ground

1/4

teaspoon

cumin, preferably fresh ground

1

pound

skirt steak, trimmed of surface fat as well as the thin white membrane called

12

warm

corn tortillas

A

bowl of lime wedges

for serving

1

cup

Salsa de Molcajete

for serving
Instructions
Marinating the meat. In a food processor or blender, combine the onion, the garlic, lime juice, cumin, black pepper and ½ teaspoon salt. Process to a smooth puree. Place the skirt steak in a non-aluminum baking dish. Using a spoon, smear the marinade over both sides of the skirt steak. Cover and refrigerate 1 hour or up to 8 hours.
Grilling the steak. Light a charcoal fire and let the coals burn until they are covered with grey ash and medium-hot; set the grill grate in place. Or heat a gas grill to medium.
Lay the steak over the hottest part of the grill, turning once, until richly browned and done to your liking, about 1 ½ to 2 minutes per side for medium-rare (which is the way I like skirt steak).
Serving the tacos. Cut the long piece of skirt steak into 3-to 4-inch sections, then cut each section into thin strips across the grain (that is, in line with the full length of the skirt steak). Mix with the chiles and onions, season with a little salt and set on the table, along with the salsa de molcajete, lime wedges and hot tortillas, for your guests to make into soft tacos.
Working Ahead:Thin steaks like skirt, taste best with a shorter tour in the marinade—1to 8 hours. Leave them longer and the marinade flavor overpowers and saps the rosycolor of the meat