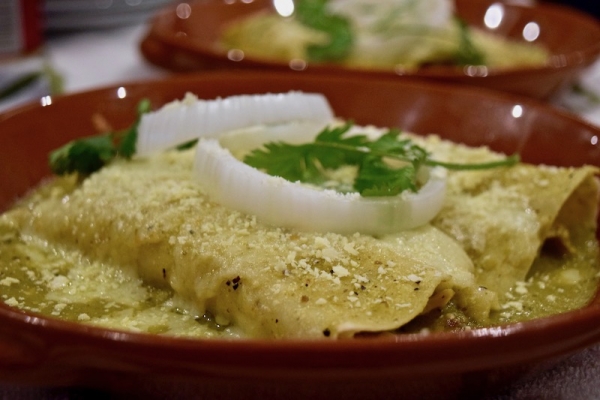 Ingredients
3

pounds (18 to 24 medium)

tomatillos,

husked and rinsed

1

large

fresh poblano chile

1 1/2

tablespoons

vegetable oil or rich-tasting pork lard, plus a little oil for spraying the tortillas

1

medium

white onion, chopped

2

cups

chicken broth, plus a little extra if needed

Salt

1/2

cup

Mexican crema

, crème fraiche or heavy (whipping) cream

About 2

cups

coarsely shredded cooked chicken, preferably grilled, roasted or rotisserie chicken

2/3

cup

shredded Jack cheese or Chihuahua cheese

12

corn tortillas

A few

sliced rounds of white onion, separated into rings, for garnish

Fresh

cilantro sprigs for garnish

1/4

cup

freshly grated Mexican queso añejo

for garnish
Instructions
The sauce. Roast the tomatillos and chile on a baking sheet 4 inches below a very hot broiler, until they're darkly roasted (they'll be blackened in spots), about 6 minutes. Flip everything over and roast the other side—5 or 6 minutes more will give you splotchy-black and blistered tomatillos and poblanos that are cooked through. Cool.  When the chile is cool enough to handle, rub off the blackened skin of the chile, then pull out the stems and seed pod. Tear the chile open and rinse briefly to remove any stray seeds and bits of skin, then rougly chop.  Transfer the chiles and tomatillos with their juice to a blender or food processor and blend to a smooth puree.
In a medium-size (4- or 5-quart) pot (preferably a Dutch oven or Mexican cazuela), heat the oil or lard over medium heat.  Add the onion and cook, stirring regularly, until golden, about 7 minutes.  Raise the heat to medium-high, and, when the pot is noticeably hotter, stir in the tomatillo puree.  Cook, stirring, until darker in color and gets thickened to the consistency of tomato paste, 10 to 15 minutes.  Stir in the broth, partially cover and simmer 15 minutes. Taste and season with salt, usually about ½ teaspoon. The sauce should be a slightly soupy consistency—not as thick as spaghetti sauce.  If it is too thick, stir in a little additional broth. Keep warm over low heat.
Other preliminaries. Stir the crema (or one of its stand-ins) into the sauce. Put the chicken in a bowl and stir ½ cup of the hot sauce mixture into it. Taste and season with additional salt if you think it needs it. Have the cheese at the ready.
Finishing the enchiladas. Heat the tortillas by spraying with the oil, then sliding them into a microwaveable plastic bag.   Fold the top over but don't seal it.  Microwave on high for 1 minute to create a steamy environment around the tortillas and then let them stand 2 to 3 minutes before using.  Smear about ¼ cup of the warm sauce over the bottom of 4 to 6 nine-inch individual ovenproof baking/serving dishes or smear about 1 cup of the sauce over the bottom of a 13x9-inch baking dish.     Working quickly so the tortillas stay hot and pliable, roll a portion of the chicken into each tortilla, douse evenly with the remaining sauce, then sprinkle on the shredded melting cheese and bake at 400 degrees until the enchiladas are hot through (the cheese will have begun to brown), about 15 minutes.
Garnish with añejo cheese, onion rings and cilantro sprigs and serve immediately.