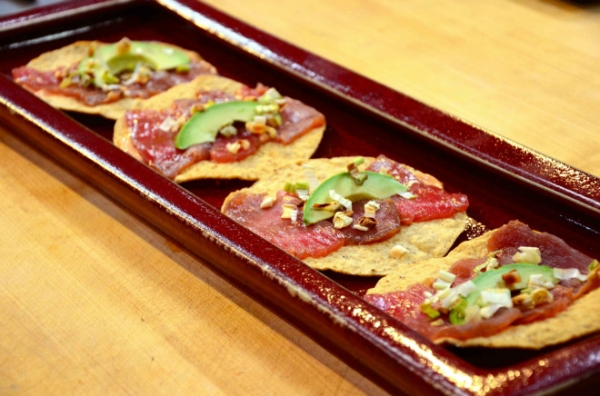 Servings:
8
tostadas, serving 8 as an appetizer or snack
Ingredients
3/4

cup

good-quality mayonnaise

2

canned chipotle chile en adobo,

stemmed and seeded

1/2

pound (about 2 small)

leeks, roots cut off, cut in half lengthwise, thoroughly washed through all the layers

1/4

cup

soy sauce

2

tablespoons

fresh lime juice

2

tablespoons

fresh orange juice

10

ounces

sashimi-grade tuna (for the prettiest presentation ask for a piece that is approximately 5 " x 3"), sliced 1/8" thick

8

small

store-bought tostadas

1

avocado,

pitted, flesh scooped from the skin and thinly sliced
Instructions
Combine the mayonnaise and chiles in a small food processor or blender and process until smooth. Add a little water if needed so the mixture runs smoothly through the blades. Transfer the chipotle mayonnaise to a small bowl.
Remove the center third of each leek and save to use in a soup or salad.  Cut the large outer pieces crosswise into ¼-inch slices.   Lay the slices of leek on one side of a piece of parchment paper and fold the empty side over so that the leeks are covered by parchment.  Microwave at 40% power for about 12 minutes, stirring every 3 minutes, until the leeks are dry and crispy.
In a medium bowl, whisk together the soy sauce, lime juice and orange juice. Add the tuna to the bowl and let it marinate for 2 minutes. Transfer the tuna to a plate.
To assemble the tostadas, spread about 1 ½ teaspoons chipotle mayo over each tostada. Top each with about 3 slices of tuna, a slice of avocado and a sprinkling of dried leeks.
Fish & Shellfish
,
Starters, Snacks & Light Meals
,
Tacos, Enchiladas, Tamales & Tostadas
,
Appetizer / Snack
,
Avocados
,
Seafood
,
Celebration Food
,
Easy
,
Baja
,
Mexico City
,
Brunch
,
Cinco de Mayo
,
Cocktail Party
,
Dinner Party
,
Easter
,
Fourth of the July
,
Memorial Day
,
New Year's Eve
,
Spring
,
Summer
,
Warm Weather
,