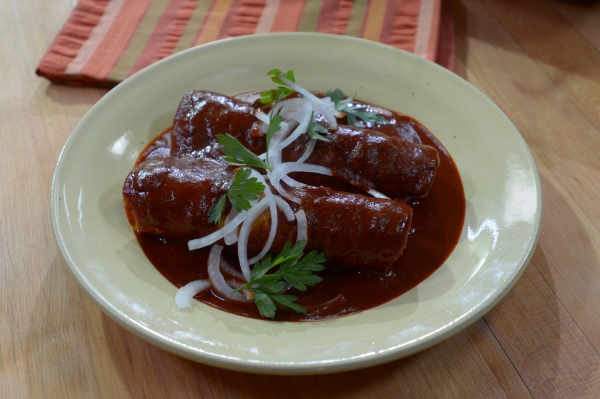 Ingredients
6

medium

ancho chiles,

(about 3 ounces total), stemmed and seeded

3

medium

dried guajillo chiles,

(3/4 ounce total), stemmed and seeded

6

ounces

ripe tomatoes,

(1 medium-small round or 3 small plum)

4

unpeeled

garlic cloves,

2

tablespoons

sesame seeds

1/2

teaspoon

ground cinnamon, preferably Mexican canela

freshly ground

1

generous teaspoon

dried Mexican oregano,

1/2

teaspoon

black pepper, preferable freshly ground

3

tablespoons

Mexican chocolate

(about 3/4 ounce) coarsely chopped

3 to 3 1/2

cups

chicken broth (divided use)

1 1/2

tablespoons

vegetable or olive oil or rich-tasting pork lard

About 1/2

teaspoons

sugar

Olive oil

12

warm corn tortillas

2 3/4

cups (12 ounces)

cooked, coarsely shredded, boneless chicken, pork or beef (this is a good place for rotisserie chicken or leftover roasted or braised meats)
Instructions
Make the Mole Coloradito. On an ungreased griddle or heavy skillet heated over medium, toast the chiles a few at a time: open chiles flat, lay on the hot surface, press flat for a few seconds with a metal spatula (until they start to crackle, even send up a faint wisp of smoke), then flip and press down to toast the other side. In a medium-size bowl, cover the chiles with hot water and let rehydrate 30 minutes, stirring frequently to ensure even soaking. Drain and discard the water.
While the chiles are soaking, lay a piece of foil over part of your hot griddle or skillet and lay the tomatoes on it; on the uncovered part, place the garlic. Roast, turning everything occasionally, until blackened in spots and soft, 10 to 15 minutes. Cool slightly, then peel off the tomato and garlic skins. On the hot surface, toast the sesame seeds for a minute or so (they'll pop around), then scrape them into a blender along with the tomatoes and garlic. Add the chiles, cinnamon, oregano, pepper, chocolate and 1 1/2 cups of the broth. Blend to a smooth puree, then press through a medium-mesh strainer into a bowl.
Heat the oil or lard in a heavy, medium-size (2- to 3-quart) saucepan over medium-high. When hot enough to make a drop of the puree sizzle fiercely, add the puree all at once and stir for several minutes as it sears and thickens. Stir in another 1 1/2  cups of the broth, partially cover and simmer for about 1 hour, stirring occasionally. Taste and season highly with the salt, usually about 1 1/2 teaspoons, and the sugar.
Turn on the oven to 350 degrees. Spray or brush with oil on one side of the tortillas then stack them up on a baking sheet and slide into the oven for just long enough to soften, about 3 to 4 minutes.
In a medium skillet set over medium-low, add the chicken (or one of its stand ins) and ladle in some of the sauce, about 1/2 cup. Lay out the warm tortillas on a counter, top them each with a portion of meat, roll them up and place them on a plate, seam side down. To serve the enchiladas, spoon a generous amount of sauce over the tortillas.
Garnish the enchiladas with the topping(s) of your choice: crema, white onion, and cilantro or parsley leaves would be nice here.