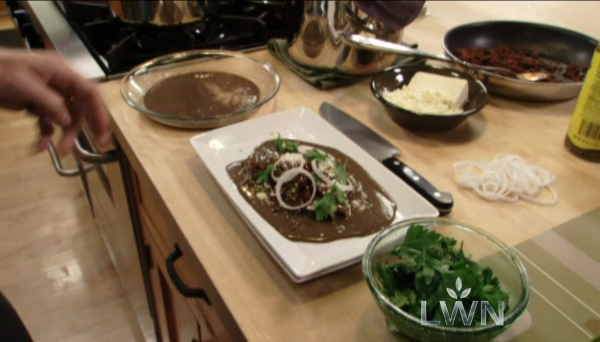 Having the great fortune to visit Oaxaca two or three times a year, I get the chance to enjoy this rustic, satisfying dish regularly where it is most well known.  And I must say I really love fresh tortillas awash in the rich texture of black bean sauce, especially the Oaxacan one that is simmered with anisey avocado leaves (I suggest a bit of fresh fennel to substitute for the less-available avocado leaves; they're not the same, but the fennel moves the flavor in the Oaxacan direction) From Season 9, Mexico—One Plate At A Time
Ingredients
12

ounces

dried black beans

Handful of dried

avocado leaves,

lightly toasted in a dry skillet (optional)

8

ounces (about 1 cup)

Mexican Chorizo sausage,

removed from its casing

8

corn tortillas

A

little

vegetable oil, for brushing or spraying the tortillas

About 1/2

cup

Roasted Tomatillo Salsa or Chipotle Salsa

About 1/2

cup

crumbled Mexican queso fresco

or other fresh cheese like salted pressed farmers cheese or goat cheese

A couple of thin white onion slices, broken into rings

A few tablespoons coarsely chopped flat-leaf parsley
Instructions
Cook the beans. Place the black beans, avocado leaves if you are using them and 6 cups of water in a large (4-quart) saucepan. Bring to a boil over medium-high, lower the heat and simmer until the beans are softened and completely cooked through, about 2 hours. Remove from the heat and strain the beans, reserving the cooking liquid.
 Make the black bean sauce. Add ¾ cup of the cooked beans and 2 cups of the cooking liquid to a blender and puree until smooth. Pour the puree and the remaining broth into the saucepan and bring to a boil over medium-high. Boil, stirring regularly, until the bean sauce is reduced to 2 cups, about 30 minutes. The consistency should be very saucy, like a very light bean soup; if necessary, stir in a little water. Taste and season with salt, usually a generous teaspoon. Cover and set over the lowest heat. Save the remaining beans for another meal.
 Fry the chorizo. In a medium (9-inch) skillet, fry the chorizo over medium-low (add a little oil if it doesn't begin to render fat right away) until done, about 10 minutes, breaking up any clumps as it cooks. Keep warm over low heat or in a low oven.
Warm the tortillas. Lightly brush or spray both sides of each tortilla with oil. Slide into a plastic bag and microwave on high (100%) for 1 minute to warm and soften.
 Finish the enfrijoladas. One by one, dip the tortillas into the hot bean broth, fold into quarters and divide among four warm dinner plates, slightly overlapping each pair. Spoon a portion (about ¼ cup) of the remaining hot bean broth over each pair of quartered tortillas, splash with some of the Chipotle or Roasted Tomatillo Salsa, then sprinkle with chorizo, crumbled cheese, sliced onion and chopped parsley. Serve immediately.