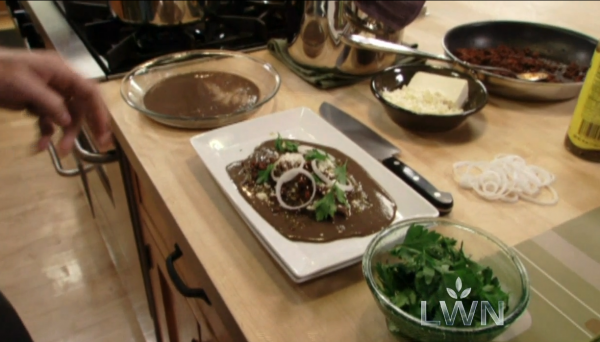 Having the great fortune to visit Oaxaca two or three times a year, I get the chance to enjoy this rustic, satisfying dish regularly where it is most well known.  And I must say I really love fresh tortillas awash in the rich texture of black bean sauce, especially the Oaxacan one that is simmered with anisey avocado leaves (I suggest a bit of fresh fennel to substitute for the less-available avocado leaves; they're not the same, but the fennel moves the flavor in the Oaxacan direction).
A plate of enfrijoladas with a big salad and cold beer or fruity red wine is a delicious lunch or supper. If you have 2 1/2 to 3 cups of beans cooked (or 3 cups of leftover Oaxacan Black Bean Soup), the dish is fast as well.  And it is nutritious (low in meat and fat, high in grains, beans and flavor—covering most of the popular topics these days). So enfrijoladas are a great candidate for everyday eating.
Recipe from Season 4, Mexico—One Plate at a Time
Servings:
6
as an appetizer, 4 as a casual main course
Ingredients
1

cup (about 6 ounces)

dry black beans, rinsed

2

avocado leaves OR1/2 rib of fresh fennel, roughly chopped

1 1/4

cups (10 ounces)

chorizo sausage,

casings removed

1

medium

white onion,

Salt (about 1/2 tsp)

12

corn tortillas (plus a few extra, in case some break)

About 3/4

cup

Serrano-Tomatillo Salsa

(optional)

3/4

cup (about 3 ounces)

crumbled Mexican queso fresco,

dry goat cheese or salted farmer's cheese

3

tablespoons

roughly chopped flat leaf parsley
Instructions
Make black bean sauce. Place the beans in a medium-size (2- to 3-quart) saucepan, cover with 3 cups water, remove any beans that float and heat slowly to a simmer.
If using avocado leaves, toast them for a few seconds per side (they'll become aromatic and lightly brown) over a medium gas flame or heated griddle. Add the avocado leaves (or fennel), 1/4 cup of the chorizo and 1/2 of the onion to the beans, partially cover and simmer over medium to medium-low heat, stirring occasionally, until the beans are fully tender, 1 1/2 to 2 hours. If you see the beans peeking up through the liquid, add water to cover them by 1/2-inch.
Coarsely puree the beans in batches in a food processor or loosely covered blender. Return to the pot and add enough water to thin to the consistency of a medium cream soup. Taste and season with salt.
The tortillas and chorizo. Set up a steamer (a vegetable steamer in a large saucepan filled with 1/2 inch of water works well); heat to a boil. Wrap the tortillas in a heavy kitchen towel, lay in the steamer and cover with a tight lid. Boil 1 minute, turn off the heat and let stand without opening the steamer for 15 minutes.
Meanwhile, in a small (7- to 8-inch) skillet, cook the remaining 1 cup of chorizo over medium-low heat until done, about 10 minutes, breaking up any clumps as it cooks. Drain off the rendered fat, cover the skillet and keep warm over very low heat.
Finish the enfrijoladas. Turn the oven on to the lowest setting and warm a serving platter in it. Pour out 1 1/2 cups of the warm bean sauce onto a deep plate. One by one, dip both sides of the warm tortillas into the sauce, fold into quarters and transfer to the warm serving platter, laying the tortillas in 2 rows, slightly overlapping. Keep warm in the oven.
Scrape any bean sauce remaining on the plate back into the pot. (If the sauce has thickened, add a little water to get it back to the original consistency.) Quickly bring it to a simmer, spoon it over the folded tortillas (there should be a considerable amount of sauce), strew with the warm chorizo, splash with the optional salsa, then sprinkle on the crumbled cheese, chopped parsley and the remaining sliced onion. Serve your delicious enfrijoladas without hesitation--they don't take well to delays.
Advance Preparation: The black beans can be prepared through Step 1 several days ahead; the chorizo can be cooked, too. Store separately in the refrigerator, covered. Reheat the sauce slowly in a covered pan, thinning if necessary. Warm the chorizo before heating the tortillas and finishing the dish.
Shortcuts: Though the flavor and color won't be as nice, the beans could be replaced with 2 drained 15-ounce cans of black beans.
Variations and Improvisation: The avocado leaf (or fennel) could easily be omitted or replaced with 2 or 3 canned chipotles en adobo or toasted-and-soaked red-black chipotles or chiles pasillas oaxaquenos (in fact, with the chipotle or pasilla oaxaqueno you won't really miss the chorizo--either in the beans or on the top). Spooning soft goat cheese onto the tortillas before folding them makes the dish more substantial (you can omit the cheese garnish, if you wish). Bacon, ham or other sausage can replace chorizo; enfrijoladas are also delicious splashed with Roasted Tomatillo-Chipotle Salsa. In short, with bean sauce and tortillas as a base, you can vary toppings (or fillings) as you like.
Plantain Enfrijoladas with Sour Cream: Prepare the bean sauce, tortillas and chorizo as described in Steps 1 and 2. Fry 1 diced ripe plantain in a little vegetable oil over medium heat until browned. Dip the warmed tortillas in the warm sauce as described in Step 3, filling them with a mixture of the fresh cheese and chorizo as they are folded into quarters and layed in an ovenproof baking dish. Sauce them, then bake them covered in a 400 degree oven for 5 minutes or so, until very hot, then drizzle with a little crema or sour cream thinned with a little milk. Garnish with the fried plantains, onion and parsley.