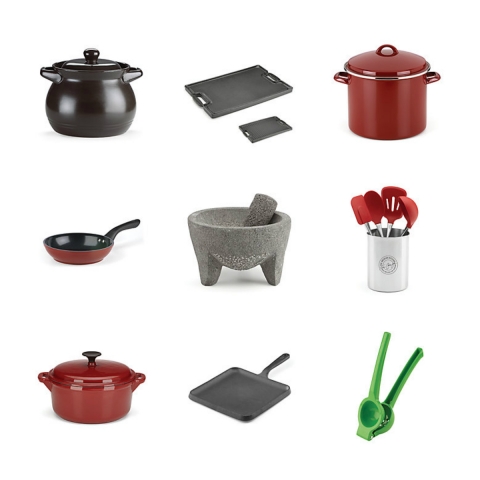 A lot of you have asked me for years about where you can get a great comal (flat griddle) or a really useable molcajetes (mortar) or the right pot to cook mole in or steam tamales.
Today, I have your answer … and getting it into your kitchen is just a click away.
Today, I get to tell you about my brand new "Mexican Kitchen" line of cookware, serveware and kitchen tools that I designed with the folks at Gorham.
It's just a small line of what are essentials in my kitchen.  Things like enameled cast iron Dutch oven (the kind of pot I like for making moles, tomatillo braises, barbacoa and carnitas), beautiful plates and serving dishes that have a kind of rustic charm that I think goes with any delicious creation, a traditional basalt I for making salsa or grinding spices, a classic Mexican citrus squeezer, a huge non-stick skillet—you get the idea. I especially love this handsome, rugged ceramic bean pot.
It was really important to me that every item in the collection strike the right balance between durability and affordability, that every piece would make a great addition to any kitchen.
On the shopping section of our website you can see the roster of products, with more to be added as they become available.