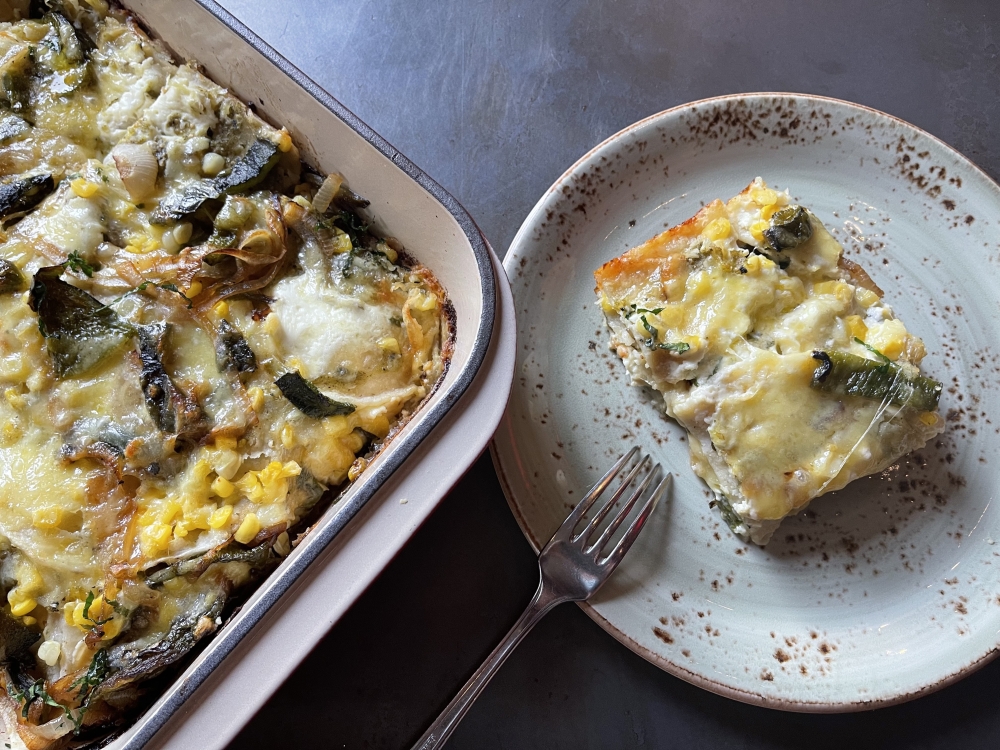 The next *LIVE* YouTube Cookalong with Rick Bayless takes place Thursday, Feb. 3 at 7 p.m. central time.
It's completely free. Just subscribe to Rick's YouTube channel and to tune into the stream on Thursday. We've already put together a shopping and equipment list for you (see below).
>> SUBSCRIBE HERE <<
This month, we're making a stick-to-your-ribs Pastel Azteca, akin to a Mexican lasagna. There's a punchy salsa verde here (some cooks use cooked tomatillo or tomato sauce) with creamy, cheesy richness and the inimitable flavor of roasted poblano rajas. And it's not pasta separating those luscious layers, it's tortillas.
For dessert? Chocolate-Coconut Mousse with Mezcal. Oh yeah.
As always, we love spending this time with you and creating something delicious together. See you Thursday's night!

THURSDAY'S RECIPES:
• Pastel Azteca of Roasted Poblano Rajas, Salsa Verde and Two Cheeses
• Chocolate-Coconut Mousse with Mezcal
GROCERY AND EQUIPMENT LIST FOR FEBRUARY LIVE COOK ALONG
Vegetables, fruit and miscellaneous fresh items
1 ¼ pound tomatillos
1 head garlic
2 to3 jalapeños or serranos
1 ¼ pound poblanos
2 medium white onions
2 ears of corn or.1 ½ cups frozen corn
Cilantro
Epazote (optional)
20 corn tortillas
2 ripe avocados
Pantry
Vegetable or olive oil
8 ounces semi-sweet chocolate
1 cup unsweetened coconut milk
Salt
¼ cup mezcal
¼ cup agave syrup
Coconut cream for whipping (optional for garnish)
Grated chocolate (optional for garnish)
Chocolate wafers–vegan ones like Nabisco Chocolate Wafers offer a completely vegan dessert (optional for garnish)
Dairy
8 ounces ricotta cheese (the drier kind often sold as hand dipped)
1 cup crema, cream fraiche or heavy cream
12 ounces melding cheese such as Chihuahua, Monterey Jack, brick or mild cheddar
Equipment
Blender
12-inch skillet
13×9 inch baking dish
Rimmed baking sheet
6 6-ounce serving dishes (coffee cups work well) or a 1-quart serving dish