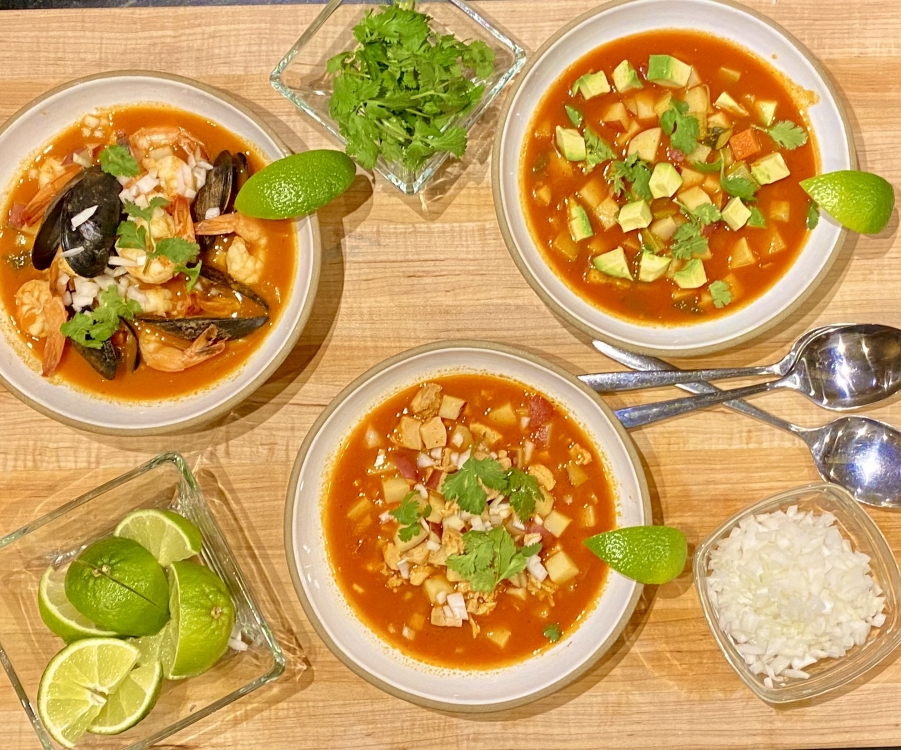 It's our first members-only live cooking class! We are incredibly excited to share a night of soul-satisfying cooking with you. We pondered what would be the best dishes for our inaugural session and the debates were fierce: Enchiladas? Something on the grill? Should we throw a curveball and go with a bright, wild ceviche?
Ultimately, we decided on something comforting, because there's a chill in the air and comfort is what we all really need right now.
So, soups it is. Specifically, a Steaming Seafood (or Vegetable or Chicken) Caldo.
As the soup simmers, we'll also make a Creamy Jalapeño-Garlic Dressing for a salad to accompany your comforting caldo. To drink? We suggest a Sauvignon Blanc from New Zealand, or perhaps a light red like a Barbera or a fruity American Pinot Noir.
Recipe: Steaming Seafood (or Chicken or Vegetable) Caldo
Recipe: Creamy Jalapeño Garlic Dressing
Remember, our class starts 6 p.m. (Central) on Tuesday, Dec. 29. We expect the session to take about an hour, start to finish.
Grocery and Equipment List
Vegetables
2 heads garlic 
1 medium white onion
2 fresh jalapeño chiles
1 pound (about 4 medium) boiling potatoes (like the red-skinned ones)
1 ripe avocado
Cilantro
Epazote or parsley, optional
4 limes
Salad greens
For vegetarian version of the caldo:

– 3/4 pound (usually 2 medium-small) zucchini or calabacitas (found in Mexican grocery stores)
– A couple of medium carrots or parsnips (or one of each)
Pantry
A can chipotle chiles en adobo (you need 2 chiles)
1 (15-ounce) can of fire-roasted tomatoes
A generous cup olive or vegetable oil
Salt
Meat and Seafood
1 quart chicken or vegetable broth
For chicken version of the caldo:

– 1 ¼ pounds boneless skinless chicken (I prefer thigh meat, but breast meat will work)
For seafood version of the caldo:

– 1 pound mussels
– 1 pound peeled, deveined shrimp (I like the largish ones that are about 25 to a pound)
Dairy

½ cup tangy crema, crème fraiche or sour cream
Equipment
Food processor or blender
4-quart saucepan with lid