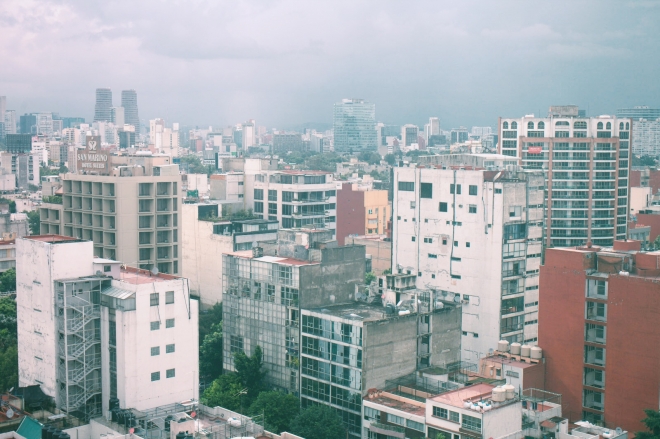 Tepito (Sunday Morning only)
One of my favorite places, but one I recommend to folks who are adventurers and who are looking for a glimpse into Mexico City's past. Lots of antiques, relics and paraphernalia.  Adjacent to a large, working class Sunday market with clothing, cds, household goods, etc. Have the taxi driver take you to the antiques (antigüedades) side on Paseo de la Reforma. There is a very, very good stall toward the back that makes blue corn gorditas, quesadillas and tlayudas with fillings of wild greens (quelites), squash blossoms, huitlacoche, tinga, on and on.  Also, look for the guy selling fresh-pressed pineapple juice and another selling bacalao tortas. (For the adventurous, there's nothing more thrilling than a bowl of Guerrero-style green mole on Sunday afternoon at El Pozole de Moctezuma, near Garibaldi Square, finished table side with chicharrón, egg, avocado, chile, oregano and, if you want, mashed sardines. The place is hard to find (you have to be buzzed in), but it's legendary among food lovers.)
Downtown (just a block and half from the Zócalo)
A new installation in a very old building.  This is a collection of design boutiques with a couple of restaurants in the center.  Azul Histórico, from chef Ricardo Muñoz is really good; traditional Mexican food with a bit of modern plating. There is a Mexican cooking shop upstairs, as well as Qué Bo!, José Ramon Castillo's amazing chocolate shop.
San Juan Market (Centro Histórico)—this is the chefs market (though it's gotten so expensive that a lot of the chefs don't buy there any more) and worth a look around (though there's little to eat there, the fondas not being as good as in other markets; there is a really good torta place that also sells Spanish-style hams and cheeses, though).  Great fish, amazing fruit, incredible cheese, impressive goats and suckling pigs, some of the best wild mushrooms you'll ever see anywhere.  Just a couple of blocks away is Caguamo (Calle López, esq Calle Ayuntamiento) and it's a street stall worth checking out for really good ceviches and seafood cocktails.  Just on the corner you'll see a great coffee place that roasts its own beans.  And if you go to the other corner of the same block and turn left, you'll find one of the best spice, nut and chile vendors in all of the DF.
If you're in the Zócalo area, I always suggest checking out Dulcería de Celaya, the hundred-year-old jewel-box of a candy shop that's making the beautiful, difficult-to-master old-time sweets like no one else.  It's on Cinco de Mayo, as is the old Café Tacuba, paved with beautiful talavera tiles and still serving its famous café con leche and enchiladas especiales after all these years.  It won't be the best meal you've ever eaten, but the experience will be memorable.
Of the high-end restaurant experiences right now in Mexico City, the most well-known one is certainly Pujol from Chef Enrique Olvera.  Beautiful, conceptual tasting menu that fuses high-end modern restaurant technique with a deep knowledge of Mexico's cuisines.  The last meal I had there was remarkably delicious,  besides being intellectually stimulating.The Mexican wine list is great, though pricy. (If you're in the neighborhood for breakfast or lunch, try Enrique Olvera's casual spot on the corner, ENO.  It's really simple and delicious.)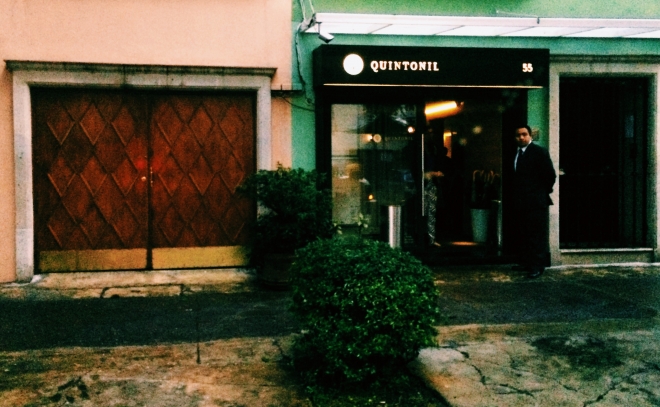 My current obsession is less conceptual, less formal and more easy going.  It's Quintonil from Chef Jorge Vallejo and his wife Alejandra.  You can opt for the tasting menu (which is what I do) or order a la carte.  I love Jorge's flavors (complex, but light, and soul-satisfying).  If the huauzontles dish is on the menu, get it. Same for the soup that tastes like a liquid quesadilla. What he does with vegetables ranks at the top of all Mexico's restaurants.
Over in La Roma, Máximo is the reservation to get, if you can.  Though Chef Lalo Garcia's food veers more toward European (he spent years with Eric Ripert), the ways he weaves in Mexican flavors and ingredients is incredible.  Great cocktail list, great wine list, great experience.  The place is the most casual of the three by far.  And if Lalo's wife Gabriela is at the door, all the better.  She runs a great neighborhood-feeling restaurant. I just wish it was in my home-town neighborhood.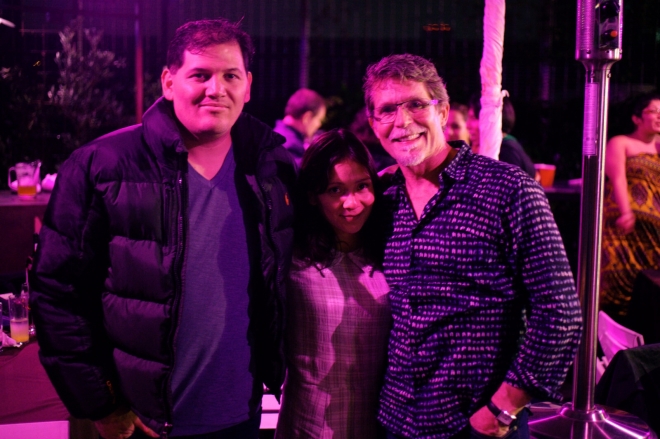 Across the street from Máximo is Lalo!, their breakfast-through-dinner casual place that's really, really good.  I am particularly partial to the breakfast.  Again, it's Europe-meets-Mexico and it's totally delicious.  After 1 p.m. the focus becomes pizzas and pastas.  Lalo is one of Mexico's most talented chefs.
I never want to miss the opportunity to go to Contramar in La Roma.  Though it's been serving great simple seafood from 1 pm to 6 or so for over 16 years, I've never had a bad meal.  Get the ceviches and seafood cocktails; get the famous tuna tostada; get the whole butterflied grilled fish (half grilled a la talla, half with chipotle mayo). Basically, get whatever appeals to you.  And don't skip dessert. These are some of the best in the city.
Contramar's owner, Gabriela Cámara, has a second location in partnership with Chef Jair Tellez:  MeroToro in La Condesa.  This is Baja food—the area Jair hails from—and it may surprise you.  Baja food, while focused on fish, embraces a wide range of products, including influences from the Mediterranean and Asia.  That's just how it is in Baja.  And Chef Jair's food is a perfect reflection of it.  If there are short ribs on the menu, order them.
Though Rosetta in La Roma is Italian, Chef Elena Reygadas works local Mexican produce into all parts of her menu.  And it's a menu that all Mexico City seems to clamor for.  I clamor most for the bakery (Panadería) that's across the street and down a block.  She offers incredible breads (don't miss the perfect conchas or the pan de pulque) and pastries, plus simple breakfast fare like quiche and granola. This is a place of dreams, though it has very few seats and getting one can be a nightmare.  She's recently opened a second Panadería in Juarez, a half-mile away that has many more seats.  The experience there, to my taste, is even better.
Chef Lalo Garcia consulted on the menu at De Mar a Mar on the north side of the Zona Rosa and it shows. This is a great little fish restaurant that offers very fresh ceviches, credible fish tacos and a plethora of crudos.  If you're in the neighborhood, it'll be better than anything else you can find.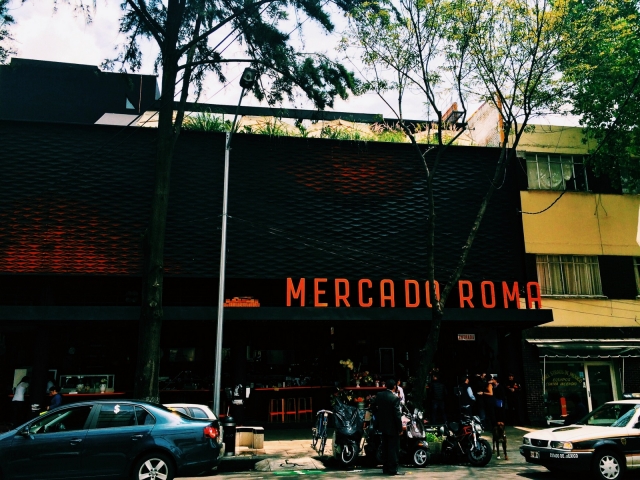 Mercado Roma (in La Roma) is very much worth a visit.  It was developed by the same group that did Downtown near the Zócalo and it's a real hit—whether you're going to the roof-top beer/cocktail garden or eating from one of the street-level stalls offering a wide variety of foods, most prepared under the direction of the cities best chefs.  Sort of like going through the fondas of a good Mexican market if all the fondas were overseen by great chefs.  You'll find everything from QueBo! Chocolates to Ricardo Muñoz specialties and great middle eastern fare.  Don't miss Lactography (Mexican cheeses), Tlaxcalli (tortillas), Lo Dirás de Chía (dried beans and rice), Villa de Patos (membrillo and agave syrup), El Moro (churros), Barbacoa del 23 (barbacoa), Porrúa (cookbooks), plu sa dozen more places I can't remember.  it's a really fun place to visit (though it can be incredibly crowded on Sunday afternoon).
Chef Josefina Santa Cruz has touched a lot of restaurants in her career, but right now she's pouring her energy into two very different spots. Both are tiny. Sesame is in La Roma, near Rosetta and serves very delicious mostly Thai-inspired dishes and great cocktails. Paprika is in Juarez (near the second Panadería) and it's focus is broadly Mediterranean, including the Middle East and North Africa.  It offers rock-solid flavors and, again, very delicious cocktails.
I'm still a fan of the cocktails at Limantour (the original in La Roma, the fancier one in Polanco), the first of the notable craft cocktail bars in Mexico City.  There's lots of competition now (I've had great drinks at Salinger).  But one place I'd like to point out that's unlike any other is Alipus Endémico in La Condesa. It's from the same people who own Corazón del Maguey in Coyocan and Danzantes in Oaxaca, and their Alipus line of mezcal is distributed throughout the United States. But this places goes beyond what you may have seen. There are mezcales from all over Mexico (not just from Oaxaca) and they're all listed by agave variety, village and state. It's a mind-blowing experience and one I'd easily recommend to anyone interested in Mexico's most fascinating (and hippest) spirit-of-the-moment. Truth is, no matter where you go in these happening neighborhoods, mezcal will be a feature.
Three places that veer more traditional are Yuban (Oaxacan, in La Roma), Guzina (Famous Oaxacan chef Alejandro Ruiz's DF outpost, in Polanco) and El Hidalguense (lamb barbacoa, in La Roma). The first is small, charming and good. The second is like a visit to Chef Alejandro's famous Oaxacan restaurant, Casa Oaxaca, without the travel expense. The third is completely dreamy. Moises Rodriguez Vargas lives in Tulancingo, Hidalgo, where at his small ranch he finishes the lambs, dresses them and slow-roasts them in pits overnight before packing them wooden crates to drive into the city Friday, Saturday and Sunday and serves multitudes of people who line up at his legendary restaurant. The little sopes are amazing, the consomé from the barbacoa is heart-warming, the crispy maguey worms are on the menu for the adventurous. There's fresh-made tortillas, punchy salsas, fresh cheese and fresh pulque. There's laughter and beer. It opens at about 7 am and goes until around 5, when the barbacoa runs out. I think everyone on earth should taste Moises' barbacoa at least once in their life.