You've done it again.
The second round of #MoreBayless photos — showing off this recipe for grilled asparagus topped with a creamy pasilla sauce — rolled in almost constantly on Twitter, Instagram and Facebook.
Alas, there can only be five winners. The winning entries are posted below and their signed copies of Rick's "More Mexican Everyday" will be shipped ASAP.
As for round three, we're staying at the grill. You'll be cooking this incredible recipe for grilled salmon with toasted peanut salsa. The deadline is submit entries is midnight on Tuesday, April 21.
Celebrating Spring with Grilled Asparagus with Creamy Pasilla Chile, thanks to @Rick_Bayless #MoreBayless pic.twitter.com/WJcJCXwXKi

— Megan Powers (@megsambit) April 15, 2015
Grilled Spring Asparagus with Creamy Chile Pasilla Sauce! Another great quick recipe by @Rick_Bayless #MoreBayless pic.twitter.com/dv4ojFav3L

— Caroline (@FoodieCaroline) April 15, 2015
Uniquely delicious – thanks @Rick_Bayless! #MoreBayless pic.twitter.com/6APzRgKHik — Anjali Bumb (@AnjaliBumb) April 15, 2015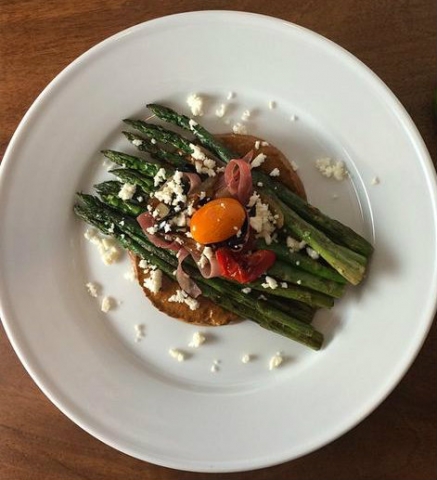 via @AnnaDCooper on Twitter