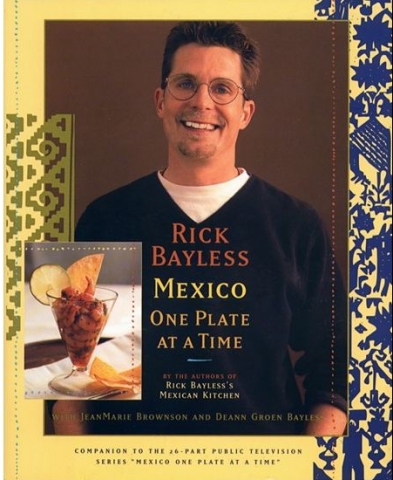 Epicurious has unveiled its "Cookbook Canon,"  comprised of "the 10 books every American home cook should own."
We're thrilled to report Rick's Mexico One Plate a Time, a cultural tour of classic Mexican cuisine, has made the list, sharing space with classic cookbooks from Julia Child, Marcella Hazan, Dorie Greenspan and others. Here's what the culinary website's authors had to say:
"The recipes [In Mexico One Plate at a Time] are not complex, but they are authentic: a launchpad to master before you head into further exploration, more complicated techniques, and harder-to-find ingredients.
This is also a great example of a book that explains why everything is done how it is done. Bayless discusses the cultural positioning of each dish (this one is eaten at street fairs, that one is made for big family Sunday suppers) and explains why the food is prepared the way it is."
That's a nice summary of the book, which remains in print after its initial publication in 2000. (You can order a copy here)
As noted by the Epicurious writers, Mexican ingredients that were once hard to come by are now a little more commonplace at the American supermarket — all of which means the recipes in MOPAT have become even more accessible with time.
It really is an honor when we're bestowed with recognition like this. It means that Americans are paying more attention to what they're cooking, a trend that has tremendous advantages for personal and community well-being.
And while we have to admit  we've never heard of the Yankee Church Supper Cookbook pictured in the Epicurious list, we understand and endorse the author's point: food is about community, and any of those old weathered, spiral-bound cookbooks — compiled by your  neighbors, church, garden club, colleagues, etc. — are always worth a look.