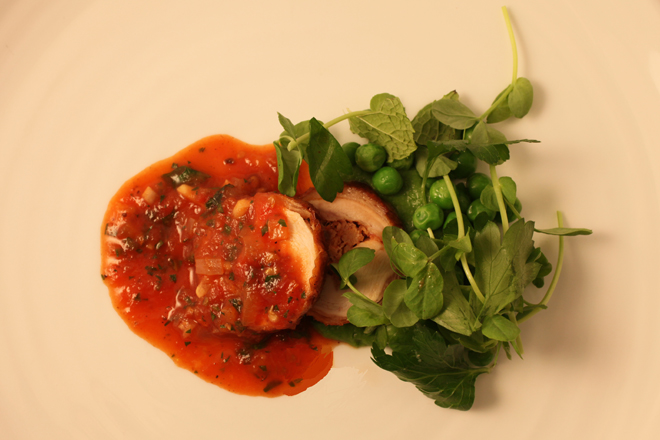 FRESH "Portuguese" Rock Hen: Gunthorp Farms rock hen, fresh peas three ways, warm tomato "salsa" (sweet spices, star anise, black pepper, mint, parsley), savory pork picadillo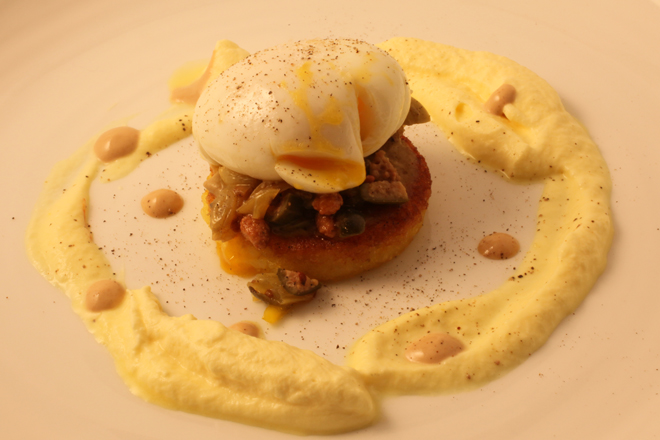 ANCIENT Saffron Rice: Crispy little "torta" of saffron rice, perfect poached egg, olive-raisin salsa (caperberries, candied pinenuts), pulque sabayon, spicy chiltepin-pinenut salsa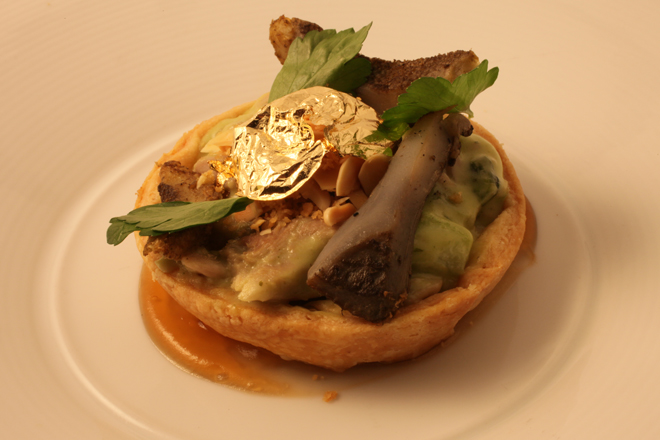 SOULFUL Quail Tartaleta Flaky pastry, Country Farms smoked quail, creamy corn masa
"béchamel," sherry reduction, slivered almond crumble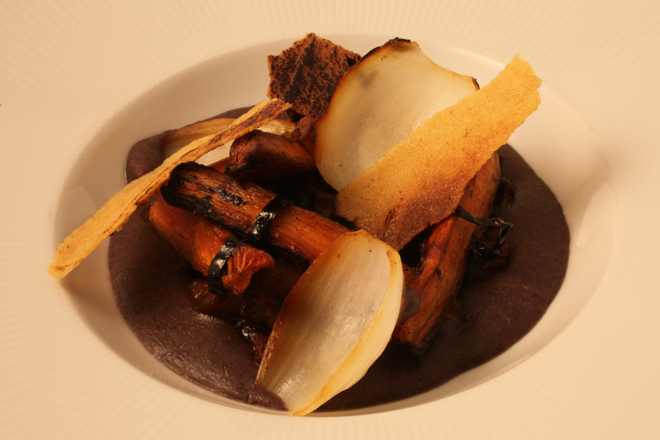 BOLD Street Food 1671: Pork chicharrón braised in pasilla borracha (toasted pasilla chiles, mezcal, garlic), silky black beans, grilled carrot, tangy pasilla compote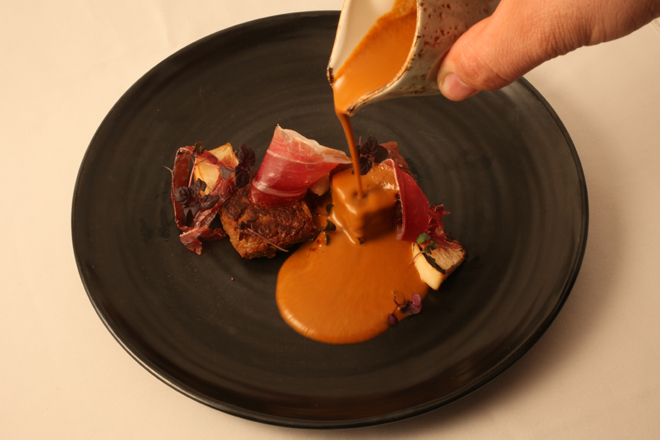 COMPLEX Pork in Clemole: Roasted Gunthorp Farms pork shoulder, velvety clemole castellano (ancho, pasilla, nuts, red wine), "puro bellota" Iberico ham, clemole bread pudding, charred turnips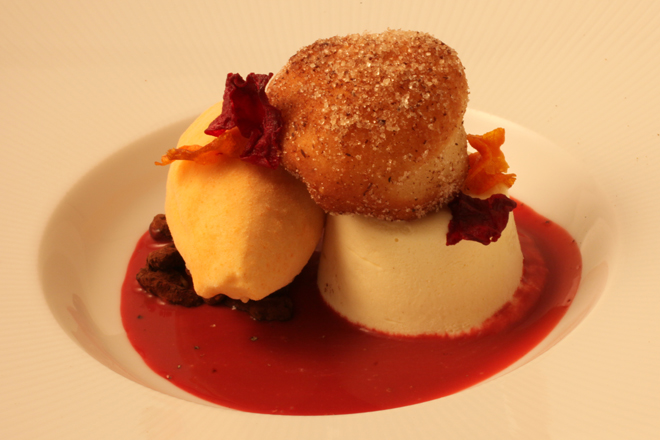 ENCHANTING Ricotta Fritter, Carrot Ice Cream: Warm little "doughnut" filled with homemade goat's milk ricotta, caramelized carrot ice cream, Nichols Farm sweet beet crema, frozen sabayon, cocoa-dusted walnuts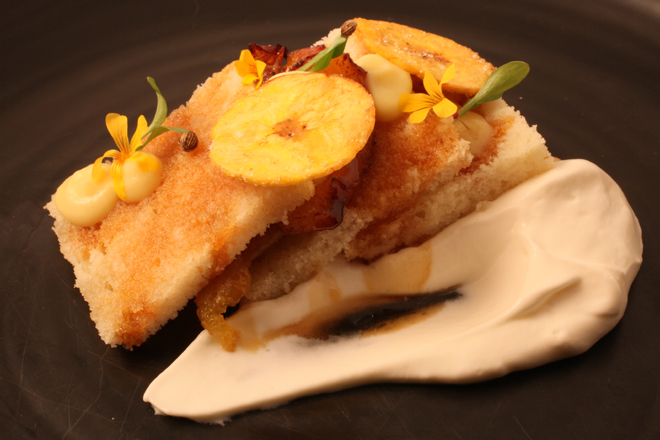 LUXURIOUS Plantain Ante: Delicate rice flour cake (mamón) layered with aromatic golden
plantains, plantain-infused brandy caramel, house-made crema, coriander crumble, plantain pudding
It seems like just last week that we were still immersed in Mexico City, 1491. Actually,  it was just last week. But as of Tuesday night, we've jumped ahead 200 years to our new menu: Mexico City, 1671.
Turns out a lot can change in 200 years.
By the 1670s, the indigenous culture that we explored in Mexico City, 1491 had been infiltrated and disrupted by colonists from Europe and the Philippines.  "This century was in many ways the bleakest for the native inhabitants of the land we call Mexico," Rick writes in his notes for this menu. "Yet something unique was happening. A new culture was being born, one with a strong Spanish character."
We found the inspiration for our 1671 menu in that new culture. And we found inspiration for specific dishes in one remarkable book—a book written by a half-Spanish, half-Mexican nun who was a fierce feminist, a gorgeous poet and one of the world's original foodies.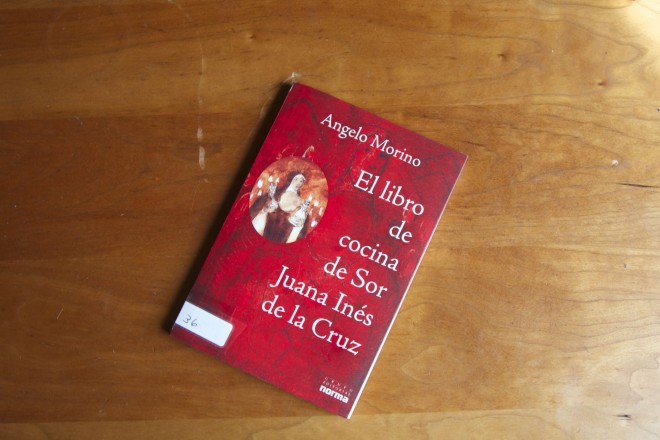 Sor Juana Inés de la Cruz (b. 1651) was the illegitimate daughter of a Spanish man and a criolla woman. She was uncommonly intelligent: She wrote her first poem when she was 8 years old, and by age 13 she was teaching Latin (not reading it—teaching it). She would have disguised herself as a man to go to university if her parents had allowed it, but they didn't. So she became a nun instead. In the convent she wrote poetry and plays, studied music and science and became an outspoken critic of gender inequality. (For more on that, check out her poem You Foolish Men.)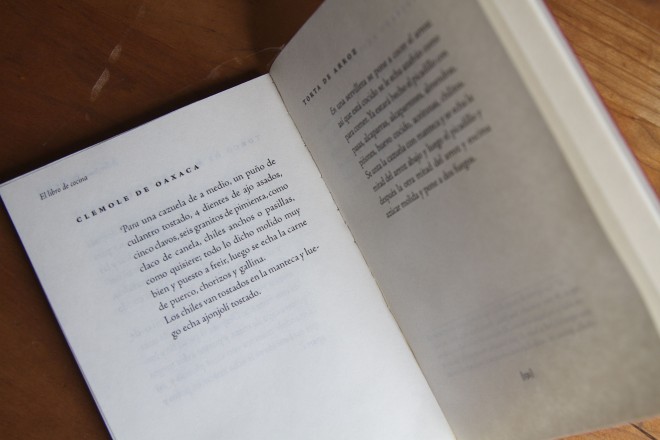 Sor Juana was also deeply in love with food. It was, as Rick says, "her favorite way of interfacing with the physical world." And because Sor Juana lived right at the time that Spanish and Mexican foods were colliding—and was product of Spanish-Mexican collision herself—the collection of recipes she left behind in her convent was our first stop in developing our new menu.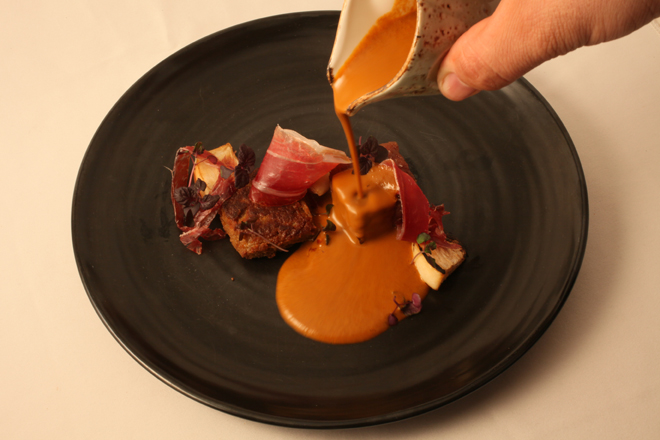 The last savory course of the meal, Pork in Clemole (picture above), is the most striking example of a Spanish-Mexican collision: The sauce is an amalgam of Mexican chiles—it's made with anchos and pasillas—and decidedly Old World ingredients like red wine and hazelnuts. And all that pork (yes, that's a piece of pork shoulder topped with Iberico ham) isn't without significance either—the Spaniards saw pork as an important marker of their Christianity (as opposed to Muslim or Jewish).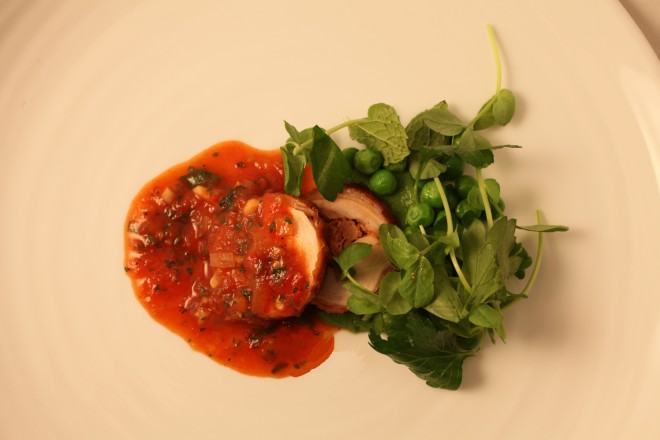 There's collision in this rock hen, too: The tomato sauce is rife with the sweet spices: cinnamon, clove, allspice.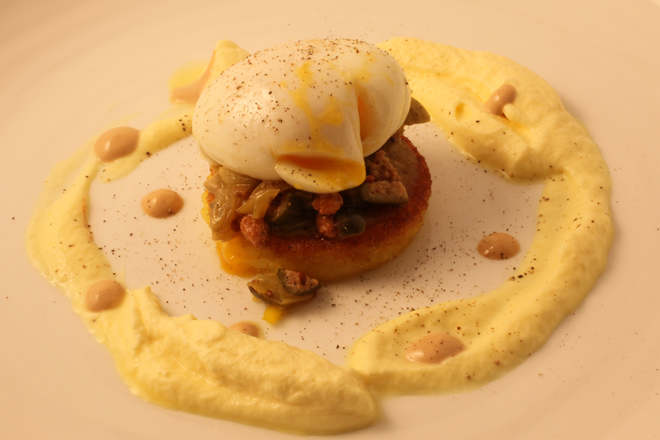 And this "torta" is almost entirely Spanish with its saffron-scented rice and salsa of raisins and pine-nuts.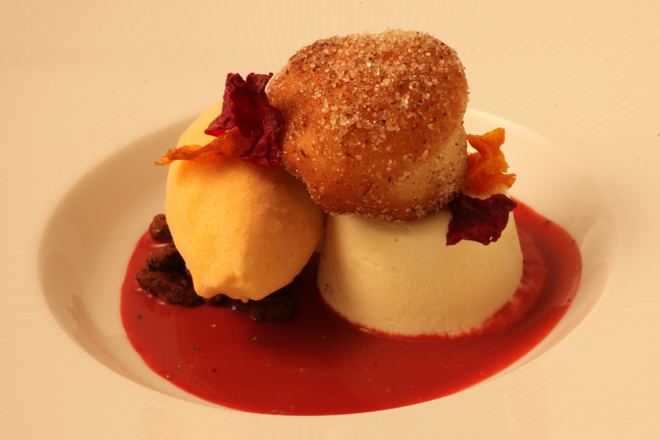 There were a few hallmarks of dessert at this time. Copious use of egg yolks was one; use of sweet vegetables like carrots and beets is another. This ricotta-stuffed doughnut with carrot ice cream and sweet beet crema incorporates both of those. One thing is doesn't incorporate: chocolate. Because in 1671, nobody was eating chocolate—they were only drinking it. (Perhaps in the period of our next historical menu they will have started.)