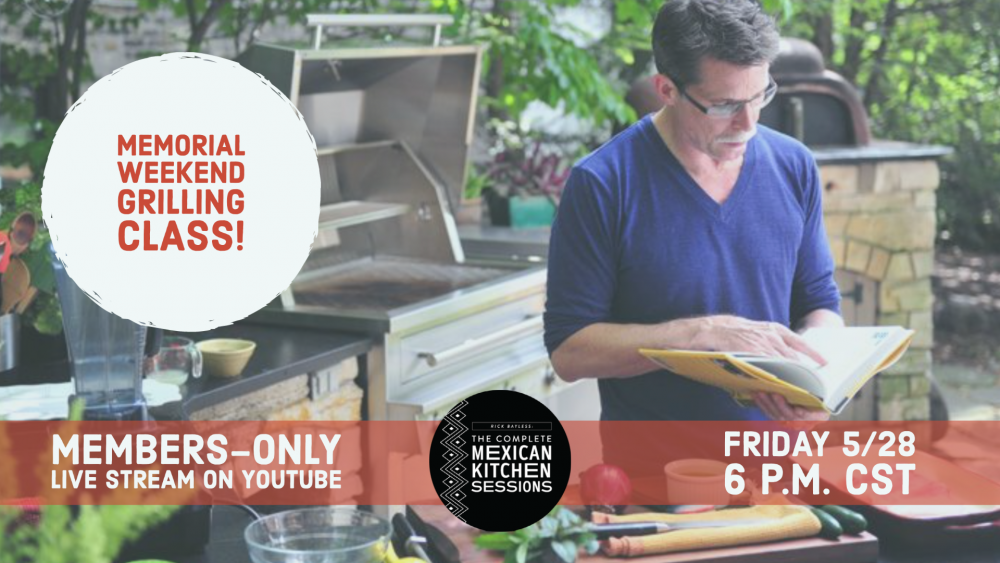 Wheel out the grill, clean those grates and let's fire it up. Our LIVE Memorial Day Cookalong with Rick Bayless takes place Friday, May 28 at 6 p.m. CST.
These cooking classes are open to anyone who joins Rick's YouTube channel at the "Live with Rick!" membership level at $9.99/month, which also gives you access to live chats, tons of brand new recipes videos and a really great community of at-home and professional cooks.
>> JOIN HERE <<
The cookalong will feature a summer-worthy spread of Grilled Flank Steak (Or Cauliflower Steaks) with Red Chile Adobo.
Whether you choose the steak or vegetarian version, do not skip the olive and pickled jalapeño garnishes. The whole dish is a "wow," but those salty, briny garnishes will put it over the top.
On the side, we recommend Classic Mexican Fried Beans or Classic Mexican White Rice studded with Plantains.

Of course, what's a summer celebration without dessert? We are ushering in the arrival of brighter days with a festive Mango Skillet Upside Down Cake.
We love spending this time with you and creating something delicious together. See you Friday night!
GROCERY AND EQUIPMENT LIST:
Vegetables and Fruit
For the entrée:

• 7 garlic cloves
• Limes to make ¼ cup of juice plus zest from 1 lime for the dessert
• 1 medium white onion
• 1 cup orange juice
For vegetarian version of the dish:

• 2 small heads (about 1 ½ to 2 pounds each) cauliflower
For the dessert:
• About 2 ½ pounds mangos
Pantry
For the entrée:
• Olive or vegetable oil (and for the dessert)
• Worcestershire sauce
• Agave nectar or honey
• Red chile flakes
• Black pepper
• Salt
• Oregano (preferably Mexican)
• Cumin
• 8 medium (4 ounces) dried ancho chiles
• Apple cider vinegar
• Broth (chicken, beef or vegetable)
• Sugar (and for the dessert)
• Green olives
• Pickled jalapeños
For the dessert:
• All-purpose flour
• Baking powder
• Vanilla extract
• Añejo tequila or rum, optional
Meat for the entrée
For beef version of the dish:

• 2 pounds flank steak
Dairy for the dessert:
• Butter
• Eggs
• Sour cream or Greek yogurt (preferably full fat)
EQUIPMENT LIST
• Blender or food processor
• Bowls including a large microwave-safe bowl (glass, pottery, plastic)
• 13X9 inch glass or stainless steel baking dish (for the steak)
• Rimmed baking sheet (for the cauliflower)
• Grill (gas or charcoal)
• Brush for oil
• Whisk
• Large (10-inch) non-stick. ovenproof skillet
• Large plate for unmolding and serving cake