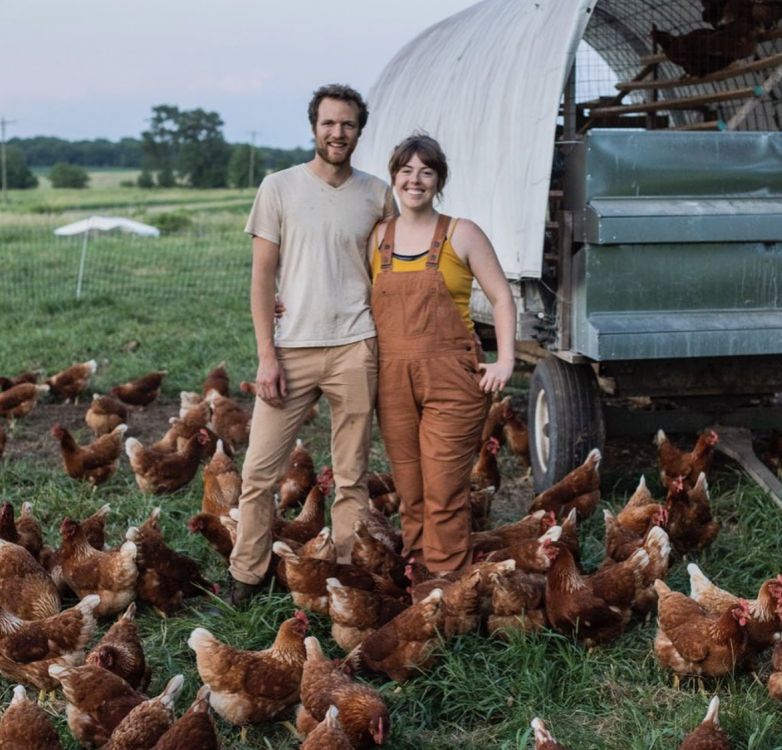 The Frontera Farmer Foundation is proud to announce its crop of 2021 grants. This year, our committee has awarded 14 Midwest family farms with grants totaling more than $160,000.
Raised by Chef Rick Bayless and our volunteer restaurant staff throughout the year, the grant money will be used for on-farm capital development projects. Read more about the Frontera Farmer Foundation.
Below is the full roster of this year's grant winners. They have big plans for their farms and nothing would make us happier than seeing you support these hardworking farmers by shopping at farmers' markets, enrolling in CSA programs and supporting local farms everywhere you go.
---
Bike a Bee
Chicago, Ill.
Project: Expand to 80 beehives (from 40) located across three larger "production apiaries" to increase honey production
Blue Moon Community Farm
Stoughton, Wisc.
Project: Pack shed improvements for efficiency and food safety
Branches and Berries
Wauzeka, Wisc.
Project: Purchase of a commercial dehydrator to make berry juice and dehydrated berries

Caveny Farm
Monticello, Ill.
Project: Finish the installation of permanent woven wire fences on 33 acres of grazed highly erodible land

Cook Farm
Bloomington, Ill.
Project: Farm infrastructure improvement
Craig Farm Katahdins
Decatur, Mich.
Project: Purchase of a fully functioning sheep working system to assist with husbandry and transport between home and leased pastures, and to update fencing throughout the farm including building fence-line feeders for clean and efficient winter feeding
Door Creek Orchard
Cottage Grove, Wisc.
Project: Acquisition of a flail mower and side arm mower attachment for use on our farm
Froggy Meadow Farm
Beloit, Wisc.
Project: Construction of a 20'X10′ packing/pump shed

Grounded Earth Farm
Crown Point, Ind.
Project: Construction of a year-round propagation house to expand our ability to serve the community, increase production capacity, expand to wholesale and further diversify our crops
Steadfast Acres
Lone Rock, Wisc.
Project: Expansion of on-farm greenhouse
The Victory Garden Farm
Fredonia, Wisc.
Project: Purchase of a a 16×24 mobile chicken tractor & 72×30 high tunnel
Three Sisters Community Farm
Campbellsport, Wisc.
Project: Purchase of a high-pressure rinse conveyor used to wash and sanitize both produce and plastic crates & purchase of an electric hydraulic stacking machine used to lift and convey pallet loads of produce onto and off vehicles and into coolers

Timberfeast
Chatsworth, Ill.
Project: Down payment on a refrigerated van & safety upgrade for farmers and consumers
Willow Ridge Organic Farm
Wauzeka, Wisc.
Project: Rebuilding a storm-damaged storage shed