Leña Brava is coming in hot with the addition of one of the world's most promising live-fire chefs.

Stephen Sandoval, 33, a California native and former Leña Brava sous chef, has taken the reins as Chef de Cuisine at Rick Bayless' Baja-inspired restaurant at 900 W. Randolph St. in Chicago's West Loop.

"The conversation about Mexican food seems mostly to center around Oaxaca or Mexico City. But in Baja there's incredible fresh seafood, a Mediterranean climate and a stunning wine country. We're taking that experience and sharing it with Chicago," said Sandoval.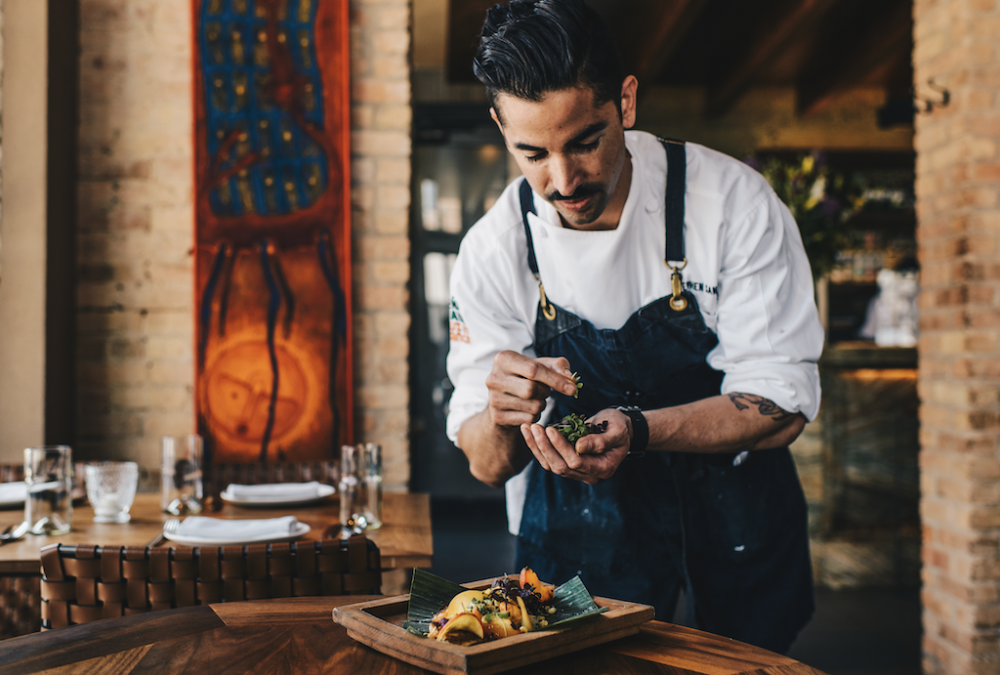 It's a reunion for Bayless and Sandoval, who first crossed paths in Baja in 2012. Bayless would eventually hire Sandoval for Leña Brava's 2016 debut. After 2 1/2 years and a promotion to sous chef, Sandoval left for epic culinary excursions that brought him to high-profile kitchens and classrooms throughout the world, racking up invaluable experience along the way. 

"Stephen rose from a really great line cook to sous chef, then headed off with our blessing for even more experience and education. We're thrilled to have him back in the new role of leading the kitchen and we both feel there's so much more to accomplish," said Bayless. 
Together with Bayless, Sandoval has started developing an exciting new menu, which they will debut in the spring. 

Sandoval's appointment is the perfect fit for a restaurant taking its cues from Baja Norte, Mexico's globally inspired, on-the-rise region for food and wine.

Born and raised in San Diego, Sandoval, 33, spent his youth hunting duck in Mexicali and San Quintin, then selling the catch to the Chinese restaurateurs who settled in nearby Mexicali — another example off the worldly influences on modern Baja cuisine.  

A graduate of both the Bay Area's French Culinary School and the famed Adria brothers' Gasma in Spain, he brings experience that includes stints at State Bird Provisions in San Francisco, Mexico City's Azul Condesa and MeroToro, and live-fire meccas Siete Fuegos in Argentina and Cochon in New Orleans. 

Now firmly rooted in Chicago, Sandoval said he wants to further introduce Chicago to the unexpected flavors of Baja: perhaps more influence from the Japanese fishermen who settled there, certainly the plethora of herbs and citrus brought from the Mediterranean. 

"Baja offers a creative playground where you can experiment with ingredients some don't associate with Mexico, while still respecting the culture and history that make Mexican food so special. That's what we're doing at Leña and we're just getting started," said Sandoval.