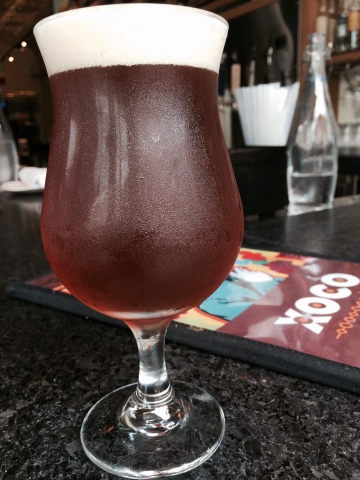 Arriving in Mexico City in the mid-19th Century, French brewer Emil Dercher brought with him an Alsatian willingness to experiment with flavors and aromas expressed by a wide variety of unique local ingredients.
Sold under the Cruz Blanca label, Dercher's beers were decidedly populist. This guy seemed to make beer for everyone, not just Mexico's political and privileged elite.
It is in that spirit we announce the tapping of  La Guardia, the first beer to be served at Chef Rick Bayless' soon-to-open brewery on Randolph Street, called Cruz Blanca.
Chef Bayless collaborated with brewmaster Phil Wymore from Perennial Artisan Ales in St. Louis to create La Guardia, a biére de garde-style brew inspired by Dercher, considered one of Mexico's most adventurous brewers.
"We're going to work in this style because we love it. This is the beer I like to drink. It's rounder, fuller and goes well with food," Bayless said. "For me it's very exciting to go back to some of the roots of the people who brewed what may have been Mexico's first beers."
Brewed with hominy, epazote, lime peel and coriander, La Guardia will be the flagship beer for Cruz Blanca, which is slated to open later in 2015.
Details are still getting ironed out, but the brewery will include a tasting room, food service, a growler program and the sale of large format bottles. It will be equipped with a 10-barrel brewing system.
Wymore, formerly of Goose Island and Half Acre Beer Co., is serving as the brewery's consultant.
For now, La Guardia will be available on draft at XOCO Bistro in Wicker Park and soon it will be available at Frontera Grill. We'd really love for you to try a glass.