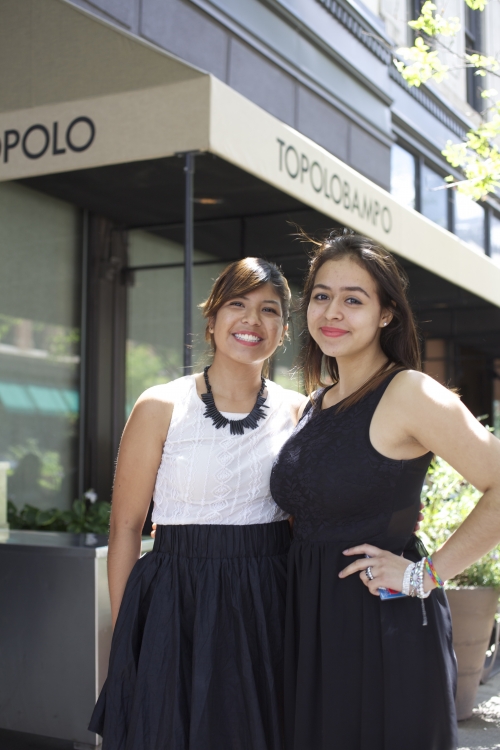 There are two reasons why this is a banner year for the Frontera Scholarship, which is awarded to Chicago Public School students of Mexican American heritage to attend Kendall College School of Culinary Arts, Chicago's premier culinary educational institution: 1. We've announced that starting in 2016, the scholarship will be awarded every year (it has previously been awarded every other year). 2. For the first time, we've awarded the scholarship to not one, but two students: Bianca Huerta (above, left) and Paola Salgado.
We wanted to get to know these spectacular young women better, and they graciously sat down for a joint interview.
What does it mean for you—emotionally, vocationally—to receive the Frontera Scholarship?
PS: The scholarship means an opportunity to be somebody who I want to be. It's the key to my dreams, I would say. I don't have resources to go to college on my own, like other people. So this scholarship opened the doors for me to have an opportunity to do what I want to do for no cost. So it's really an opportunity, and the key to my dream career.
BH: This scholarship means everything. It's a great opportunity and a really big deal for me, my family, my friends, my instructors…everybody, really. I feel blessed to get it because I have other siblings who are also in college, and to see my parents struggling to pay their tuition, it's hard. So I decided I was going to do whatever I could do to keep my parents from struggling. To see my parents happy and relieved that they don't have to pay for my college is an honor.
For the next two years you'll be taking classes at Kendall, interning at restaurants (including here at Frontera!) and doing a bit of traveling with our team in Mexico. But what about after that? Where do you see yourself in 5 years?
BH: That's a really good question. I see myself working for Rick Bayless still, but also delving deeper into baking and pastry. I love to cook, but I see myself doing more advanced baking.
PS: Probably furthering my studies. I love studying. I want to keep going. There's always something more to learn about…there are a million more doors to open…
Do you see yourself cooking Mexican food?
BH: Yes. Mexican food is a part of me. My family cooks Mexican food, and they taught me how to cook Mexican food.  But my parents also always tell me I have to be American and Mexican—I have to be both. So I'm going to be open and do all sorts of food.
PS: I think my cooking will also be diverse. But I'm always going to go back to Mexican food. It's the base. The base of everything I know.