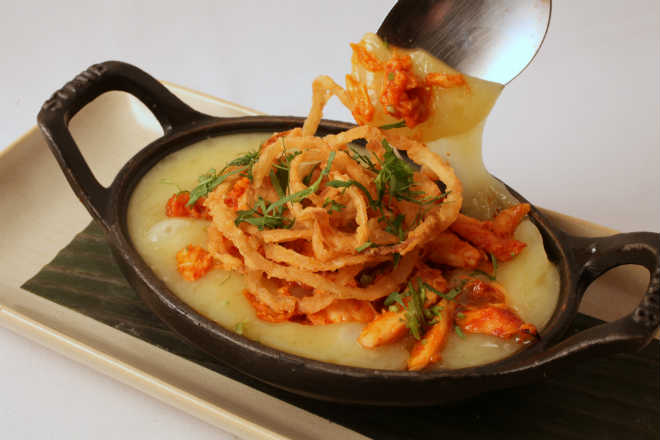 Smoked Chicken Queso Fundido Otter Creek organic cheddar, chipotle glazed Gunthorp
chicken, crispy onions, cilantro.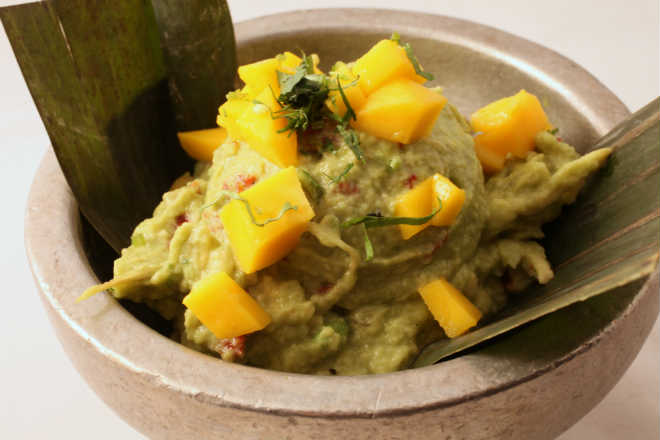 Tropical Guacamole Manila mango, crunchy cucumber, spicy morita chile, smoky onion.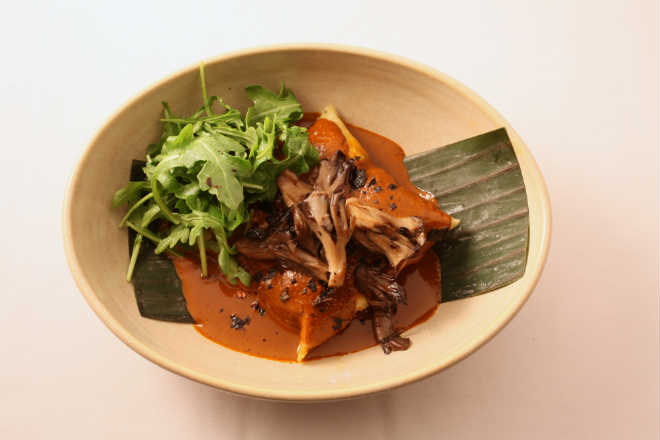 Mushroom Tamal Banana leaf-steamed fresh corn masa tamal, oyster & shiitake mushroom filling, toasty pasilla chile crema, brown butter chanterelle mushrooms, wild arugula.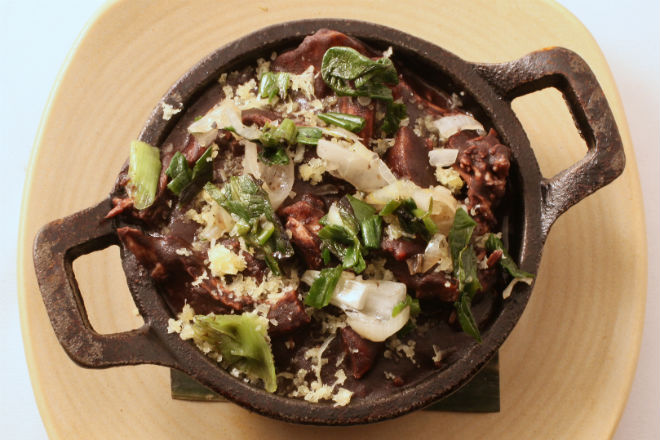 Chicken with Black Bean Sauce Grilled Gunthorp chicken breast, chipotle-black bean sauce, smoked sun-dried tomatoes, roasted potatoes, grilled green onions, Sonoma dry Jack cheese.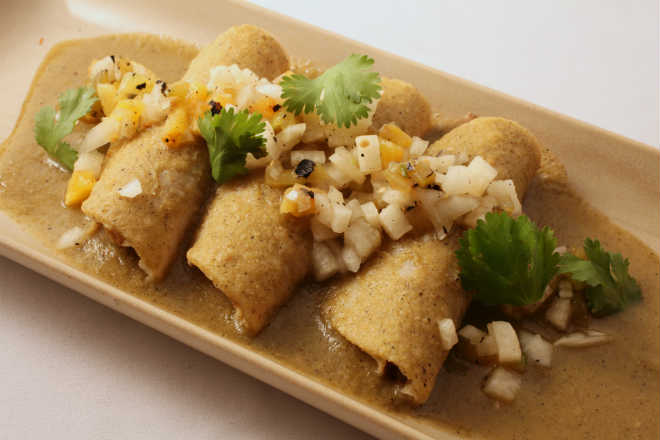 Duck Carnitas Enchiladas Spicy Gunthorp duck carnitas, tomamole (tomatillo, serrano, pineapple, sesame seeds), grilled pineapple salsa (tomatillo, serrano, jícama).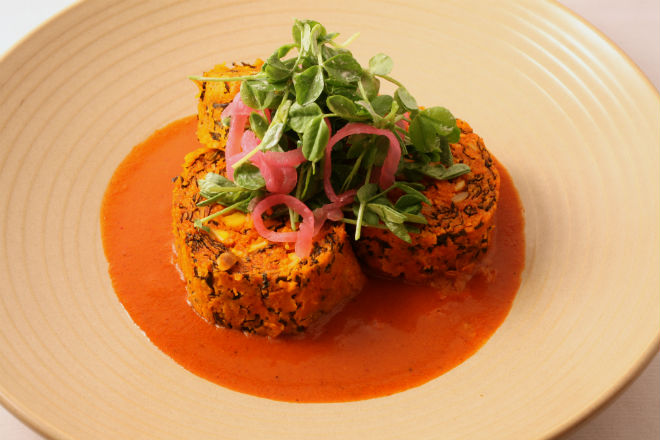 Brazo de Reina Yucatán's famous giant tamal made with achiote flavored fresh corn masa, Swiss chard, egg, pepitas, Yucatecan pipián, tangy pickled red onions, Tracey's pea shoots.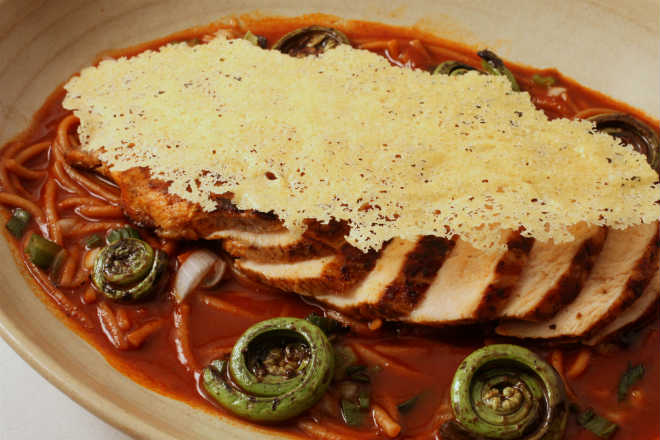 Chicken in Fideos Wood-grilled Gunthorp chicken breast, fideos (Mexican vermicelli) in red chile broth, grilled fiddleheads, spicy maitake mushrooms, dry Jack "chicharrón."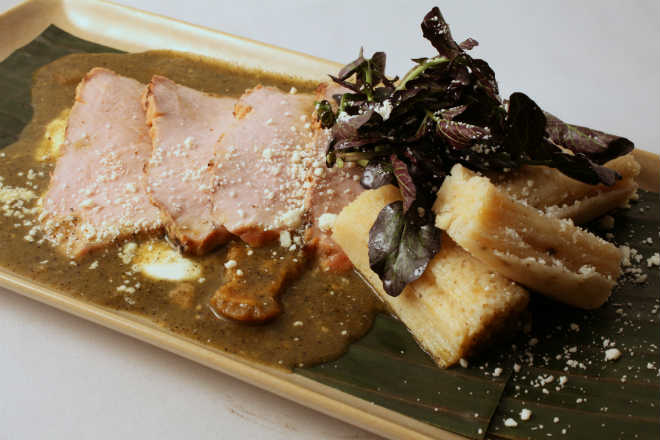 Pork in Tomatillo Garlic-marinated grill-roasted Gunthorp pork loin, tomatillo chicharrón sauce, añejo cheese flavored tamal, homemade crema, red watercress.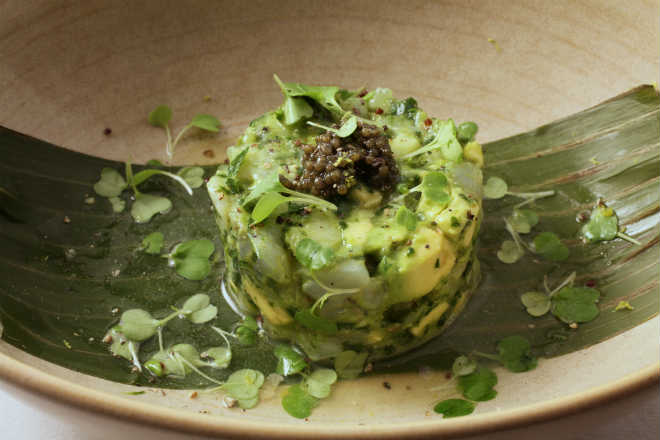 Shrimp in Verde Mexican blue shrimp, adobo verde (cilantro, serrano, garlic, olive oil), cucumber, avocado, lime, Bayless Garden micro greens, American paddlefish caviar.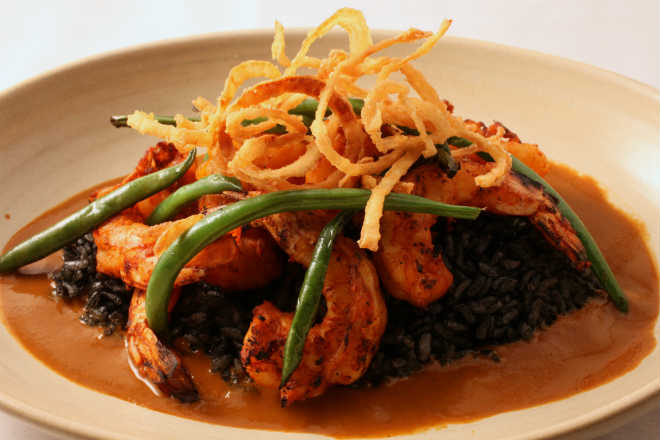 Shrimp in Red Chile Pipián Spicy chipotle-grilled fresh Gulf shrimp, red pipián, black bean rice, limey grilled green beans, crispy onions.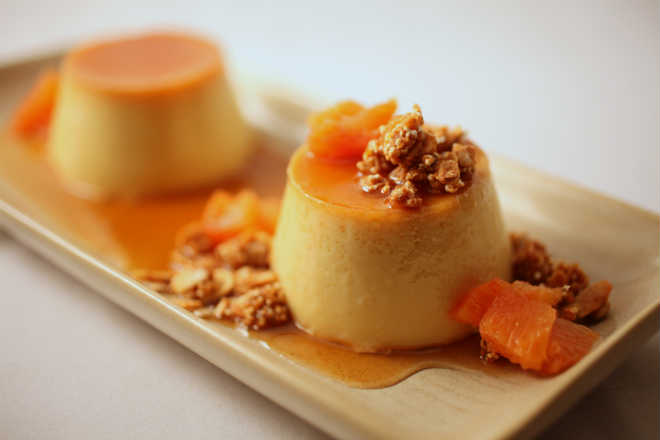 Flan X2 A duo of caramel custards: traditional Mexican vanilla flan & maple flan with toasted oats, amaranth-almond granola, Spence Farm maple syrup drizzle.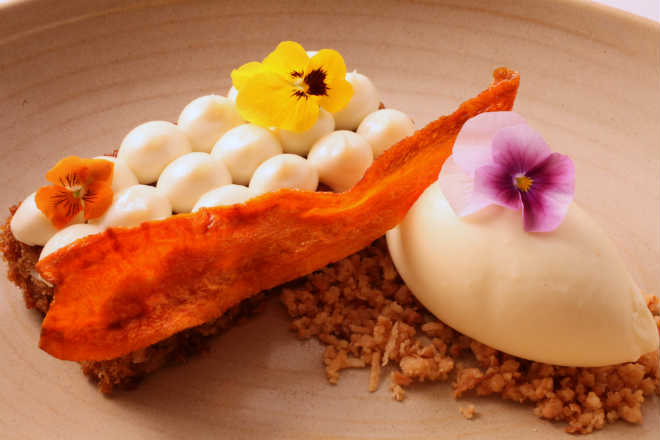 Camote Cake Super moist cake of local carrot & Mexican white sweet potato, cream cheese
frosting, Xtabentun-cream cheese ice cream, coconut cookie crumble.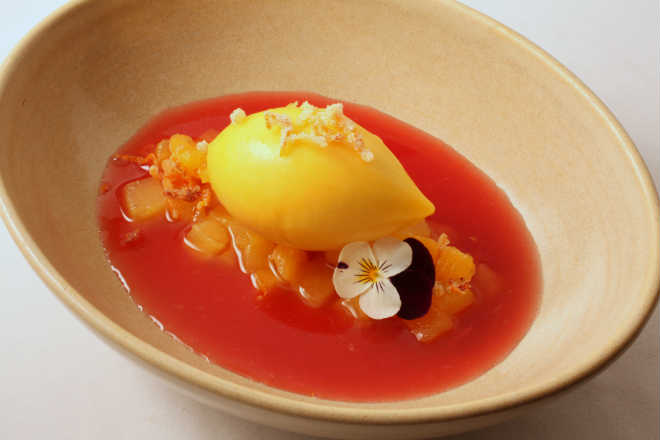 Sopa de Frutas Luscious honey Manila mango sorbet, mint-infused pineapple, candied orange
zest, sparkling Beck Grove blood orange "broth."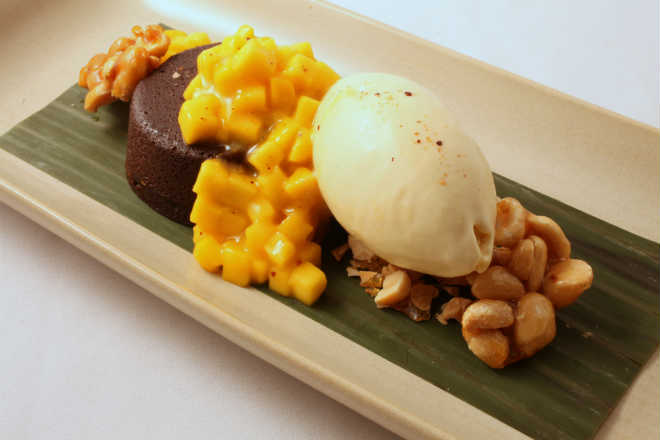 Chocolate-Ancho Fudge Cake Individual, ancho-infused bittersweet chocolate cake, peanut butter ice cream, honey Manila mango, toasted peanut brittle, ancho chile salt.
Mangos show up a couple times in Frontera's spring menu: There's mango in the guacamole (don't dismiss the power of fruit in guacamole, people) and mango sorbet in the sopa de frutas. But mangos aren't the only signs of spring: We've got fiddlehead ferns in our chicken fideos, shrimp in a herb-packed adobo and carrots in our, um, carrot cake. (A note about that carrot cake: the strip of dehydrated carrot that comes on the plate may looks like bacon—it's not, but it's just as delicious.)