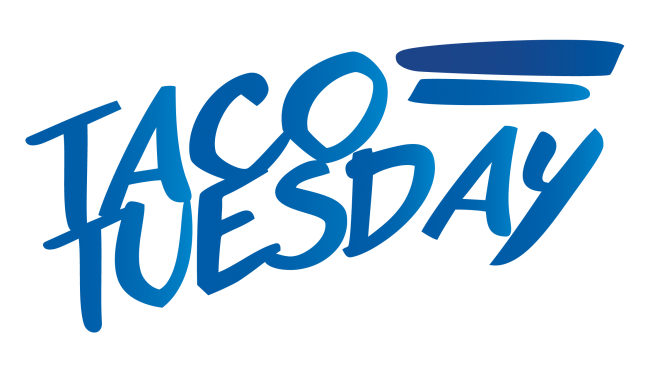 No, I'm not expecting you to dig a classic Mexican backyard pit to cook lamb barbacoa for your Memorial Day taco party. (If you really want to, though, here's my step-by-step procedure…)
But I can suggest an alternate version, one where a lamb shoulder, wrapped in aromatic leaves and marinated in red chile, roasts in your slow cooker until it's fall-apart tender. Folded into a tortilla, splashed with salsa and showered with fresh onion and cilantro, these succulent tacos offer a true taste of Mexico.  
Don't be intimidated by my call for agave leaves (pencas de maguey) here. If you're near a Mexican grocery store, you'll typically find them in the meat or vegetable department. (Banana leaves make a decent substitute; you can find those in Mexican and Asian markets.)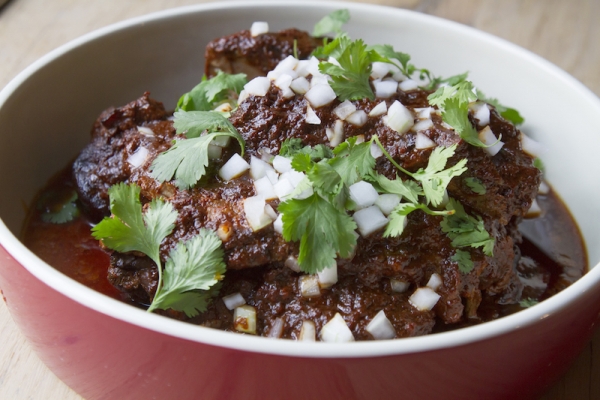 Ingredients
For the lamb

A

12-inch chunk

of an agave leaf (penca de maguey) or 1 large banana leaf, optional

2

tablespoons

vegetable oil

3

pounds

boneless lamb shoulder

1

12-ounce

bottle of beer (optional but I love this!)

Salt

For the marinade

2

dried guajillo chiles,

stemmed, seeded and torn into large pieces

2

dried ancho chiles,

stemmed, seeded and torn into large pieces

3

garlic cloves, peeled and roughly chopped

1

tablespoon

cider vinegar

1

tablespoon

dark brown sugar

1

teaspoon

salt

1/4

teaspoon

ground cinnamon, preferably Mexican canela

1/2

teaspoon

dried Mexican oregano,
For serving

Your favorite hot sauce or salsa

A little chopped white onion

A handful of cilantro leaves
Instructions
Roast the agave leaf being careful not to touch the exposed flesh of the agave) over an open flame, turning every few minutes until pliable and charred, 10 to 15 minutes, depending on the thickness.  (If using a banana leaf, run it briefly over an open flame to soften it.)  Cut into 3 pieces.
In the stovetop-safe insert of your slow cooker or in a very large (12-inch) skillet, heat the oil over medium-high.  Pat the lamb dry with a paper towel, sprinkle generously with salt and lay it in the insert of skillet.  Cook, turning occasionally, until richly brown on all sides, about 10 minutes.  Fit the insert into the machine or transfer the meat to the slow cooker.
Combine all the marinade ingredients in a blender with 2 cups of water and blend to a smooth puree.  Pour through a medium mesh strainer into the slow cooker. Nestle the pieces of agave leaf or banana leaf under and around the meat and pour the beer over the top, if you are using them.  Cover and turn on the slow cooker to high.  Your barbacoa  will be done in about 6 hours, though you can hold it for longer. (My slow-cooker can be programmed to switch from high after 6 hours to a "keep warm" temperature for up to another 6 hours. Some slow cookers click to "keep warm" automatically; others need to be switched manually.)
When you are ready to serve, coarsely shred the lamb and arrange it on a warm platter.  Skim any fat from the sauce that remains in the slow cooker, then taste it.  If you feel it would be better with a more concentrated flavor, pour it into a medium saucepan or remove the insert and set it over high heat.  Boil for a few minutes to reduce that quantity, then taste and season with salt if it needs it. Spoon as much as you like over the lamb or beef.  (I like to sprinkle coarse salt over the meat at this point.)  Serve the barbacoa with the hot sauce or salsa, onion and cilantro.  Grab some tortillas, if you like, and you're ready to make some delicious tacos.
No slow cooker?
In a large (6- to 8-quart, at least 12 inches in diameter) heavy pot (preferably a Dutch oven), combine the ingredients as described.  Set the cover in place and braise in a 300-degree oven for about 3 hours, adding water occasionally if necessary to ensure the liquid stays at about the same level.  Finish as described.