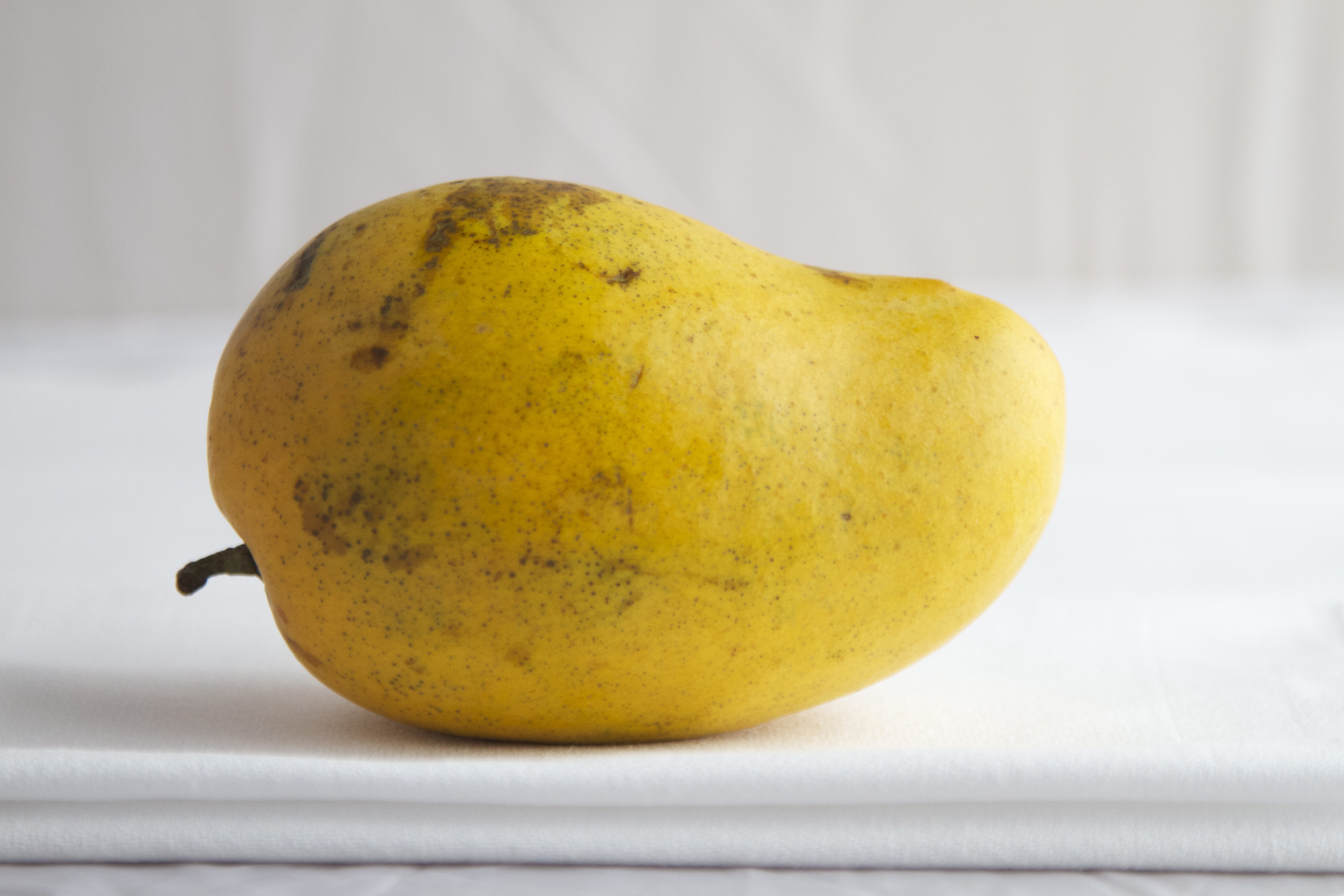 Today I held a honey manila mango in my hand and brought it close to my face so I could smell it. The aroma grabbed me by the collar, dragged me out of winter and threw me into spring. We're all still waiting for ramps, spring onions and herbs; but in the meantime, we have honey manilas.
Honey manilas, like all mangoes, are made for warmer weather. They're sweet and have a cooling effect, which is why they're rarely cooked (why cook something that's already perfect?). And right now, honey manilas (which are available from March through May) are at their sweetest, which is why this morning in the test kitchen we turned a few into a limey, sweet-tart mango ice.
More on that in a second. First, let's talk about how to prep these things.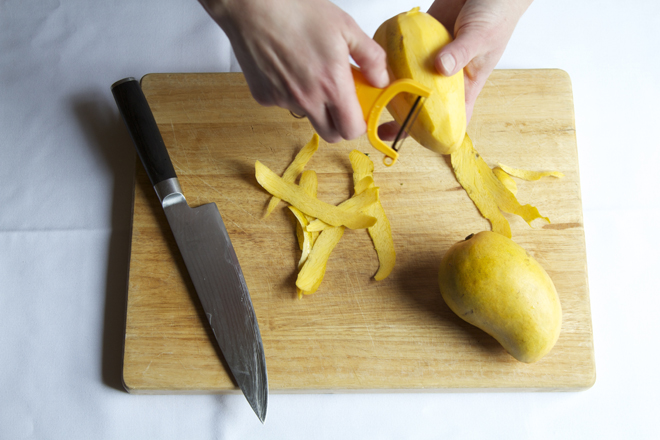 Honey manilas have a thin skin that can be removed with a vegetable peeler or a knife. Rick uses a knife, and he wields it in such a way that the skin comes off with almost no flesh attached. Here in the test kitchen? We use a peeler.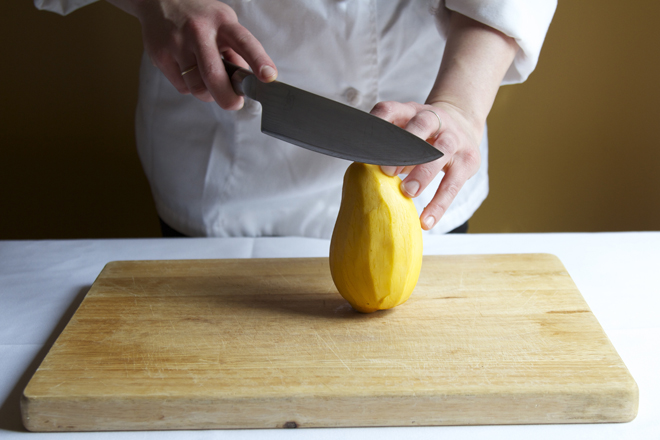 Now: slicing the mango. There's a thin pit in the center of mangos, and the flesh closest to the pit is tough and fibrous. The goal in slicing a mango is to slice around the pit, removing as much of the juicy flesh as you can. Do this in four sections. You'll get two big slabs from the wide sides of the mango: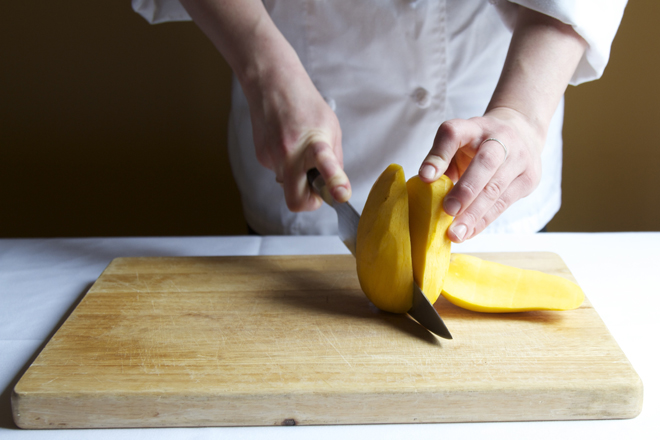 And two smaller slabs from the thinner sides: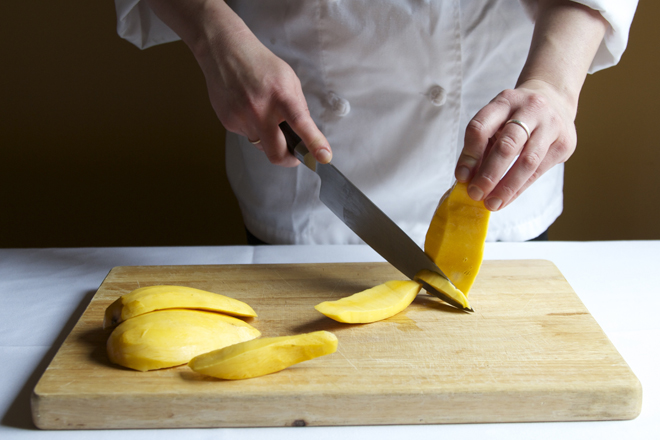 Now you can slice the slabs into whatever sort of strips you want, maybe for an Avocado-Mango Salad with Fresh Cheese, Bacon and Toasted Pumpkin Seeds. Or a Grilled Steak Salad with Mango and Arugula.
But if you do that, try reserve a few for dessert:
MANGO LIME ICE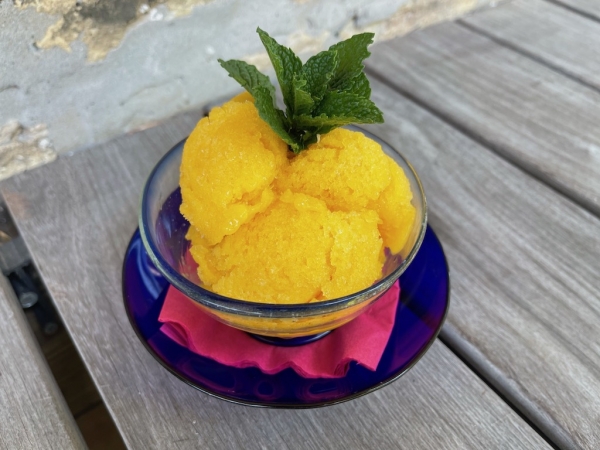 Ingredients
2 1/2

pounds (4 large)

mangos (preferably Honey Manila/Champagne/ataúlfo mangos), peeled, fruit cut away from the pit and coarsely chopped (about 2 heaping cups)

1 1/4

cups (8 ¾ ounces)

sugar

1/3

cup

fresh lime juice
Instructions
Make the puree. In a blender or food processor, combine the mango, sugar, lime juice and 1 cup of water.  Process to a smooth puree.  
Freeze the puree. Freeze the mixture according to the manufacturer's directions on your ice cream maker.  When it is the consistency of soft serve, scrape the mixture into a container, cover and freezer for several hours to firm.  If the mango ice has become very firm in the freezer, move it to the refrigerator for half an hour or so before serving.

No ice cream freezer?  A great thing about mango is that it is so beautifully pulpy, you can "still freeze" directly in your freezer. Scrape the mixture into a 9x9-inch pan and set in the freezer for about 2 hours (until the outer 2 inches of the mixture feels firm).  Stir thoroughly to break up clumps, then freeze for another couple of hours and stir thoroughly again.  One more round of freezing is usually enough, though this time, I usually scrape the mixture into the food processor (or use an immersion blender) and smooth the mixture completely.  Depending on the temperature of your freezer, another half-hour or so will usually give the mango ice a great texture for serving.