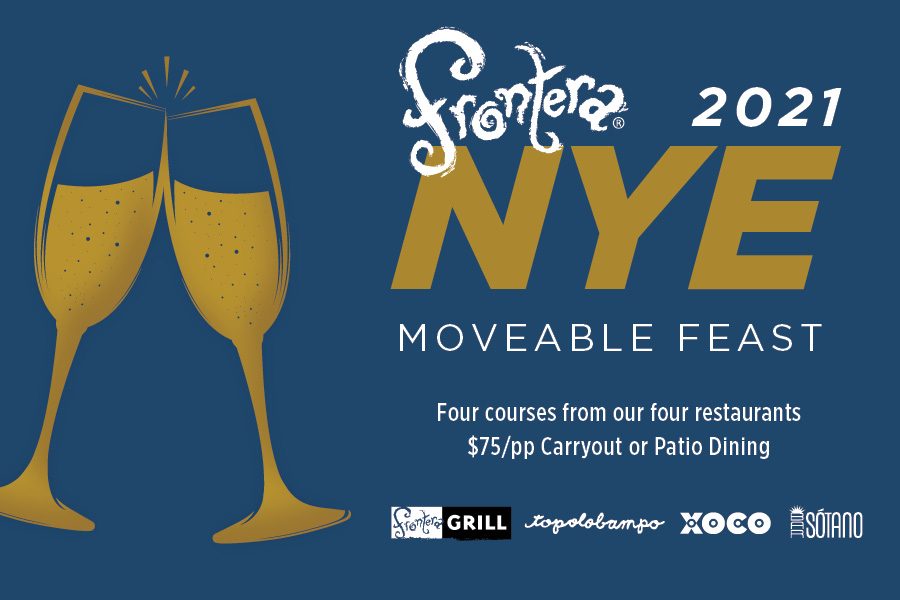 It's a New Year's Eve Moveable Feast! Ring in a hopeful new one year at your place or ours with a four-course menu from our four restaurants. The special New Year's Eve menu includes:

• Half-and-Half: Half guacamole, half pumpkinseed "hummus" from XOCO, with plenty of tortilla chips and fresh vegetables for dipping.

• Lobster Paella: Just-baked Mexican paella from Bar Sótano with half a Maine lobster, Gunthorp chicken thighs, roasted poblanos, tomato, peas and avocado.

• Beef Short Rib, Oaxacan Black Mole: A legendary Frontera Grill main course of slow-cooked beef short rib in Oaxacan black mole with rustic queso añejo mashed potatoes and grilled green beans.

• 13-Layer Crepe Cake: Amazing 13-layer crepe cake from Topolobampo with dark chocolate mousse and Brovo-poached pears.

• Add-Ons: Our favorite bottles of festive Mexican bubbles and Champagne, sommelier-selected wines and our famous bottled margaritas.
— $75 per person, plus service charge —
Plus, join our staff on the Chef Rick Bayless Facebook page for a live-streamed New Year's toast at 11 p.m. All to-go orders on NYE will ship with a playlist of handpicked Mariachi music.
Whether it's at your place or ours, let's say adios to 2020 together by sharing good food and drink, with an eye toward a brighter 2021.