Looking for an amazing way to support our restaurants and score great holiday gifts? Our wildly talented chef team has put together two new gift packages that we know you'll love. Pre-order now for pickup beginning Dec. 1.
"Taste of Frontera" Gift Box $90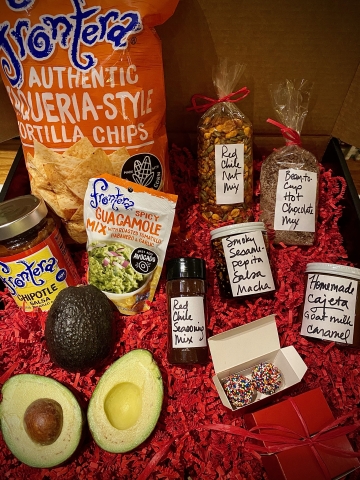 These are Frontera flavors we all crave, both traditional and unique, from savory to sweet. Our collection takes you through classic chips, salsa and red chile nuts, to unique Xoco-style guacamole (complete with ripe Michoacan avocados!). There's Frontera's ancho chile spice rub for fish, chicken or steak, plus a luxurious nutty-spicy salsa macha to spoon over sautéed shrimp or grilled vegetables. Our homemade cajeta (goats milk caramel) makes ice cream taste like food of the gods. Start your day with a cup of our bean-to-cup Oaxacan hot chocolate (if you've never tasted fresh-ground chocolate, this will be a revelation) and end it with festive chocolate truffles infused with Oaxacan mezcal. Recipes included! Here's exactly what we have curated for you:
Our red chile-lime nut mix (8 ounces of roasted peanuts, pumpkin seeds and fava beans)
Authentic taqueria-style tortilla chips
Our award-winning chipotle salsa (16 ounces)
Spicy mix to make Xoco-style guacamole
2 perfectly ripe Michoacan avocados
Frontera's ancho chile spice rub (2 ounces)
Homemade salsa macha (smoky-spicy Oaxacan pasilla chiles, garlic, sesame, pumpkin seeds, olive oil, vinegar)
Bean-to-cup hot chocolate mix (10 ounces of Mexican cacao beans and organic sugar ground fresh in-house)
Homemade cajeta (6 ounces of goats milk caramel)
6 homemade, mezcal-infused chocolate truffles

>> ORDER THE TASTE OF FRONTERA <<
"Perfect Breakfast" Gift Set $38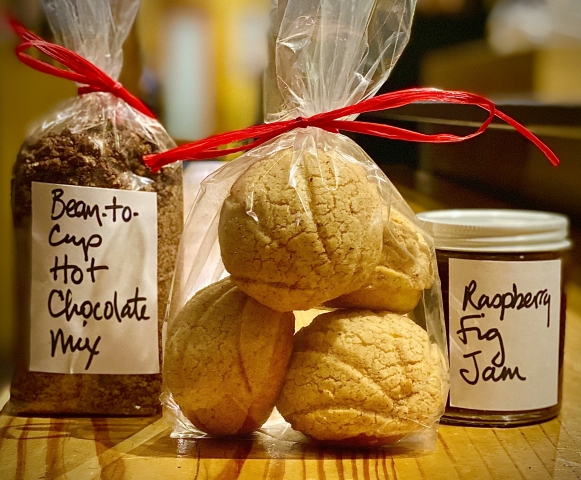 Buttery rolls topped with sweet cinnamon streusel—these are the breakfast conchas everyone loves in Mexico. Warmed, they are even better smeared with fig-raspberry jam (the fruit comes from nearby Seedling Farm). To complete the memory, make a cup of our bean-to-cup hot chocolate—yes, we import cacao beans from Mexico and grind them in-house for the freshest, most aromatic beverage.