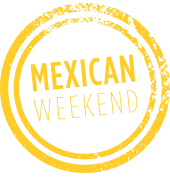 OK, it's summer, the grill's hot and you reach for the …  You can fill it in with any of the standard tropes, but you shouldn't.
You should go somewhere that's got trustworthy fish (if you don't know that place, you should) and buy a piece of Alaskan halibut.  Or tile fish (Never heard of it?  I'll say it again: you should).  Or even some American farm-raised trout (you can buy those already boned—but still whole—for a dramatic presentation).
Any of those on the grill can be as memorable as the old standbys.  Maybe more.
To make this dish, we'll employ one of my favorite secret weapons — easy red chile adobo.
Now, If you're unfamiliar with adobo, it's time to learn about that, too, because the preparation is super-simple and the payoff is immense. All it requires is a blender or food processor, some garlic, chile powder and spices, a splash of apple cider vinegar and about a minute of your time. That's it.
As for the grilling, well, that couldn't be easier.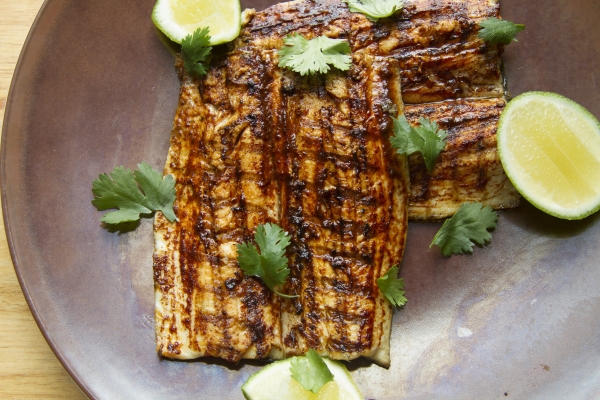 Ingredients
1/2

cup

good-quality ancho chile powder (the amount in a typical 2-ounce spice jar)

8

garlic gloves

1/2

teaspoon

ground cinnamon, preferably Mexican canela

1/4

teaspoon

black pepper

1/8

teaspoon

ground cumin

1

teaspoon

dried oregano, preferably Mexican

3

tablespoons

apple cider vinegar

Salt

For the Fish

4

whole

trout, boned

Lime wedges, parsley or cilantro for garnish
Instructions
Heat the grill: Heat a gas grill to medium-high on one side, medium on the other, or light a charcoal fire and let it burn until the charcoal is covered with white ash, then bank the coals to one side.
Make the red chile adobo: Scoop the powdered ancho chile into a blender or small food processor. Bring 1 1/4 cups water to a boil, pour over the chile, loosely cover the blender or secure the top of the processor and pulse to blend thoroughly. In a small microwave-safe bowl, collect the garlic, cover with water and microwave at 100% for 1 minute. Drain and add to the blender or processor, along with the spices, oregano, vinegar and 1 1/2 teaspoons salt. Process until smooth. Remove about 1/3 cup of adobo to a bowl and scrape the remainder into a pint-size jar and store, covered, in the refrigerator, where it will last several months.
Grill the fish: Dress the fish by cutting off the heads, tails and fins. Open the fish to lay them flat and pat them dry with a paper towel. Spray or brush the fish with oil. Place the fish flesh side down on the hottest part of the grill for about 1 to 2 minutes. Flip them onto their skin side over the cooler part of the grill. Spoon the red chile adobo over each fish. Cover the grill and cook 1-2 minutes more until the fish flakes under firm pressure. Garnish with parsley or cilantro leaves and lime wedges.