What makes this recipe so popular?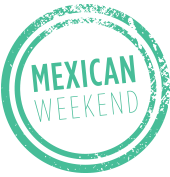 Perhaps it's the irresistible combination of fresh-made salsa mexicana and shrimp tucked into tortillas that are just beginning to crisp. Oh, and there's melted cheese involved. And unexpected seasonings.
But maybe it's because the whole thing comes together so easily (I learned it from a cook on the beach in Puerto Escondido). All it really requires is some chopping and a spare 15 minutes.
But let's get real: these tacos/quesadillas/encamaronadas are a whole lot about cheese. Here's a good place to use a good melting cheese like Chihuahua or Jack cheese.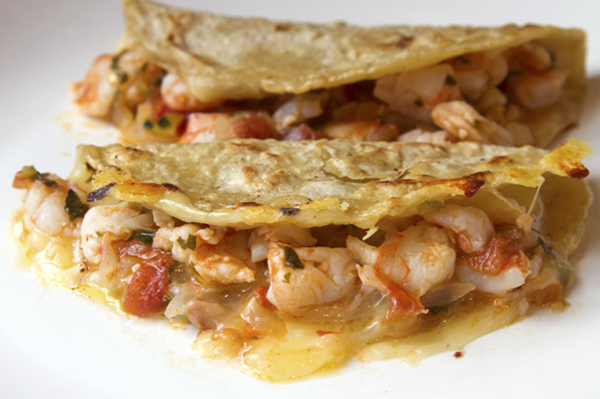 From Season 9, Mexico—One Plate at a Time
Ingredients
12

ounces (2 medium-small round or 4 or 5 plum)

ripe tomatoes, cut into ¼-inch pieces

Fresh serrano chiles to taste,

(roughly 3 to 5), or even more if you like it really picante), stemmed, seeded if you wish, and finely chopped

1/4

cup

chopped cilantro, thick bottom stems removed

1

large

garlic clove, peeled and very finely chopped

1

small

white onion, finely chopped

1

tablespoon

Mexican hot sauce (such as Valentina or Tamazula), plus extra for serving

1

tablespoon

ketchup

2

teaspoons

fresh lime juice (optional, but you might like the zing it adds)

Salt

About 1/3

cup

vegetable oil, divided use

1

pound

small shrimp, peeled, deveined if you wish, and chopped into pieces a little smaller than ½ inch

15

corn tortillas

8

ounces

shredded Mexican melting cheese (full-flavored Chihuahua or Jack cheese work best)
Instructions
Making the" salsa. Scoop the tomatoes, chiles, cilantro, garlic and white onion into a bowl and mix well. Stir in the hot sauce, ketchup and optional lime juice. Taste and season with salt, usually about a scant teaspoon.
Making the shrimp filling. Heat a very large (12-inch), heavy skillet—nonstick works really well—over medium-high. Pour in 2 tablespoons of the oil and when it is hot, add the "salsa" vegetables. Cook, stirring regularly, until everything softens together, about 5 minutes. Scoop in the shrimp and stir until they are barely cooked through (they can still be slightly translucent at the center)—about 3 minutes. Scoop the shrimp mixture into a bowl, wash and dry the skillet, and return it to medium heat.
Assembling the encamaronadas. Heavily film the bottom of the skillet with oil. When hot, lay in a tortilla. After a few seconds, flip it, then scatter a couple of tablespoons of shredded cheese over one side, top with a generous tablespoon of the filling. Use tongs to fold the uncovered part of the tortilla over the filling, forming a turnover. Gently press flat. Continue to make encamaronadas in the same fashion until the skillet is full, frying them until crisp—2 to 3 minutes per side. As they become crisp, remove them to a plate lined with paper towels. Serve right away with more Mexican hot sauce.