As we head into late spring, keep your eyes peeled for the wild salmon that's beginning to show up in fish markets.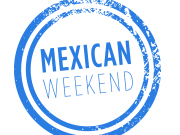 Why? Because there's magic to be made.
When it hits the smoky grill, fresh wild salmon reveals and releases its stunning flavor and buttery texture. Topped with a rich gilding of red-chile peanut deliciousness, it becomes the perfect weeknight dish — incredibly delicious, minimal fuss.
Oh, and it looks as great as it tastes.
Don't forget: Snap pics of your finished dish and tag them #MoreBayless on Twitter, Instagram or Facebook for a chance to win an autographed copy of my new cookbook, "More Mexican Everyday." Details here.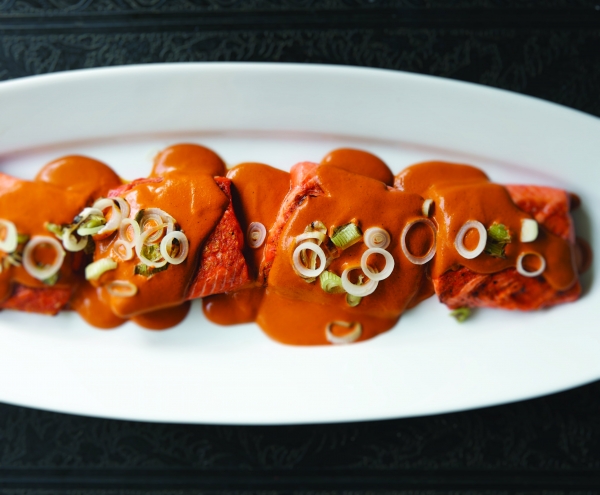 Ingredients
3

unpeeled garlic cloves

3

dried guajillo chiles,

stemmed, seeded and torn into large pieces

2

canned chipotles en adobe,

stemmed and roughly chopped

1

cup

roasted, unsalted peanuts

Salt

4 5-to-6-ounce

boneless, skinless salmon fillets (preferably from wild-caught salmon)

A little olive or vegetable oil

2

green (or fresh spring "knob") onions OR 2 fresh ramps
Instructions
On one side of a large (10-inch) dry skillet, roast the garlic over medium, turning regularly, until soft and blackened in spots, 10 to 15 minutes.  On the other side, toast the chiles:  Use a metal spatula to press the guajillo chile pieces flat against the hot surface of the pan.  When they release their aroma and change color slightly (maybe even give off a faint whisp of smoke), about 10 seconds, flip them over and press down again to toast the other side.  Scoop into a bowl and cover with ¾ cup very hot tap water.  Rehydrate the chiles for 10 to 15 minutes.
Peel the garlic and scoop into the blender, along with the guajillo chiles (including their soaking liquid), the chipotles and the peanuts. Add a little more water if necessary to give the salsa an easily spoonable consistency.  Taste and season with salt, usually about ½ teaspoon.
Heat a gas grill to medium-high or light a charcoal fire and let the coals burn until covered with white ash but still very hot.  Smear the salmon fillets and green onions (or ramps) with a little oil and sprinkle with salt.  Then, on the coolest place on your grill grate, grill the onion, turning regularly, until soft, about 15 minutes.  Lay the salmon fillets on the hottest part of the grill grate, what would have been their skin-side down.  When the grill grates have deeply seared marks into the salmon and the salmon has begun to release itself from the grates, about 3 minutes depending on the heat of your fire, flip them and cook to your desired degree of doneness—usually about 6 minutes total cooking time for a 1-inch-thick fillet.  Transfer to warm dinner plates.
Chop the green onion (or ramp) into small pieces.  Spoon some salsa over each fillet, sprinkle with chopped onion (or ramps) and serve right away.