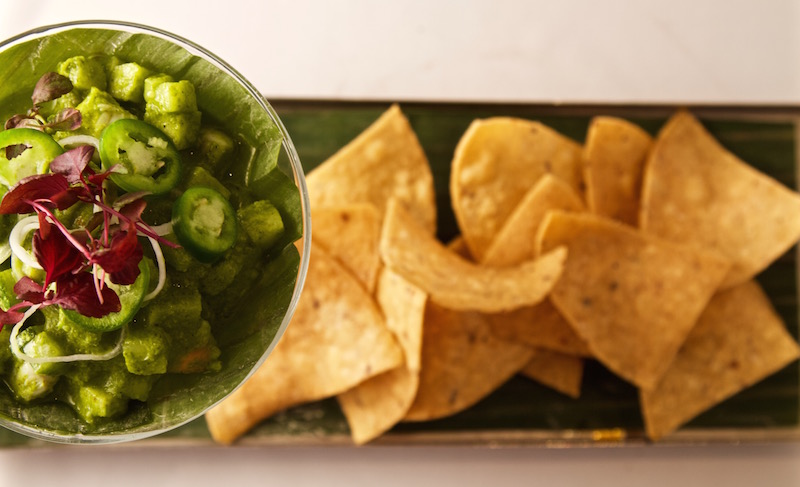 Ceviche Verde with scallops and shrimp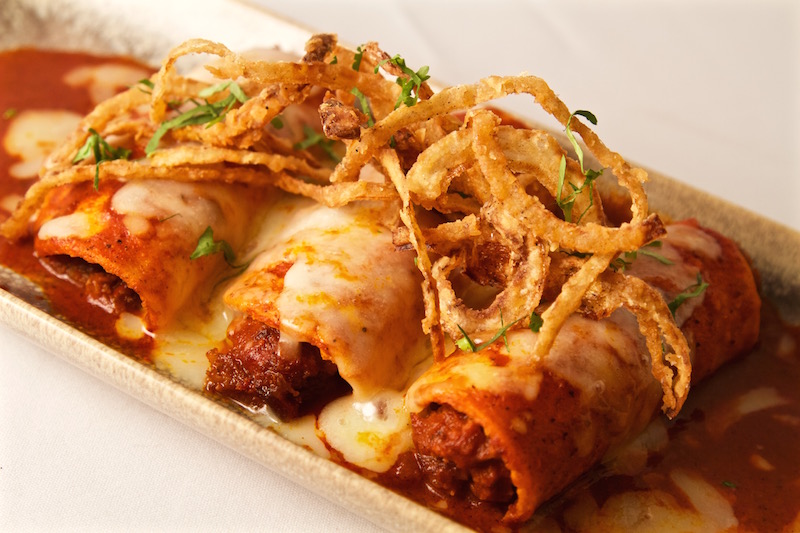 Enchiladas de Lengua y Chorizo filled with tender beef tongue, chorizo & potato, tomato-guajillo chile sauce, Jack cheese and crispy onions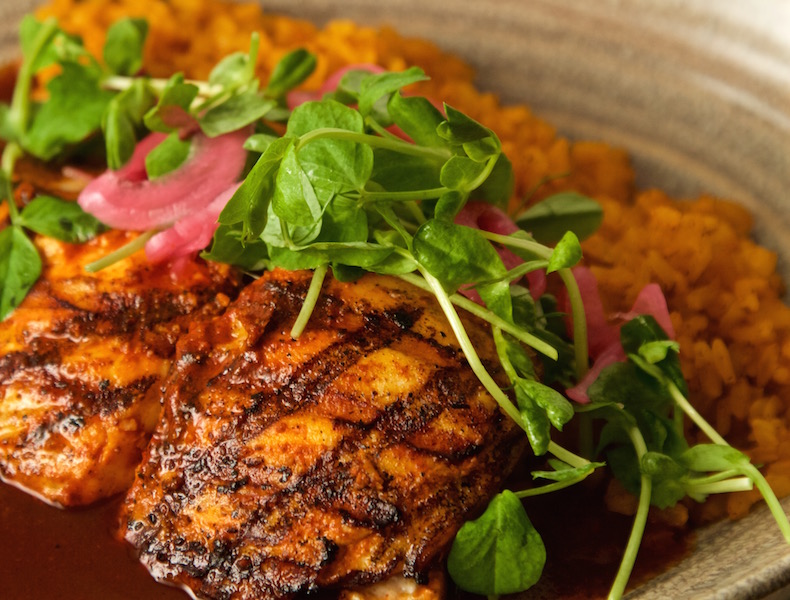 Pescado in Red Chile Escabeche Wood-grilled Alaskan halibut in red chile escabeche (ancho chile, aromatic spices, lime juice, olive oil)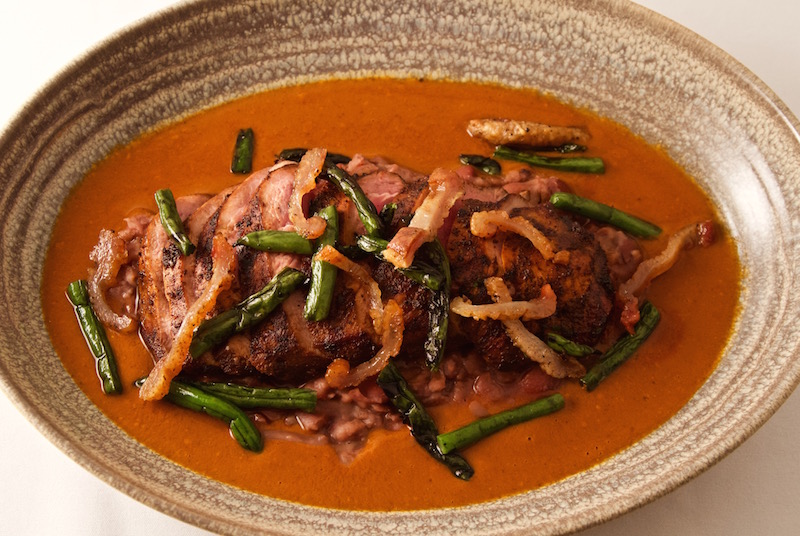 Duck in Orange Pipián Wood-grilled duck breast, orange-almond pipián, duck fat beans, green beans, duck chicharrón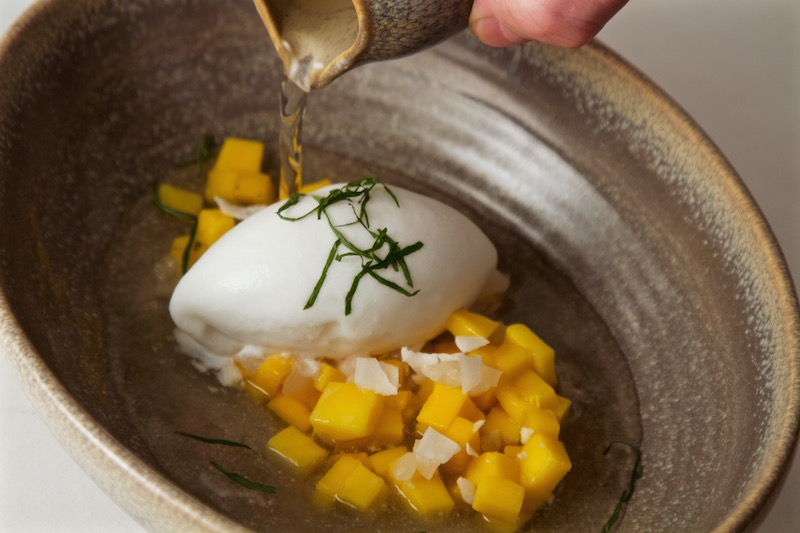 Sopa de Frutas Coconut sorbet, fresh Honey Manila mangoes, minty rambutan, vanilla-infused coconut water "broth"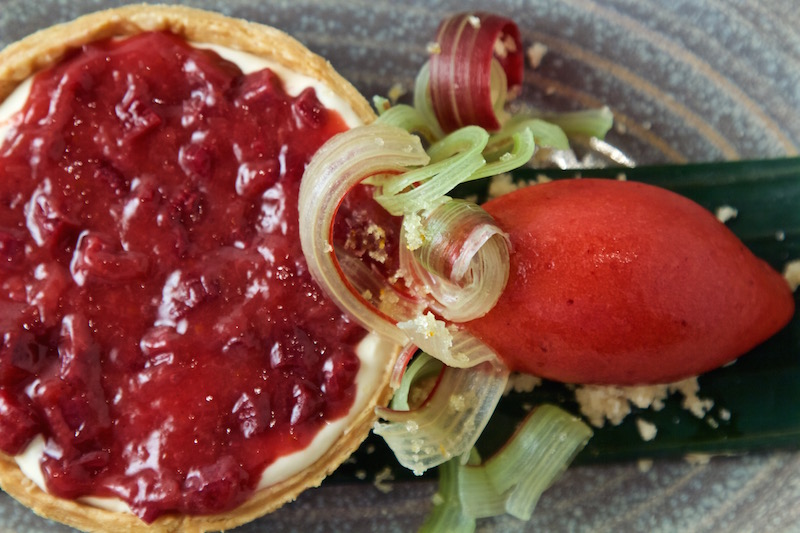 3 Citrus Rhubarb Tart Blood orange, lime, orange crema, local rhubarb-jamaica compote, strawberry-angostura sorbet, brown butter crumble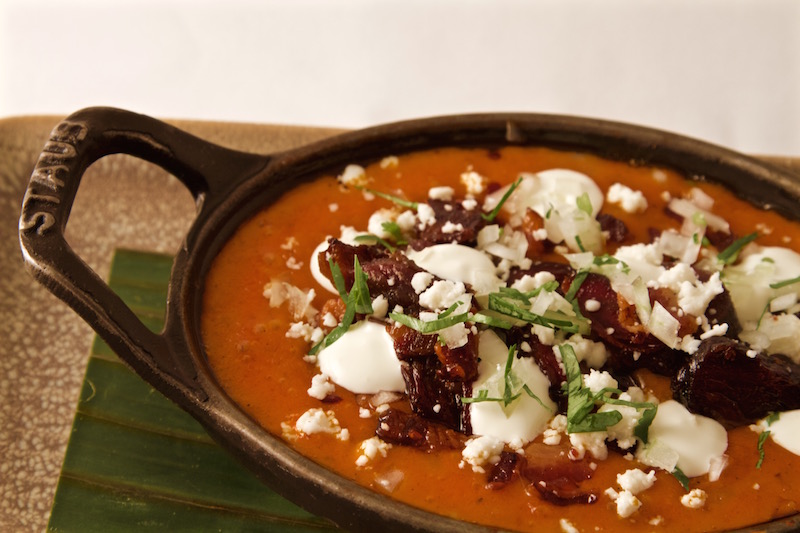 Jim's Crazy Queso Fundido Guajillo-infused cheddar, two kinds of pork (smoked skirt steak and bacon), chilaquiles-style tortilla strips,crema & homemade fresh cheese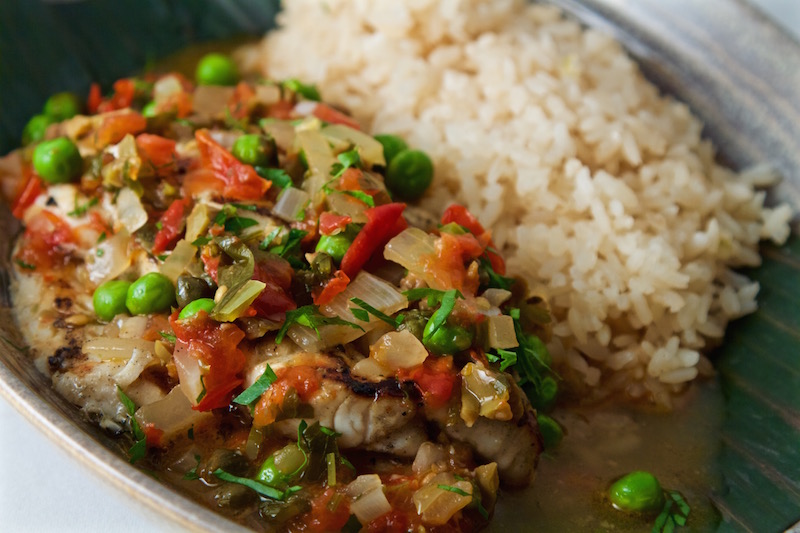 Pescada a la Tampiqueña Garlicky fish cooked over the coals, Tampico-style pan sauce, Gulf-style white rice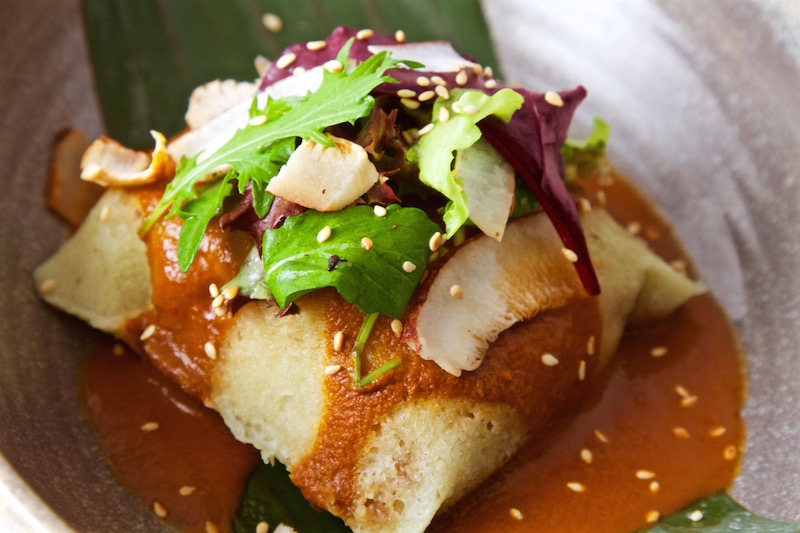 Coconut Shrimp Tamal Fresh corn masa tamal with Mazatlan blue shrimp & young coconut filling), coconut pipián, Bayless Garden greens
Josefina Velázquez de León is an incredibly important name in the history of Mexican food. Sadly, most people don't know who she is.
This month, Frontera Grill is proud to bring you a seasonal menu inspired by this influential author's many contributions to Mexico's rich culinary heritage. Our chefs have pored over our collection of her cookbooks — we have about 50 in Frontera's research library — to make a menu showcasing the regional flavors of Mexico.
"The research for this menu was rather daunting. There are just so many books and recipes, but the one we really focused on was  "Viajando por Las Cocinas de la Republica Mexican" (Traveling in the Kitchens of the Mexican Republic), so the recipes are all over the Mexican map" said Richard James, Frontera's Chef de Cuisine.
That means you'll find Northern-style "cowboy mole" (pasilla, mulato and ancho chile with sesame, toasted bread and chocolate) served with braised pork empanadas sharing menu space with tangy Red Chile Escabeche from the Yucatán, and so on.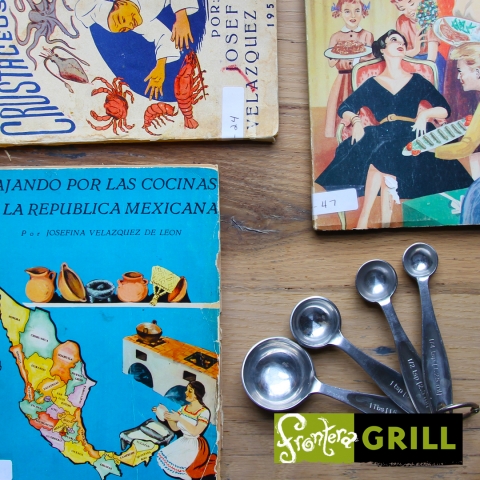 Rather than making faithful recreations of Josefina's dishes, Chef Richard and his Frontera kitchen crew translated the decades-old recipes for today's guests.
"All of her ideas and the concepts are there, but I had to cook for diners in 2016 make the food interesting. It was really fascinating and challenging to me," he said.
So who was Josefina?
A childless widow with no professional training in the kitchen, Josefina started writing cooking columns for magazines, which led to her opening the Academia de Cocina Velázquez de León, which was sort of like this traveling road show across Mexico where housewives learned to cook.
That's a crucial detail, because until the mid-1900s, Mexican cuisine was a hodgepodge of regional recipes that didn't relate to each other very much. As reported in this profile in The Braiser:
She would arrive in town and, working with local church groups, arrange to teach a few classes. Women could attend for free, and they were encouraged to bring family recipes and prepare famous local dishes. They understood that Josefina might use their contributions in her cookbooks, but they, in turn, were taught regional specialties from other parts of Mexico.
The result of these classes was profound: She's gave a national face to regional Mexican cuisine, carrying a banner that said, 'We're all Mexican: Veracruz Mexican, Oaxacan Mexican, Yucatecan Mexican.'"
Later, Josefina  start her own publishing company, which printed a staggering 140-some of her cookbooks, which were distributed throughout Mexico. She also started a mail-order catalogue of cooking products, a monthly magazine, radio program and a television show —  particularly astounding, considering her TV program was aired roughly the third year television even arrived in Mexico.
Her career was prolific, and we invite you to join us as we cook (and eat!) in tribute to this unheralded giant of Mexican cuisine.
Buen Provecho!