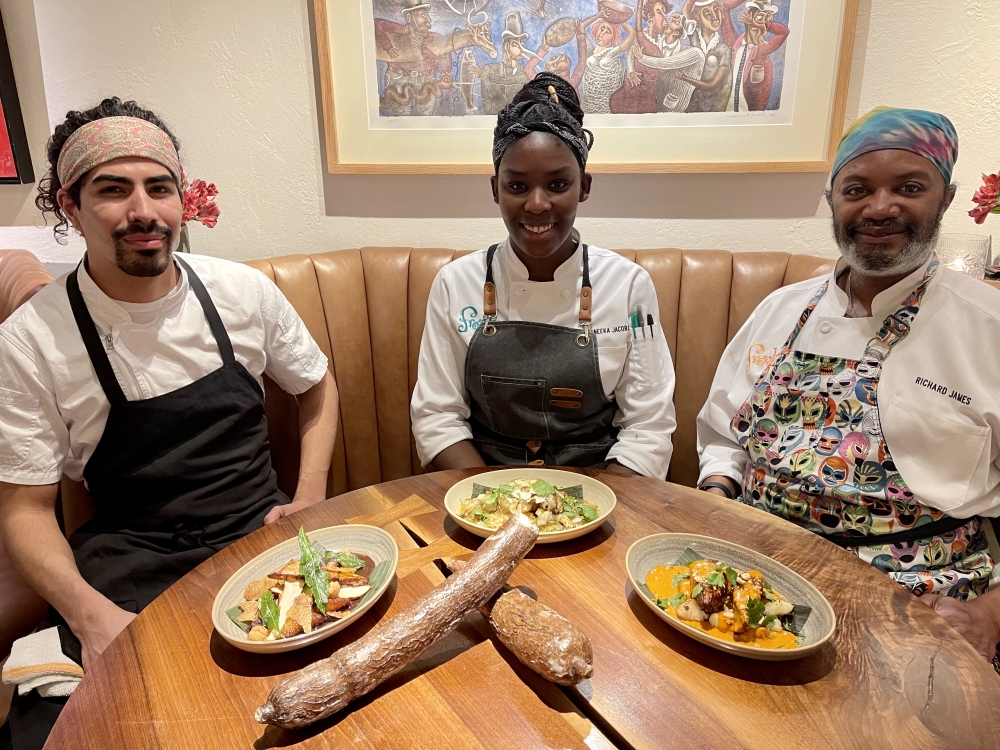 The origins of the new Frontera Grill menu can be traced back to the Spanish conquest of Mexico, when an estimated 200,000 West African people were enslaved and brought to coastal ports in Veracruz and Oaxaca.
The resulting blend of Spanish, African and Indigenous ingredients in domestic kitchens would come to represent a vibrant and soulful "Afro-Mestizo" cooking that's seldom seen outside of Mexico.
The "Celebrating Afro-Mestizo Cuisine" menu runs through mid-March at Frontera Grill, 445 N. Clark St.
"All of these flavors in this style of cooking are upfront and bold." said Jonathan Cisneros, a 25-year-old line cook raised in Ometepec in an area known as Costa Chica that's home to a significant Afro-Mexican population. Cisneros is the only cook in Frontera's 35-year history to hail from the region.
Like it's better-known Afro-Caribbean counterparts, Afro-Mestizo cuisine is characterized by big flavors. In the Frontera kitchens, that means cooks will be extra-generous with ingredients like pungent garlic, salty peanuts, fruity dried red chiles, luscious pineapple and the fragrant epazote leaf.
Richard James, perhaps the longest-tenured Black Chef de Cuisine in Chicago, said the menu development was driven by Cisneros and Javauneeka Jacobs, Frontera's emerging sous chef.
"As the idea for these dishes grew, we knew it was starting to become like soul food. That came natural to us," said James. "And to keep the integrity of the flavors, we wouldn't sign off on a dish until Jonathan signed off."
Jacobs, 25, said the concept of the menu was inspired by bringing more Black history into the rotation of Frontera's monthly themed menus. For inspiration, she rooted around the kitchen's extensive cookbook library, James plumbed his notes from staff research trips to the regions and Cisneros recalled his Afro-Mexican grandmother's cooking.
"We wanted to represent this region and these flavors in an approachable way for our guests," said Jacobs.
Rick Bayless, the celebrity chef behind the acclaimed Frontera Grill—and a noted food historian—said the menu "brings in another world of Mexico."
"This is a menu that tastes different than the rest of our food," he said. "There's a continuity in the flavors of African-influenced cooking, whether it appears in places like Cuba, Veracruz or Louisiana. There's something that flavored that diaspora of people and it's something soulful that resonates and ties the cuisines together." 
---
Camarones al Coco | Wood-grilled Florida pink shrimp, creamy coconut sauce studded with tomato & jalapeño, Gulf-style white rice, fresh lime
Chicken, Black Bean Sauce, Plantains | Grilled heritage-breed chicken breast, black bean-red chile sauce, golden plantains, chochoyotes, chicken chicharrón
Mahi-Mahi, Yuca al Mojo, Red Chile Peanut Salsa | Grilled mahi-mahi, tender yuca with toasted garlic, velvety red chile-peanut salsa
Platanos Rellenos | Black bean-stuffed plantain fritters with homemade crema, smoky-spicy chipotle salsa & homemade fresh cheese
Grilled Cauliflower, Oaxaca Estofado | Garlicky cauliflower steaks cooked over the coals, estofado (ancho, guajillo, tomato, pineapple, plantain, spices), pickled jalapeños
Empanada Tropical | Flaky pastry empanada filled with fruit-&-nut-studded rice pudding (apricots, dates, pistachios), creamy coconut sorbet