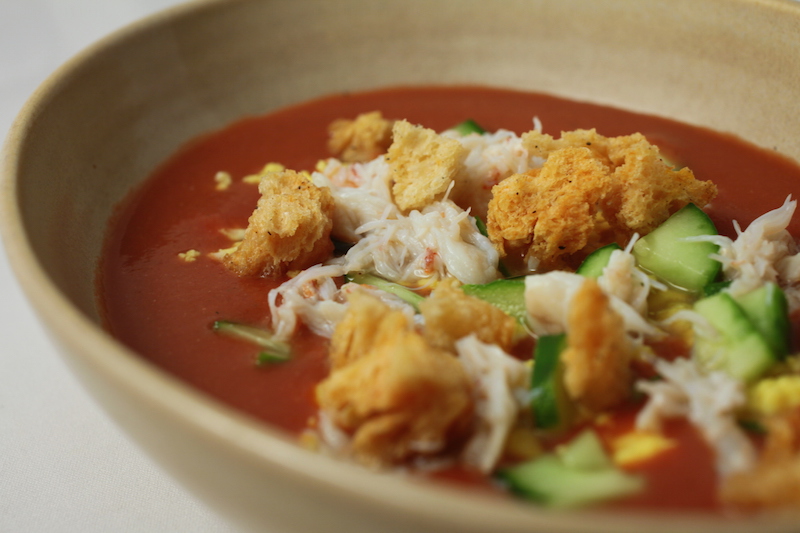 Roasted Poblano Gazpacho: Roasted & fresh local tomatoes, cucumber, poblanos, red wine, brioche, cava vinegar. Peekytoe crab and traditional garnishes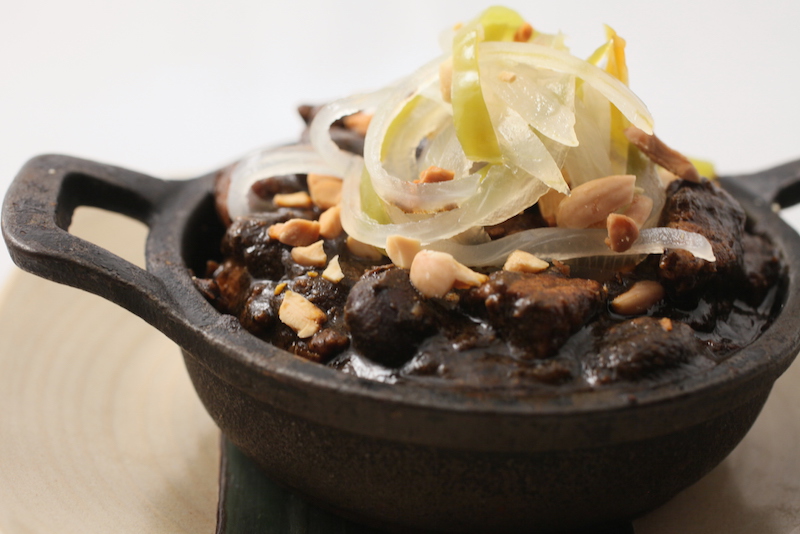 Pork in Mole Chichilo: Tender Gunthorp pork shoulder and ayocote beans, chichilo mole (dark chiles, almonds, spices, avocado leaves), tangy chile de agua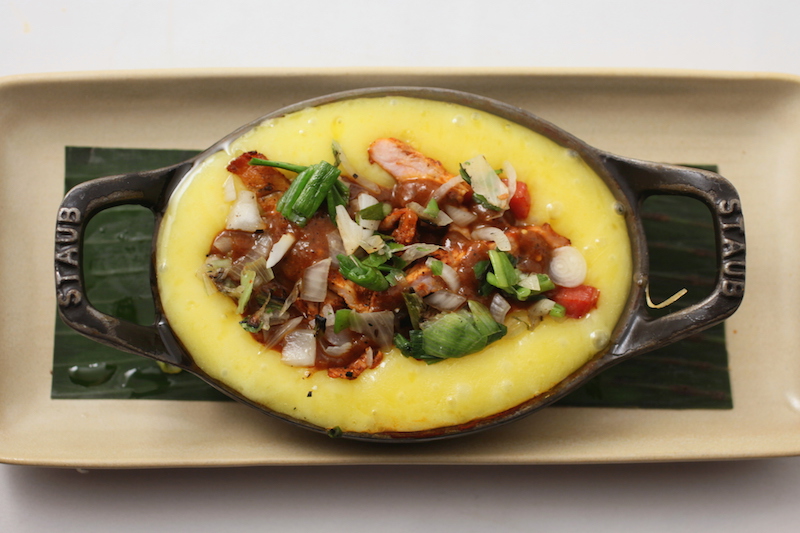 Pork Fundidos: Otter Creek organic cheddar, grilled red-chile pork cecina & slab bacon, smoky Oaxacan pasilla salsa, grilled green onions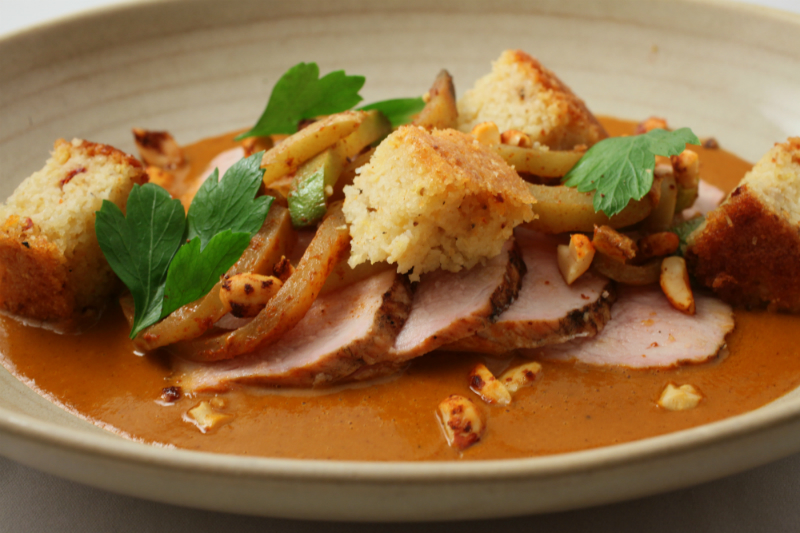 Pork in Manchamantales: Grill-roasted Gunthorp pork loin, manchamanteles mole (ancho chiles, almonds, peanuts, plantain), pineapple-studded torta de elote, red-chile chayote.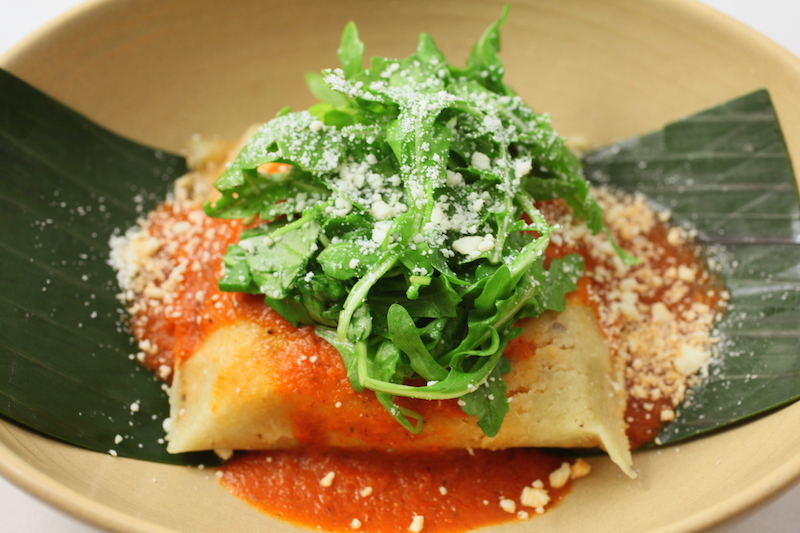 Pork Picadillo Tamal: Banana leaf-steamed fresh corn masa tamal, fruity shredded pork picadillo filling (with toasted almonds), roasted tomato sauce, aňejo cheese, arugula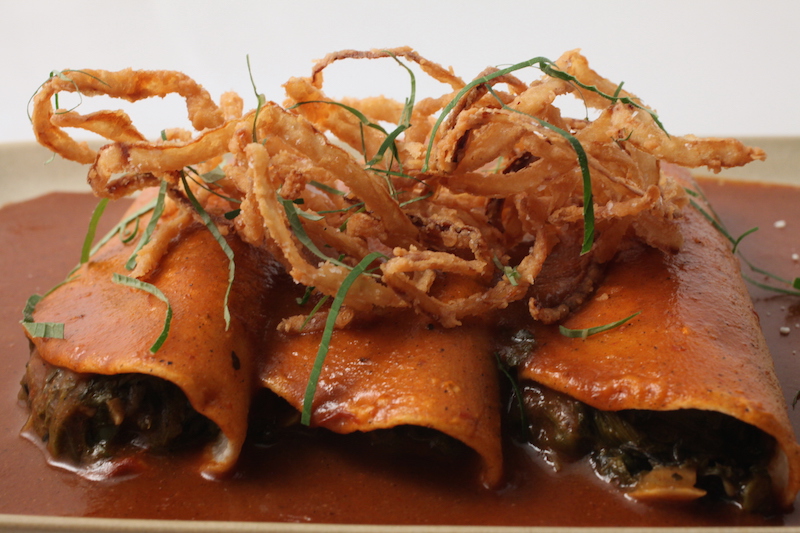 Yellow Mole Enchiladas: Fresh corn tortillas, delicious braised greens filling (kale, turnip, mustard), Oaxacan amarillo mole (ancho & guajillo chiles, tomato, tomatillo, corn masa, hoja santa), garlicky black beans, crispy onions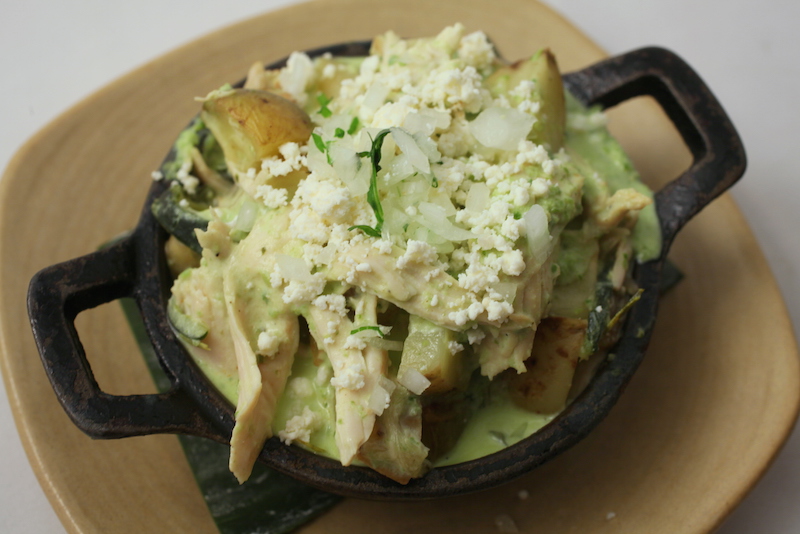 Creamy Smoked Chicken Cazuela: Smoked Gunthorp chicken breast, roasted poblano rajas & potatoes, house-made crema and fresh cheese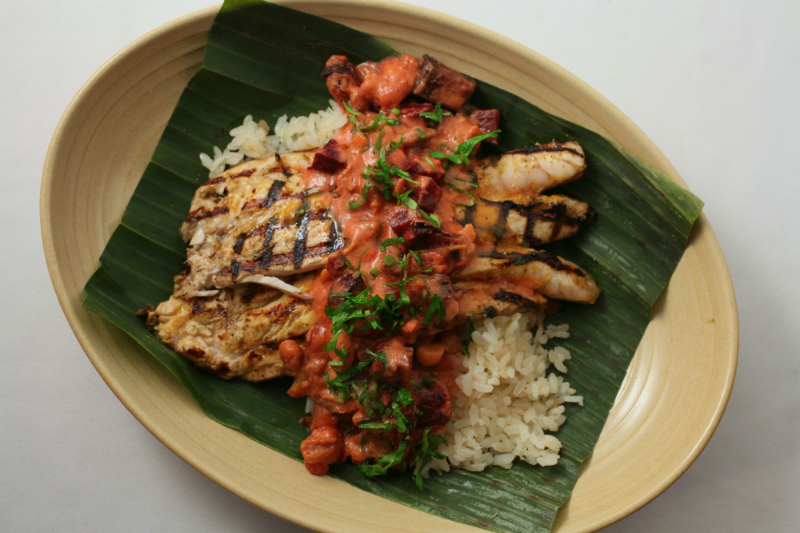 Bass in Mojo de Ajo Almendrado: Garlic-marinated grilled Florida farm-raised bass, mojo de ajo almendrado (slow-roasted garlic, Baja olive oil, toasted almonds, olives, raisins, pickled jalapeňos, lobster stock), local beets, white rice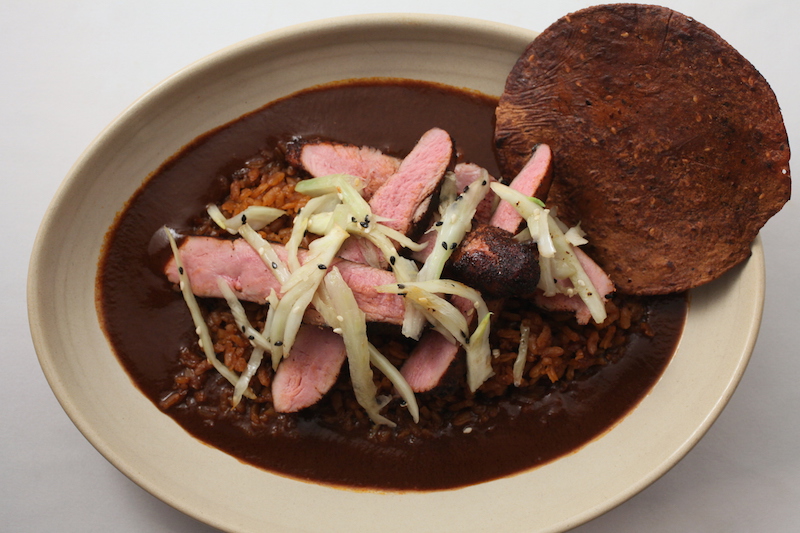 Duck in Mole Coloradito: Grilled Gunthorp duck breast, coloradito mole (ancho, tomato, sesame, cinnamon, Mexican chocolate), seared fennel with sesame, red chile rice, chocolate-chile tostadas.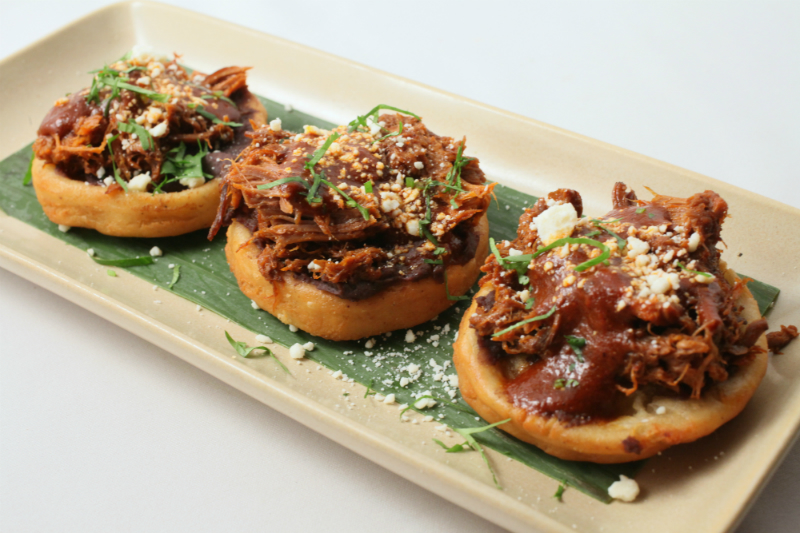 Goat Barbacoa Memelas: Oaxacan snack of crispy corn masa boats, red chile goat barbacoa, black beans (with avocado leaf), aňejo cheese, cilantro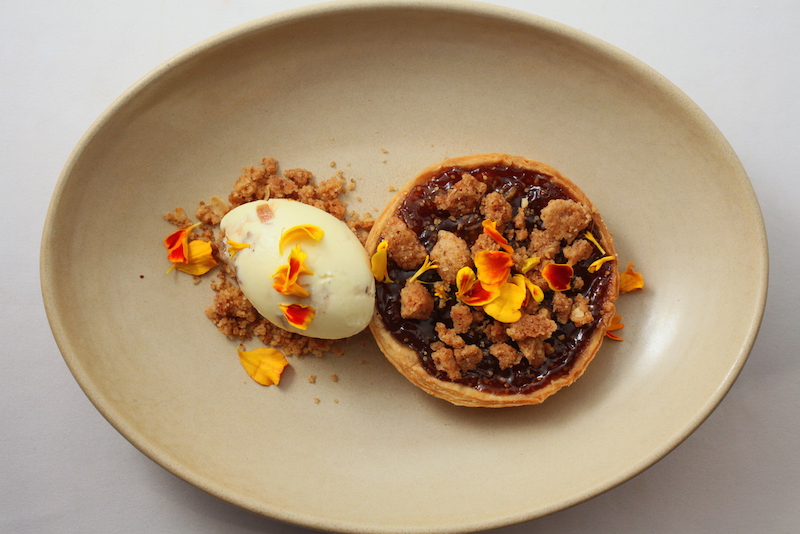 Apple-Ground Cherry Tart: Flaky pastry tart of Nichols Farm apples and Seedling Farm ground cherries (tiny golden tomatillos). Caramel-apple swirl ice cream, oat streusel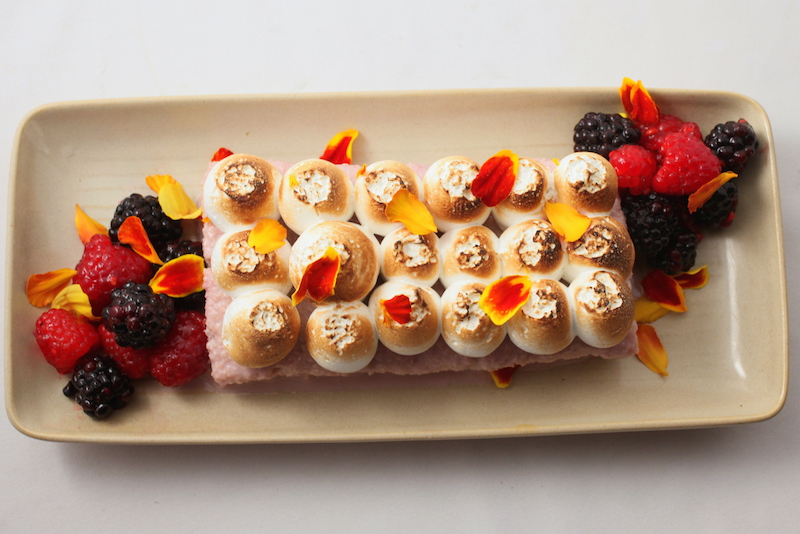 Raspberry Tres Leches: Raspberrry-jamaica tres leches cake, toasted gooey meringue, local raspberries and blackberries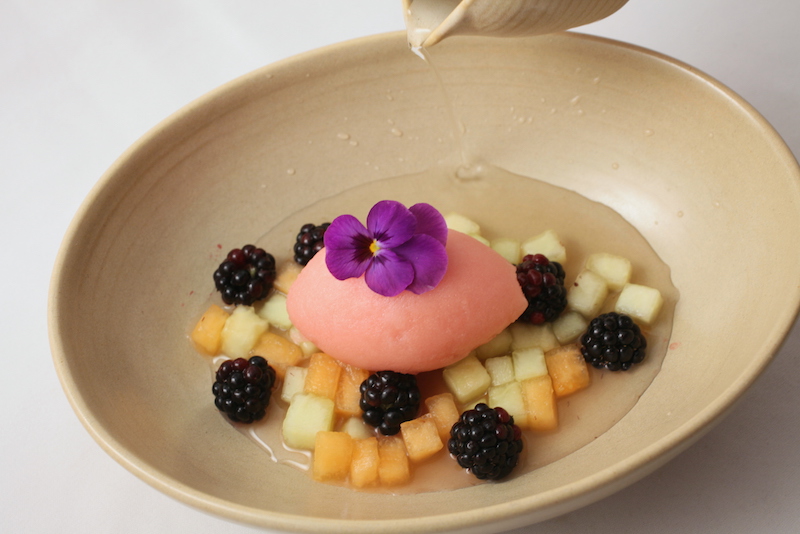 Dúo de Flanes: Traditional Mexican vanilla flan and peanut butter-sour cream flan. Bayless Garden concord grape drizzle, Klug Farm seedless grapes, peanut butter cookies
The latest additions to Frontera's latest menu are all about Oaxacan flavors. And yes, that means the complex, mouthwatering moles that characterize the Mexico's South Central region. More on those in a bit.
But Oaxaca flavor also means greens—tomatillo, serrano chile, nopales, knob onions—and the tantalizing smoky goodness derived from open-air grilling.
Consider our green guacamole, made with grill-charred serrano, salt-cured nopales, roasted tomatillos and smoked queso fresco. Or the pork fundido, a super-satisfying dish of melted Otter Creek cheddar, grilled pork cecina, slab bacon, smoky Oaxacan pasilla salsa and grilled green onions.
"To me, that encompasses all of the flavors of Oaxaca," said Frontera's Chef de Cuisine Richard James.
And because we're all about seasonality, the menu features an outstanding gazpacho made from local, late summer tomatoes, as well as two street-snack favorites: grill-roasted corn and sweet corn esquites.
Back to those moles. You'd be forgiven for thinking mole is some sort of savory chocolate sauce, but in fact chocolate only factors into three of the seven moles of Oaxaca, and even in those the chocolate shouldn't really overwhelm the flavor profile.
Why? Because when made properly, no single ingredient should outshine the others. Moles are, by definition, a wonderful blend of ingredients — herbs, spices, fruit, chiles, bread, almonds, seeds, raisins and garlic among them.
On this menu, you'll find most of the traditional Oaxacan moles, including the mole manchamantales—which balances the earthiness of dark chile the sweetness of caramelized pineapples and nuttiness of toasted almonds—and mole chichilo, which James says is mole negro's "completely savory sister.
"The ingredient list for black mole overlaps with chichilo, but where black mole turns and goes into a sweet style, mole chichilo stays completely savory. It's the only mole that's always garnished with a pickled green chile called chile de agua, which is very light green, with a kind of lemony acidity to it and it's pretty hot," he said.
And the grilled Gunthorp Farms duck in mole coloradito (that's one with Mexican chocolate, ancho, tomato, sesame and cinnamon) is a revelation of flavors. It's served with seared fennel with sesame, red chile rice and chocolate-chile tostadas. Amazing.
If you can't tell, we're pretty proud of our kitchen's efforts to create seductive flavors.
Look, we totally think you should visit Oaxaca for yourself, but a reservation at Frontera is the next best thing.