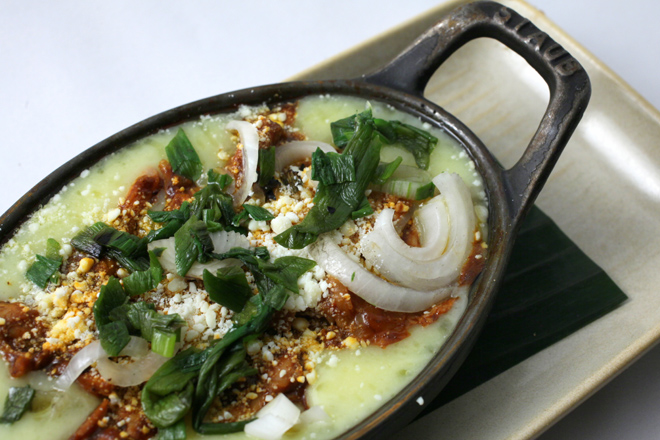 Smoked Chicken Queso Fundido Wisconsin organic cheddar, smoked Gunthorp chicken breast, spicy Veracruz salsa negra, sweet plantain, knob onion, aged Mexican cheese.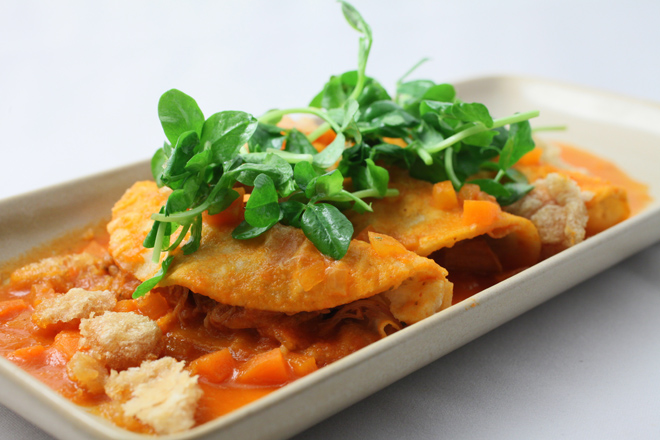 Pork Carnitas Enchiladas Slow-cooked pork carnitas in homemade tortillas, criollo sauce, Three Sisters pea shoots, crunchy pork chicharrón.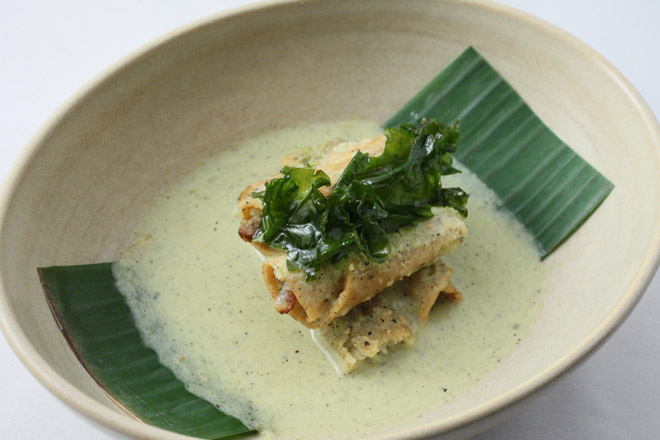 Shrimp Flautas Crispy corn tortilla "flutes" filled with Mazatlán shrimp, potato & poblano chile. Tangy tomatillo crema, crispy kale.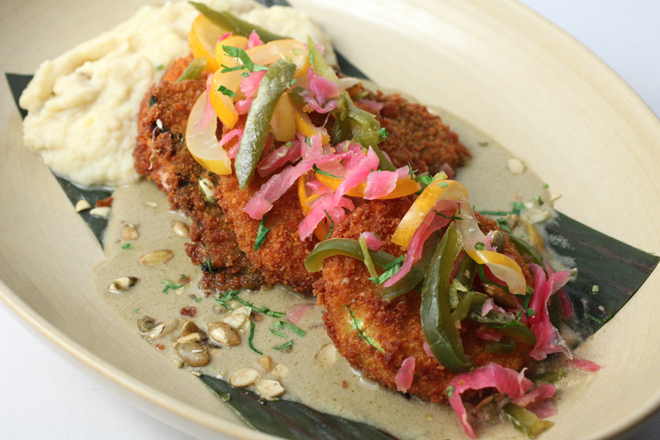 Crispy Vegetable Milanesa in Green Mole Crispy-coated tatume squash, poblano chile, eggplant & green tomato. Green mole, kohlrabi mash, pickled yellow cucumber salsa.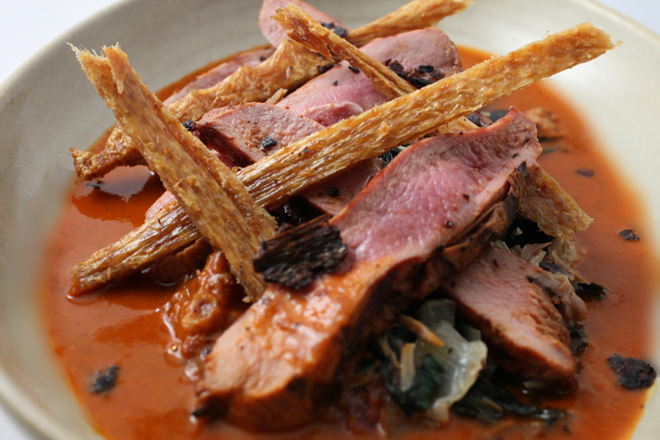 Duck in Yellow Mole Grilled red chile Gunthorp duck breast, Oaxacan mole amarillo, duck fat fried red beans, City Farm Swiss chard, duck chicharrón, toasty ancho chile crumble.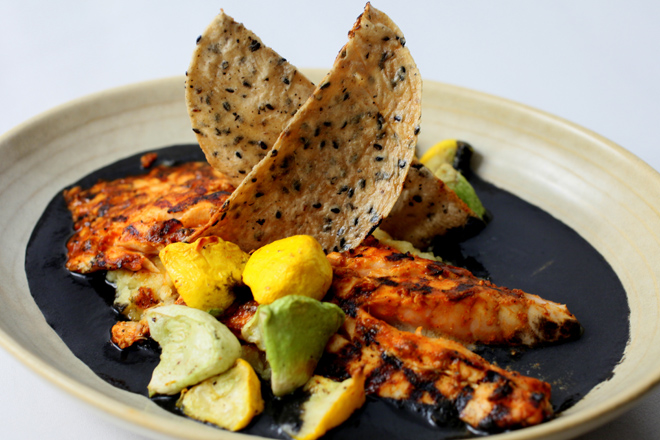 Striped Bass in Pipian Negro Grilled fresh Florida striped bass, black pipian, local potato
mash, patty pan squash, black pepper tostadas.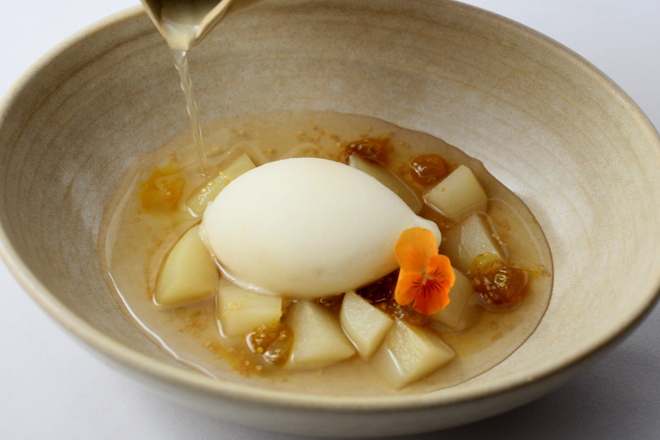 Sopa de Frutas Seedling Farm pear sorbet, orange spice-poached pears, Seedling ground cherry jam, sparkling orange-ginger "broth."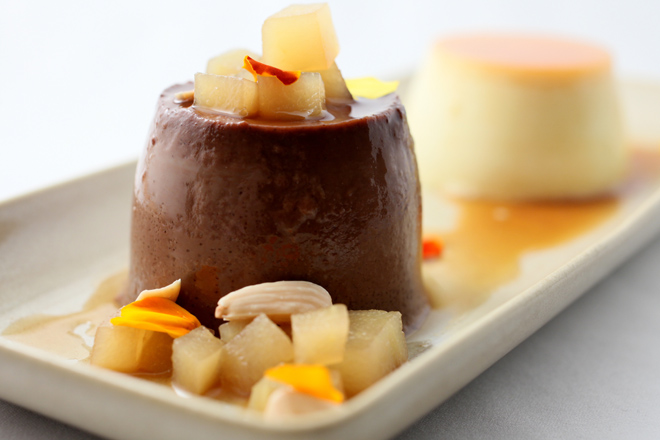 Duo de Flanes Traditional Mexican vanilla flan and luscious dark chocolate flan. Negra Modelo-poached pears, toasted almonds.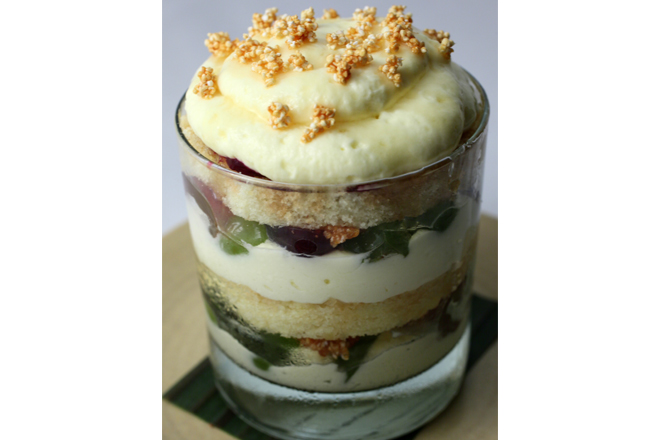 Late Summer Parfait Honey-yogurt espuma layered with brandy-infused cake, fresh Klug Farm grapes, nutty Xoco granola, Bayless garden concord grape jam, crunchy alegria.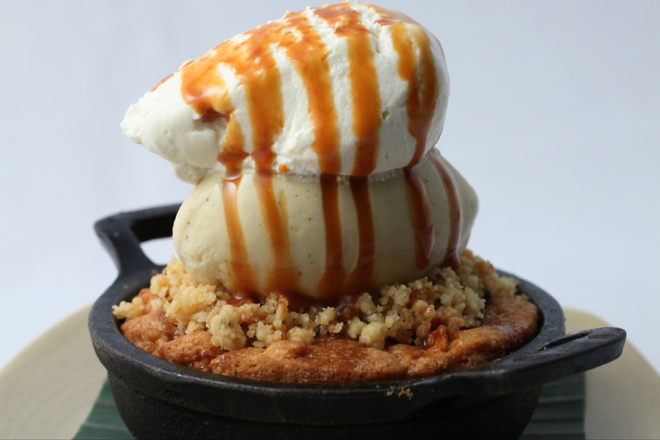 Apple Cake Cazuela Warm Klug Farm apple cake, canela (Mexican cinnamon) ice cream, whipped cream, cajeta drizzle, coriander cookie crumble.
Is it summer still? Is it fall? These are tricky questions, and the new dishes on Frontera's menu don't offer easy answers. Summer squash abounds on this menu, whether fried in the Crispy Vegetable Milanesa or slipped alongside the Striped Bass in Pipian Negro. Yet other dishes suggest that it's autumn: the Apple Cake Cazuela, the Pork Carnitas Enchiladas. The truth is, there's no answering this eternal summer/fall question. But there's also no harm in eating through the menu, looking for the truth.