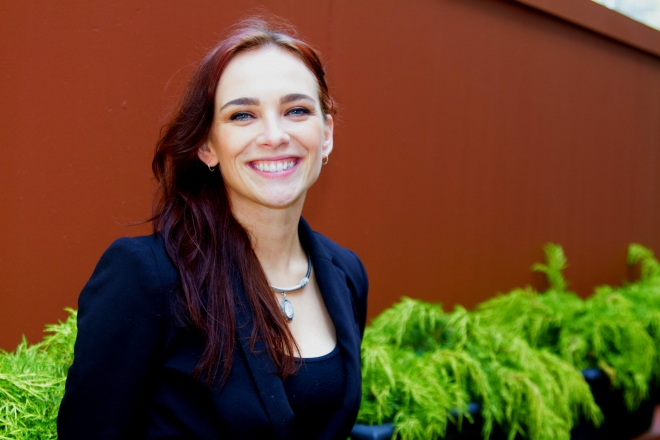 A server at Topolobampo for the past four years, Jessica Dennis has routinely impressed the restaurant's guests with her style of friendly, elegant service.
Along the way, she developed an intense interest in wine and began serving as assistant to our longtime sommelier, the impeccable Jill Gubesch.
Earlier this year, Jessica set out to take the Certified Sommelier Exam, a rigorous daylong quiz conducted by the Court of Master Sommeliers that tests a candidate's knowledge of the world's wine appellations, grape varieties and other essential service skills.
We're thrilled to report that she passed.
It's a huge accomplishment and we couldn't be more proud. We caught up with Jessica before the start of a recent weeknight service for a few quick questions.
When did you first take a serious interest in wine? Why?
My interest in wine had a lot do with working with Jill at Topolobampo.  It was the first restaurant I had worked in that focused so intensely on perfect wine pairings, and I learned quickly what an impact it had on the food through our menu tastings with the staff.
I was intrigued by a wine's ability to express a sense of place. So, I would ask a lot of questions, tagged along at different wine tastings and started reading on my own. Still, a major part of learning came from being on the floor and from our wine education program here.
Guests come to Topolo ready for an experience. What part does wine play in that?
The wine pairings have the ability to transform one's perception of a dish. Our food is phenomenal on its own, but paired with the right wine, you may experience different nuances you hadn't noticed before. It's really amazing, and undoubtedly helps to create the ultimate experience.
What's the sommelier certification test really like? Is there blindfolds? I feel like blindfolds should be involved.
There are no blindfolds! That might give you an edge. There is a deductive tasting format designed by the Court. Each wine is tasted and analyzed, then you come up with your final conclusion based on your deduction. Hopefully you're right, but the path you take to get there is also important.
Blind tasting is fun and my favorite way to learn about wine.
OK. You're on a deserted island with an unreasonably and impossibly large wine fridge. What are you stocking it with?
Rosé, Champagne, and Alsatian white wines!