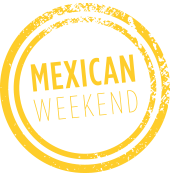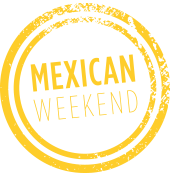 I've eaten those iconic Mexico City fideos secos for years and loved every last bite: toasted vermicelli pasta simmered with roasted tomatoes, smoky chipotle chile, chorizo sausage, plus dollops of crema, cubes of rich avocado and, oh yeah, that final punch of umami: Mexican añejo cheese.
OK, so that's not exactly an everyday dish.
But when you replace the pasta with spaghetti squash, the whole thing lightens up. It's still a rich dish, but one that deserves a spot in the everyday repertory. It's just too good to pass up.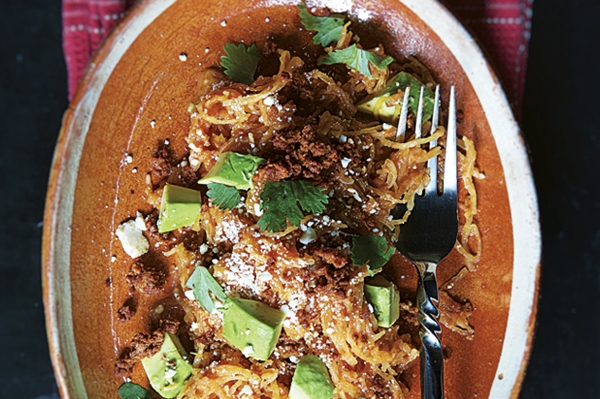 Ingredients
1

large (about 2 ½ pounds) spaghetti squash, cut in half from stem to blossom end, seeds scraped out

8

ounces

fresh Mexican chorizo sausage,

casing removed (about 1 cup)

1

15-ounce can diced fire-roasted tomatoes, drained

1

canned chipotle chile en adobo

seeded, stemmed and roughly chopped

1

tablespoon

chipotle canning sauce (adobo)

2

garlic cloves, peeled and finely chopped

1

cup

chicken broth, vegetable broth or water

Salt

About 1/4

cup

Mexican crema, sour cream, crème fraiche or Greek-style yogurt

1

small

ripe avocado,

pitted, flesh scooped from the skin and cut into ½-inch cubes

A handful of cilantro leaves for garnish, if you have them
Instructions
Wrap each spaghetti squash half in plastic wrap, poke a couple of holes in the plastic, place in the microwave and cook at 100% power for 10 minutes, until the squash is soft. (My microwave has a rotating carousel; if yours doesn't, you'll need to rotate the squash every minute or so.) Remove and let cool, still wrapped, for 10 minutes. Remove the plastic and use a fork to scrape at the exposed insides, working in the direction of the "grain," freeing the spaghetti-like strings into a bowl or deep plate.  Discard the skin.
In a very large (12-inch) skillet, cook the chorizo over medium heat, stirring to break up any clumps, until it is browned and done through, about 10 minutes.  Use a slotted spoon to scoop the chorizo into a small dish, leaving behind as much fat as possible. (You need about 2 tablespoons for the next step; if there's not enough, supplement with vegetable oil.)
In a blender, combine the tomatoes, chipotle and canning sauce and blend until smooth.  Set the chorizo-cooking pan over medium heat, add the garlic and stir for a minute or so, until it releases its aroma, then pour in the tomato mixture.  Raise the heat to medium-high and cook, stirring almost constantly, until the mixture has darkened and thickened noticeably, 7 or 8 minutes.  Stir in the broth or water and bring to a simmer.  Taste and season with salt, usually ½ teaspoon depending on the saltiness of the broth. Add the spaghetti squash, stir carefully to coat it with the sauce, then stir in the crema (or one of its stand-ins) and half of the cheese. Transfer the fideos to a large pasta bowl and top with the remaining cheese and the reserved chorizo. Dot with the avocado, strew on some cilantro leaves if you have them and carry the bowl to the table—you're ready to eat something pretty special.
Going Vegetarian: You can simply leave out the chorizo (and cook the sauce in vegetable oil) or you can replace it with a generous cup of diced zucchini or other summer squash.  Brown the squash in a little olive oil over medium-high heat, scoop it out as you would have the chorizo, and continue with the recipe, sprinkling the browned zucchini over the finished dish.