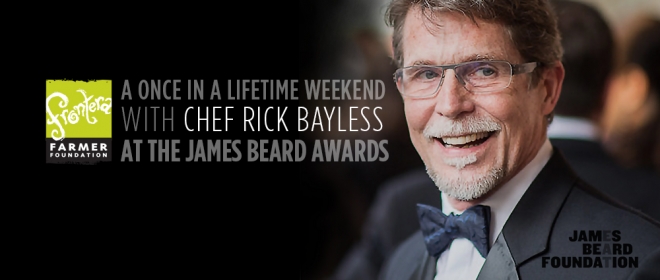 Each summer we throw a huge benefit dinner for our Frontera Farmer Foundation, which supports sustainable farms throughout the Midwest. It's a night full of thrilling raffles, auctions and incredible food.
This year, we're getting the party started early with a special online auction featuring once-in-a-lifetime prizes.
Bidding begins 8 a.m. Feb. 24 and ends March 5 at 8 p.m. To place your bid, please see our auction page at WinningCause.
All proceeds will be sent to the foundation, which has already raised more than $1.2 million for local farmers. Here's a look at the prizes:
James Beard Weekend
You'll experience a once-in-a-lifetime weekend starring Chef Rick Bayless at the 25th annual James Beard Awards ceremonies, held for the first time ever at the elegant Lyric Opera of Chicago.
The festivities kick off May 3 with admission to the exclusive James Beard Brunch and Discussion Panel featuring Beard-winning and nominated chefs, entry into the James Beard Awards VIP welcome event, dinner for two at Frontera Grill and an overnight stay at the stylish Hotel Chicago.
The prize package also includes two tickets to the James Beard Awards (a $1,000 value) on May 4 and invitations to the official James Beard Awards after party at Frontera Grill.
Chicago Contemporary Circus Festival
The prize package includes two tickets to the April 19 Chicago Contemporary Circus Fundraiser featuring food and a performance by Rick Bayless, a $1,700 value.
Winners will also receive a pair of VIP passes to all 12 shows at the June 15-21 Chicago Contemporary Circus Festival, a week of incredible performances from the world's best contemporary circus artists.
Rick Bayless and David Schwimmer at GGlassquerade
The prize package includes two tickets to GGlassquerade, a fundraiser for Chicago's acclaimed Lookingglass Theatre. Dinner and two tickets to a VIP cocktail reception are included, a $2,500 total value.
Winners will also have a private meet-and-greet with Lookingglass co-founder David Schwimmer and Rick Bayless, who will be honored with the theater's Civic Engagement Award.
Dancing with Chicago Celebrities
Winners will receive two tickets (a $380 value) to Dancing with Chicago Celebrities, a benefit at Chicago's Hyatt Regency Hotel where Rick Bayless — the event's 2006 dancing champion — will again compete for the crown.
Now in its 10th year, the star-studded event continues its mission of raising money for breast cancer research.