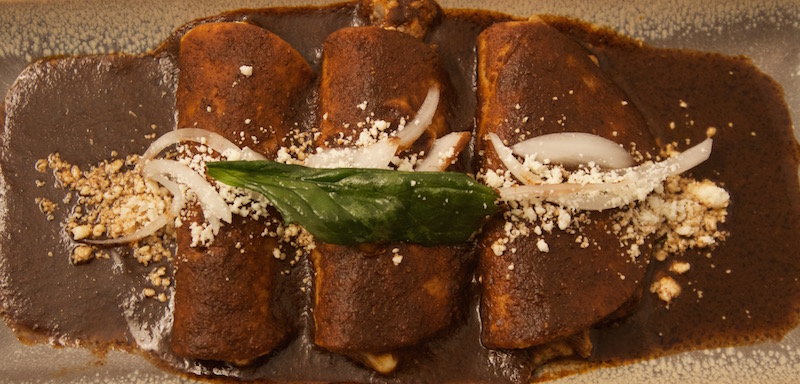 Woodland Mushroom Enchiladas Enchiladas of just-made heirloom-corn tortillas, mushrooms (shiitake & oyster) and goat cheese, grilled onions & epazote covered in pasilla sauce, queso añejo & crispy epazote.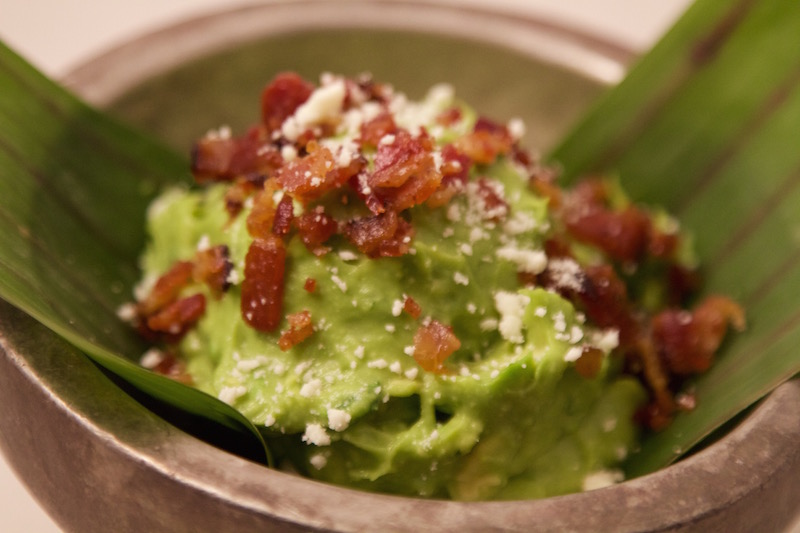 Bacon-Tomatillo Guacamole Michoacan avcoados, roasted tomatillos & poblanos, crispy Gunthorp bacon, grilled onion, añejo cheese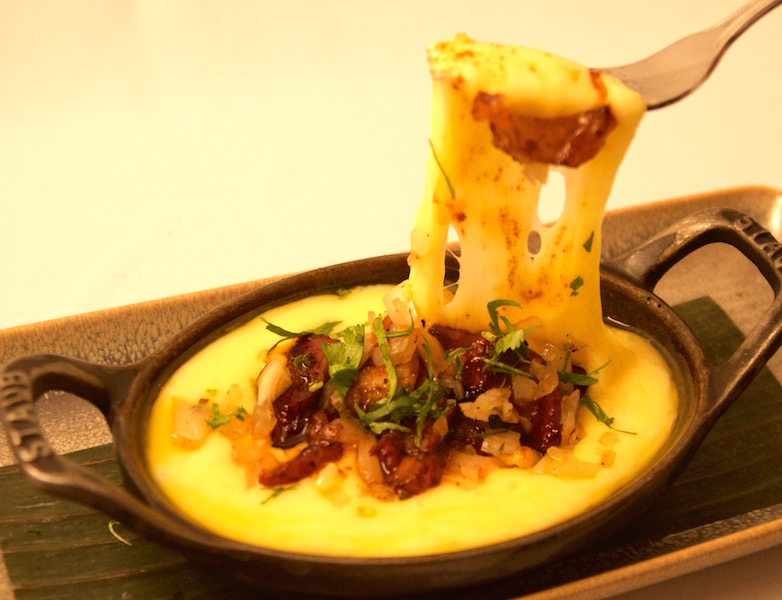 Smoked Pork Queso Fundido Otter Creek organic cheddar, spicy salsa negra-glazed smoked pork skirt steak, añejo cheese, grilled white onions.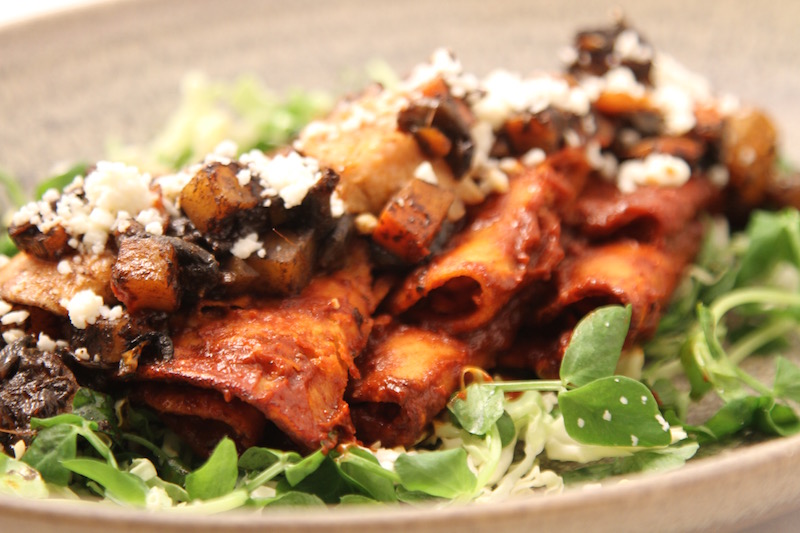 Enchiladas a la Plaza Red chile-seared fresh-made tortillas, tangy Napa cabbage, spicy mix of potatoes, carrots, shiitake mushrooms & huitlacoche. House-made fresh cheese.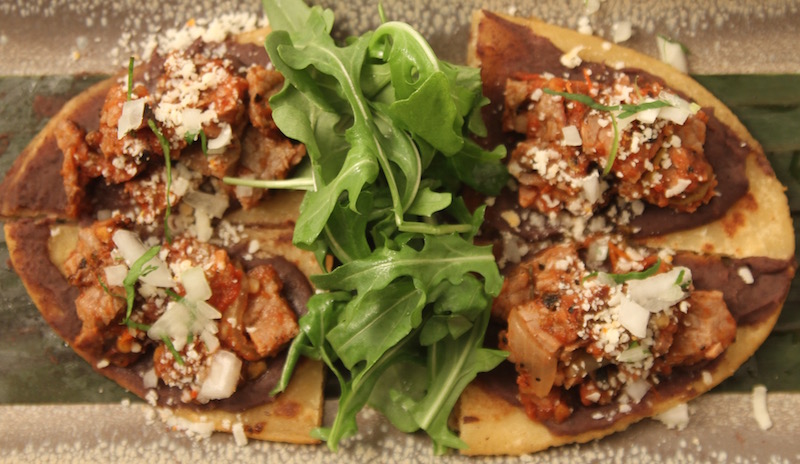 Flank Steak Huarache Crispy oval masa cake topped with black beans, wood-grilled flank steak, spicy salsa huevona (hand-crushed, grill-roasted tomatoes & jalapeños), cincho cheese, cilantro.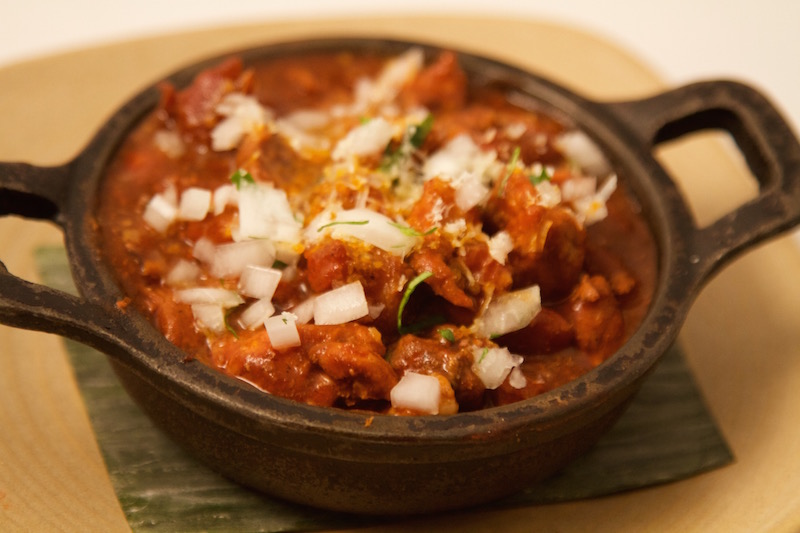 Frontera Chili Grill-seared pork simmered with ancho chile, garlic, Tocayo, spices & corn masa. Red beans, dry Jack cheese.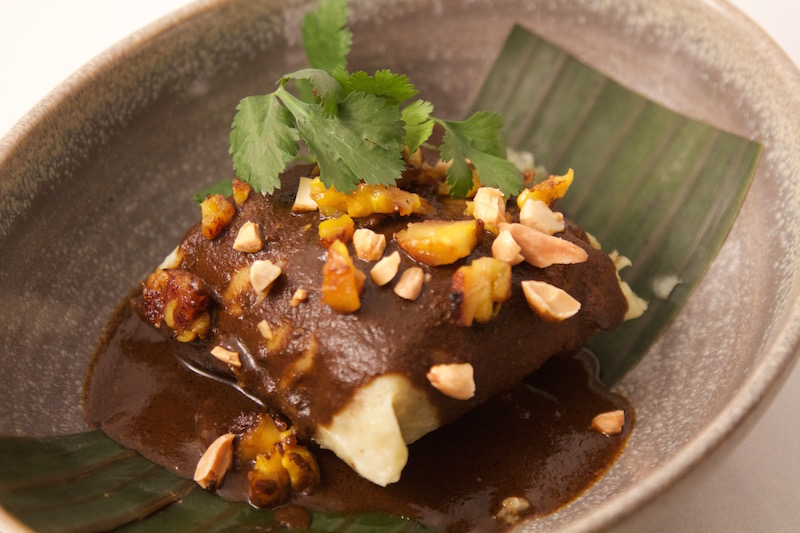 Smoked Chicken-Black Mole Tamal Banana leaf-steamed tamal of fresh-ground corn masa, smoked chicken, sweet plantain & sesame seeds. Oaxacan black mole, plantain-almond salsa.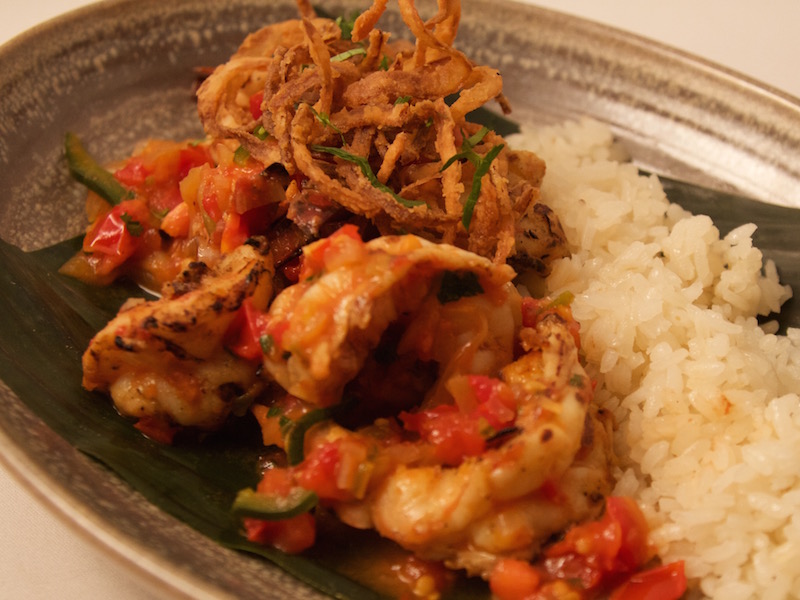 Shrimp a la Mexicana Grilled, garlic-marinated shrimp, seared salsa Mexicana (aka pico de gallo), roasted poblano, caramelized onion, classic white rice, crispy onions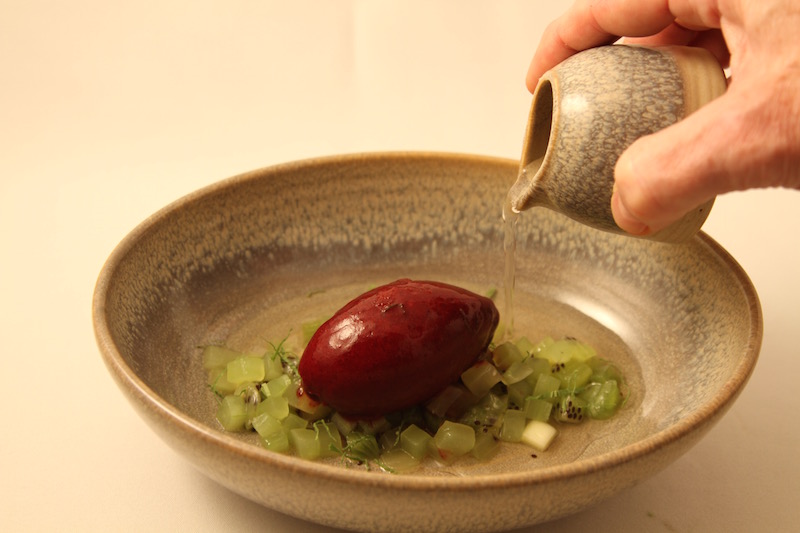 Sopas de Fruta Klug Farm raspberry sorbet, fresh kiwi and herb-infused cucumber, sparkling peach "broth" with Bayless Garden lemon geranium.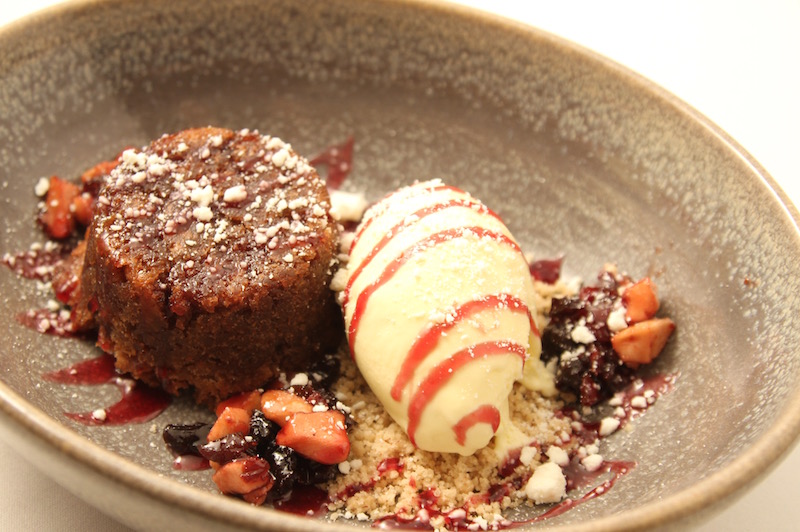 Capirotada de Vigilia Traditional Lenten "pudding" of toasted bread, dark sugar, spiced wine and butter. Añejo cheese ice cream, red wine-glazed fruit.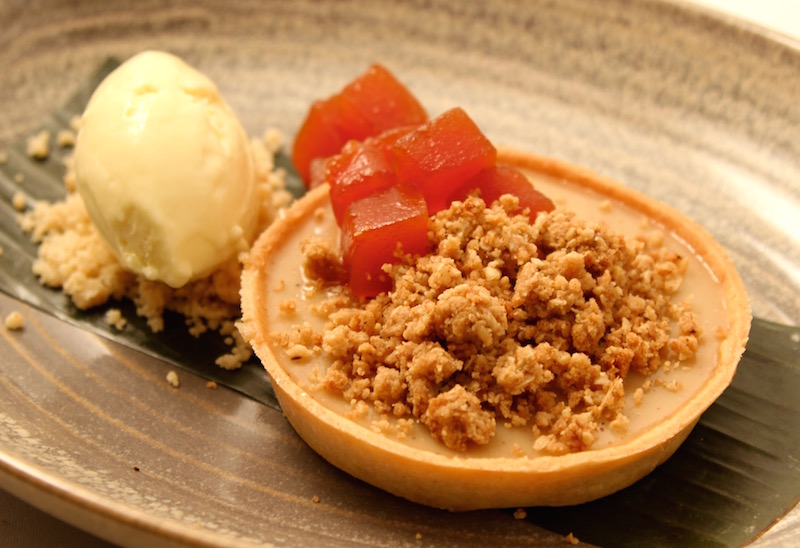 Piloncillo Cream Tart Kalona Dairy cream tart infused with raw sugar & spices, 3 Sisters Garden oat streusel, honey-coriander papaya "en tacha," buttermilk-lime ice cream.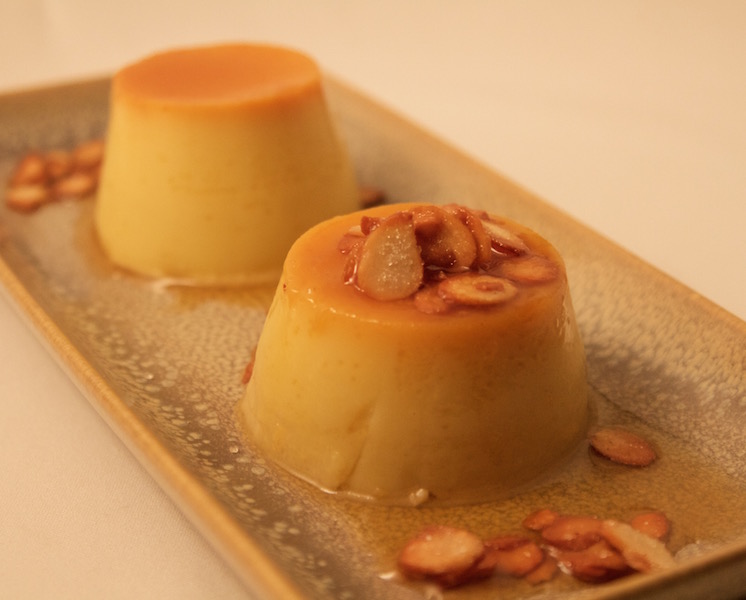 Dúo de Flanes Traditional Mexican vanilla flan and creamy orange-almond flan, candied almonds with star anise.
Literally hundreds of dishes have been introduced in our kitchen since 1987. We can't keep them all of course, but what we can do is pick the best of the bunch.
That's exactly what Frontera's latest menu is, a roundup of sorts showcasing the very best versions of iconic dishes we've served over the years.
"These are kinda like what we consider Frontera perfection," said Chef de Cuisine Richard James.

And true perfection, at least around here, means offering a taste of Mexico's regional classics. We'll take you to Oaxaca for a tamal of smoked chicken in black mole. We'll journey to Mexico City for a taste of classic huaraches — crispy masa cakes topped with black beans, wood-grilled flank steak and spicy salsa huevona —  and to the town squares of Michoacán, where street vendors serve Enchiladas a la Plaza. 
While we have reached deep into the well of memories for this menu —we're resurrecting our award-winning, best-in-the-city chili and our favorite bacon-roasted tomatillo guacamole, for example — it's not totally old school.
Our chefs have found a new approach to our seasonal queso fundido, a porky-cheesy masterpiece made with smoked pork skirt steak glazed with salsa negra, a condiment from Veracruz made with chipotle chiles, piloncillo and roasted garlic. And the Woodland Mushroom Enchiladas, filled with wild  earthy mushrooms and goat cheese and covered in dark pasilla sauce, are a revelation. 
Oh, and the desserts? Amazing.
Our pastry chefs have created a knockout Piloncillo Cream Tart, a new twist on Dúo de Flanes and a super-cool Capirotada de Vigilia, a traditional Lenten pudding of toasted bread, dark sugar, spiced wine and butter with añejo cheese ice cream and red wine-glazed fruit.
All that and more, this month at Frontera.