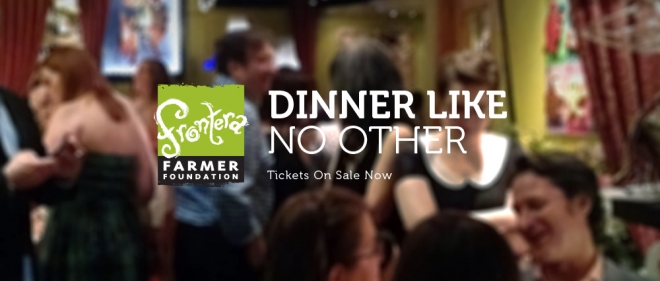 It's time once again for Dinner Like No Other, our annual fundraising bash for the Frontera Farmer Foundation. Bring your party shoes, because it's going to be our biggest, best year yet.
This year's event takes place 6 p.m. Sunday, October 16. Reserve your spot by calling our Hospitality Center at 312-661-1434. The rundown:
$475  VIP tickets include a private pre-dinner welcome reception in the Library, our way-cool private dining room that's surrounded by Rick Bayless' cookbook collection. The reception includes a meet-and-greet with Rick, a cooking demo, fancy hand-shaken margaritas and tasty snacks.
$175 tickets include a welcoming cocktail from spirits director Jeff Walters, a super special, seasonal six-course menu from our chefs and wine pairings from sommelier Jill Gubesch.
If you've never been part of this event, it's time to check it out. The dining room simply hums with good vibes and good people. Strangers become friends. The wine flows freely. Everyone leaves happy.
This year's silent auction is once again jammed with amazing, unique prizes, like, say, private cooking classes in our test kitchen and a Frontera pop-up restaurant IN YOUR BACKYARD.
All proceeds benefit the Frontera Farmer Foundation, a 501 (c)(3) nonprofit organization, committed to promoting small, sustainable farms serving the Chicago area by providing them with capital development grants.
Because of your generosity, the foundation awarded a record number of grants in 2016. (Here's a little more about the farmers who've been supported by the foundation this year.)
In short, it's one of our favorite nights of the year and we really, really look forward to hosting you.