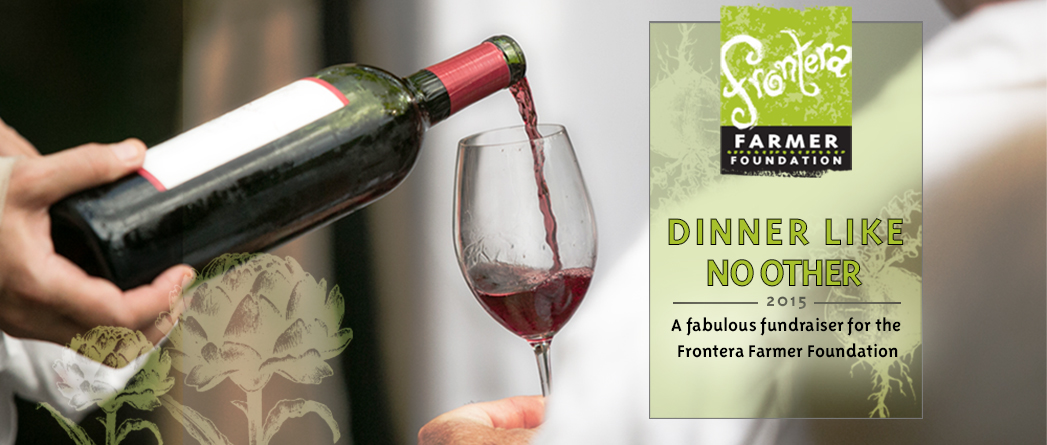 Chef Rick Bayless will once again host the annual Dinner Like No Other, our signature fundraising event for the Frontera Farmer Foundation.
The 2015 event takes place June 14 at Frontera Grill and Topolobampo, where Rick and his staff will create six never-before-seen courses featuring early summer produce, meat and fish sourced exclusively from local farms — all accompanied by perfect wine pairings from our sommelier Jill Gubesch.
Reserve your spot at the dinner by calling 312-661-1434 or emailing Kate Southard at ksouthard@fronteragrill.net. Fair warning: This event always sells out in a hurry, so if you're thinking about attending, it's wise to act quickly.
The evening will also feature a robust auction and the opportunity to meet some of the farmers who have benefited from Frontera Farmer Foundation grants.
But that's just the tip of the iceberg. This year, there's a VIP package that includes a small and very special reception with Rick in our test kitchen and cookbook library, including
Intimate meet-and-greet with Chef Rick Bayless
Hand-shaken Farmer's Market margaritas
A cooking demonstration by Rick (with tastes, of course!)

VIP tickets are $475 (and include the VIP reception and dinner, including tax and gratuity) and are very limited; general admission tickets are $175 (including dinner, tax and gratuity) are also available and will sell out quickly.
All proceeds benefit the Frontera Farmer Foundation, a 501 (c)(3) nonprofit organization, committed to promoting small, sustainable farms serving the Chicago area by providing them with capital development grants.