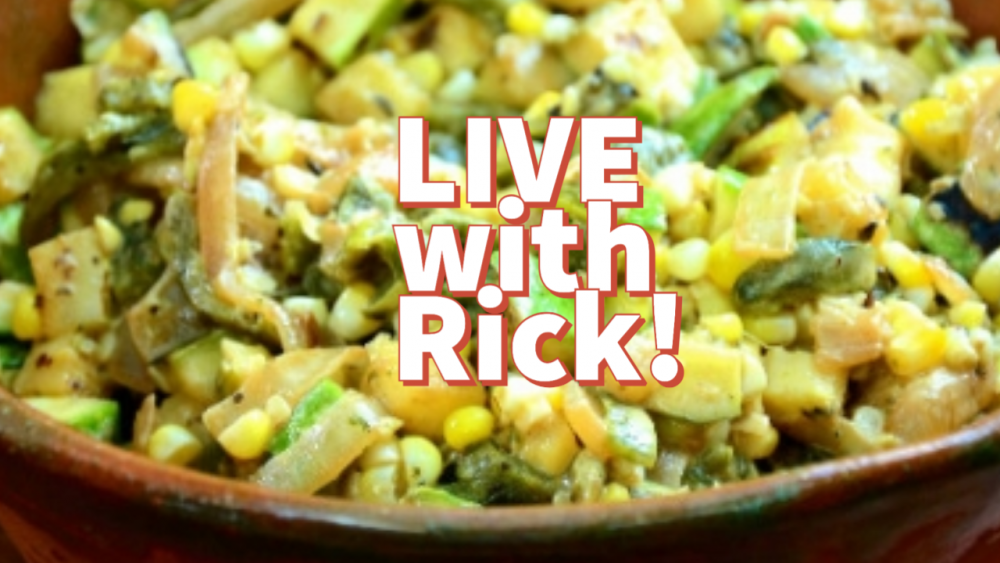 It's that time again! We'll be going live with Rick at 6 p.m. (CST) Friday, Jan. 29 for another live cooking class.

Reminder: These cooking classes are open to anyone who joins Rick's YouTube channel at the "Live with Rick!" membership level at $9.99/month, which also gives you access to tons of brand new videos. Join here.

For Friday's cookalong, we're taking our cues from the classic combination of roasted poblano chiles and crema, by far one of the most versatile and delicious starting points we know.

From there, it's choose-your-own adventure: garnished with fresh cheese and folded into a tortilla, this creamy rajas mixture makes a beautiful taco filling. Scattered with herbs over roasted chicken thighs, it's a hearty, crowd-pleasing meal. Stirred in with warm pasta, it will be your new go-to sauce. You get the idea.
The recipe (including all three variations) is posted here and below is a look at what you need to make Friday's cooking class a delicious success.
Vegetables
1 head garlic
1 medium white onion
3 medium zucchini or calabacitas (1 pound total)
4 medium poblano chiles (1 pound total)
Frozen or fresh corn (you need 1 cup of kernels)
Epazote or cilantro
Pantry
• Olive or vegetable oil
• Salt
For taco version of the dish:

• A dozen corn tortillas

For chicken version of the dish:

• Agave syrup or honey
• Worcestershire Sauce
• Black pepper

For pasta version of the dish:

• 8 ounces small dried pasta like shells, campanelle or orecchiette

Meat
For chicken version of the dish:
• 8 boneless or bone-in chicken thighs
Dairy
• 1 cup crema, crème fraiche or heavy cream
For taco version of the dish:
• ½ cup queso fresco, goat cheese or feta
For pasta version of the dish:
• 2 to 3 ounces queso añejo, Parmesan or Romano
Equipment
• 12-inch skillet
For chicken version of the dish:
• Metal baking pan or a rimmed baking or ovenproof skillet
For pasta version of the dish:
• Pasta boiling pot