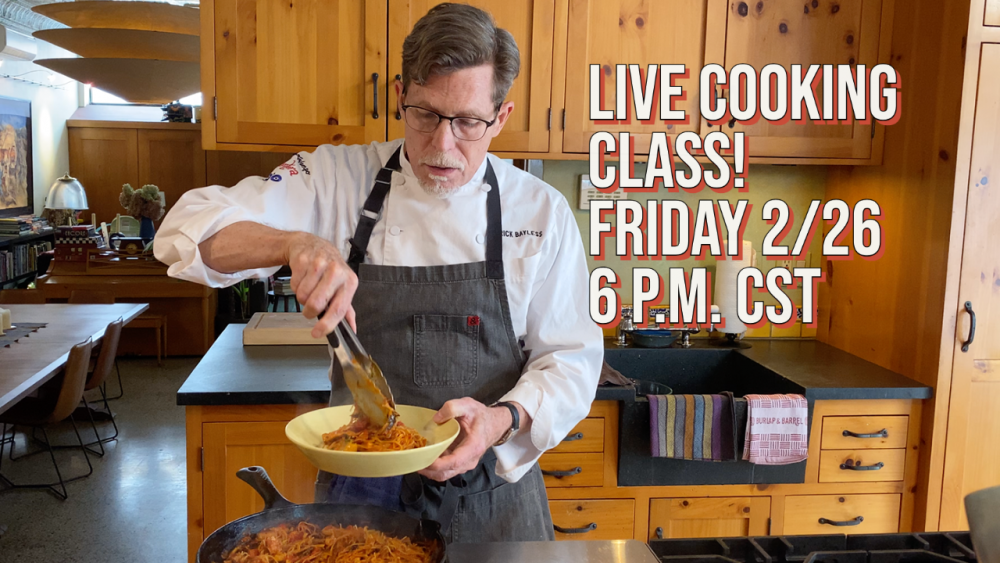 It's that time once again! Rick Bayless will be going live at 6 p.m. (CST) Friday, Feb. 26 for another online cooking class.

These cooking classes are open to anyone who joins Rick's YouTube channel at the "Live with Rick!" membership level at $9.99/month, which also gives you access to tons of brand new recipes videos. Join here.
Onto the dinner! We're kicking things off with Red Chile Roast Chicken. Made with a quick red chile adobo seasoning, it's one of Rick's go-to recipes—easy to put together, with genuine Mexican flavor and always satisfying.

NOTE: If you would like to brine your chicken for the moistest, best texture, you'll need to do that ahead. Directions are in the headnote of the recipe, linked below.
For dessert? Carlota. This is the childhood favorite of Latin America—you might say the Latin American equivalent of the banana pudding many of us grew up on. Creamy goodness, softening cookies and your favorite fruit.

RECIPES

• Red Chile Roast Chicken (Or Cauliflower)
• Carlota

EQUIPMENT
• A rimmed baking sheet (I'll be using a half sheet pan)
• A large microwave-safe bowl (glass, pottery, plastic)
• A pastry brush
• A blender or food processor
• An 8×8-inch baking dish or 6 8-ounce soufflé dishes

SHOPPING LIST
For the entrée:
• 4 garlic cloves
• 1 ½ pounds boiling potatoes

For vegetarian version of the dish: 1 small head (about 2 pounds) cauliflower
For the dessert:
• 8 – 10 limes, preferably Key or Mexican
• Strawberries or bananas (or other fruit), optional
MEAT
For chicken version of the dish:
2 large bone-in, skin-on chicken breasts
4 large bone-in, skin-on chicken thighs
PANTRY
For the entrée:
• Salt
• Cinnamon (preferably Mexican)
• Black pepper
• Cumin
• Oregano (preferably Mexican)
• Apple cider vinegar
• Pure ancho or guajillo chile powder
• Olive oil
• Honey or agave nectar
• Tomatillo salsa, optional
For the dessert:
• 1 14-ounce can sweetened condensed milk
• Mascarpone cheese, enough for 1 1/2 cups OR cream cheese
• Heavy cream
• Vanilla extract
• Blanco tequila, optional
• 1 box Maria wafers