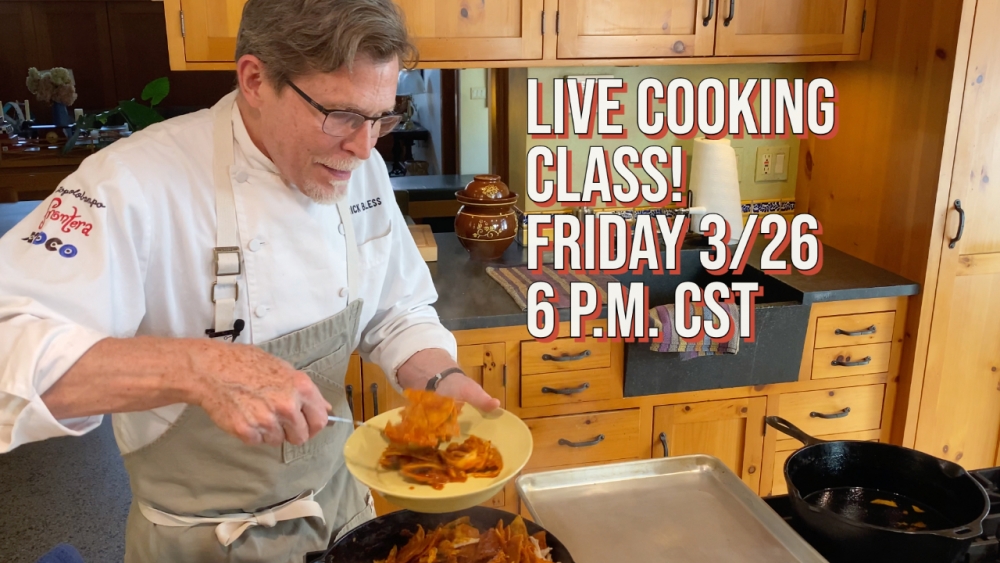 It's a Friday night cooking class and we do hope you're hungry. Rick Bayless will be going live on YouTube at 6 p.m. (CST) Friday, March 26 to lead another one of our popular live cookalongs.
These cooking classes are open to anyone who joins Rick's YouTube channel at the "Live with Rick!" membership level at $9.99/month, which also gives you access to live chats and tons of brand new recipes videos. (Looked at another way, it's a $10 cooking class led by Rick that comes with a bunch of thoughtful, educational extra videos.) Join here.
What are we making Friday? Oh, just a wildly great dinner featuring the bright flavors of Yucatán with hints of sunnier days to come.
To begin, we're fixing a zingy, effervescent Jalapeño Paloma cocktail and then it's onto the main event: Yucatecan seared fish in a warm, brothy Red Escabeche. Not into the fish? We have an eggplant option as well. Either version is guaranteed to shake up your cooking routine.

Recipes

• Jalapeño Paloma Cocktail
• Yucatecan Fish (Or Eggplant) in Red Escabeche

Here's what you'll need:
Vegetables and Fruit
• 1 pound small boiling potatoes OR 1 pound white, purple or orange sweet potatoes
• 4 large banana peppers (I'm going to suggest that everyone roast and peel the banana peppers ahead of time. If you haven't done much pepper roasting and peeling, it may take you a little longer than it does me.)
• 1 large red onion
• Cilantro or mint leaves
For vegetarian version of the dish:
• 1 large (about 1 ¼ pounds) eggplant
For the cocktail:
• Grapefruit
• Limes
• Jalapeño
Fish
For the seafood version of the dish:
• 4 5- to 6-ounce boneless, skinless fish fillets about 1 inch thick (halibut steaks work super well here, though you could use thick fillets of mahimahi, snapper, sea bass, catfish—anything that cooks up rather firm, that is delicious at medium to well done and that has a rather large flake)
Pantry
• 3.5 ounce package of achiote paste (available at practically any Mexican grocery store, some well stocked supermarkets and or on line)
• Salt
• Vinegar
• Vegetable or olive oil
• Chicken or fish broth (or vegetable broth for vegetarian dish)
For the cocktail:

• Blanco or reposado tequila or mezcal
• Simple syrup
• Squirt
EQUIPMENT LIST
• 12-inch skillet
• Cocktail shaker
• Muddler or large spoon